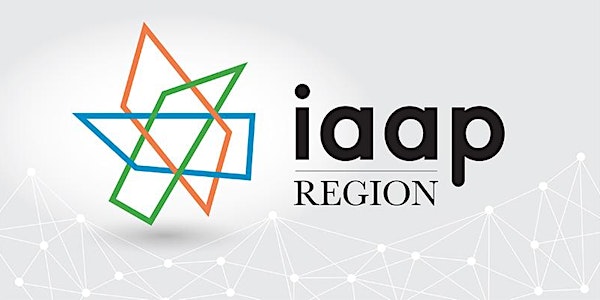 2022 Fall Conference (In-person) | IAAP Pacific Northwest Region
Welcome Back to In-Person! We can't wait to connect with you! Come celebrate and learn with admin professionals from the Pacific Northwest
When and where
Location
Hilton Garden Inn Seattle Bellevue Downtown 10777 NE 10th St Bellevue, WA 98004
Refund Policy
Refunds up to 7 days before event
About this event
Come and celebrate with IAAP members and non-members in the Pacific Northwest at our first in-person regional event since 2019! Event includes education, round table discussions, and lots of networking; plus the famous PNW IAAP vendor fair.
Pre-Conference Cocktails & Connections takes place Friday evening October 21, before the Saturday event. It will be held at the AC Marriott Hotel Bellevue from 5pm – 7pm. AC Marriott is sponsoring the venue and appetizers. Cash bar. Everyone is welcome to attend—members, guests, vendors, or non-members. Register separately via Eventbrite. https://www.eventbrite.com/e/iaap-pnw-cocktails-connections-pre-conference-event-tickets-395299390117
One-Day Conference on Resilience & Reinvention: The conference will be held on Saturday, October 22 at the Hilton Garden Inn in Bellevue, from 8:30am – 4:00pm with an optional post conference C&C from 4-6pm included.
Overnight Hotel Rooms: Hilton Garden Inn Bellevue, IAAP rate $139/night King, $159/night Double - Book before 9/25/22!
Hotel booking link: https://www.hilton.com/en/book/reservation/deeplink/?ctyhocn=SEABEGI&groupCode=IAAP&arrivaldate=2022-10-21&departuredate=2022-10-23&cid=OM,WW,HILTONLINK,EN,DirectLink&fromId=HILTONLINKDIRECT
EVENT AGENDA
8:30 AM Registration and Networking
9:00 AM Welcome & Introductions
9:10 AM HQ Welcome by IAAP Board Chair, Barrett Shaw
9:25 AM Round Table Discussion by table
9:40 AM Education #1 – Barrett Shaw, Stepping out of Your Comfort Zone
10:40 AM Break / Door Prizes
11:00 AM Education #2 - Linda McFarland - The Resilient Assistant
12:30 PM Lunch & Famous Vendor Fair
2:00 PM Welcome back /Door prizes – change seats!
2:05 PM IAAP Certification 101 with stories from CAP designees
2:30 PM Education #3 -The Mental Side of Resilience
3:15 PM Round Table Discussion
3:35 PM Wrap-up/Final door prizes
4-6:00PM Post Event C&C Reception – HGI lobby
Speakers: See below
Recertification Points: 3.5
Region Director & email address: Sandy Thompson, CAP pacific_northwest@iaap-hq.org
Stepping Out of Your Comfort Zone - Dr. Barrett Shaw, CAP, OM, PM
This session explores why it is difficult for people to step outside of their comfort zone through research and personal experiences, and then provides practical steps one can take to take to move beyond their comfort zone. Some of the strategies shared include developing a growth mindset, creating a professional development plan and the use of SMART goals.
Barrett Shaw works as an Administrative Supervisor at Mission Support and Test Services (MSTS), a government contractor in Las Vegas, Nevada. He has nearly 20 of experience as an administrative professional in a government setting. He also works as an expert trainer for Leoron Professional Development Institute, based in Dubai; teaching Certified Administrative Professional (CAP) prep courses, along with other courses designed to teach administrative professionals essential skills to help them excel in their career. He has taught courses throughout the Middle East, including Dubai and several locations within Saudi Arabia.
Barrett has been an active member of IAAP since 2008. He currently serves as Chair on the IAAP Board of Directors.
The Resilient Assistant -- How to Thrive During Changing Times; Linda McFarland
As the role of administrative assistant continues to evolve, we face many challenges and setbacks. We make mistakes, organizations restructure, we work in diverse work environments, COVID came along, and so much more.
Benjamin Franklin once said, "When you're finished changing, you're finished." But we are not finished – not even close!
What holds you back in a changing environment? Is it confidence? What do you need to embrace the tough times?
In this session, Linda will share information and techniques to help you build your credibility, feel confident, and take risks. By sharing stories, lessons learned, and tips, she will encourage you to adapt and be agile, especially during difficult times. She'll explore how to be comfortable in a changing environment, reasons we resist change, strategies to thrive, techniques to keep your competitive edge, taking initiative, and tips to optimize and embrace change to become the Resilient Assistant.
About Linda: Linda McFarland is passionate about the administrative profession and has extensive experience supporting CEOs and C-Level executives. In 2008, she founded Linda McFarland Consulting (previously Ascend2Success), a consulting company that provides training for assistants. She is the author of the books, The Wizard Behind the CEO: Enchanted stories from the assistant with the magic WAND, and co-author of "Sitting on a File Cabinet, Naked, with a Gun: True Stories of Silicon Valley CEO Assistants." Linda is past chair and advisory board member for the Admin Awards in Silicon Valley, assisted in the development and was master instructor and guest lecturer for the first certificate program for administrative professionals with UCSC Extension in Silicon Valley (2005-2010). Linda also co-founded Admin-to-Admin and PlanetAdmin and is a certified trainer for The Star Achievement Program®. Linda is married with children and grandchildren.
The Mental Side of Resilience with Donna Barragan and Kathy Solberg
The last two years have shaped us all both collectively and as individuals. The word resilience has become common in our media and a badge that many strive to earn and understand while making it through difficult times . Having known each other for nearly 25 years, Donna and Kathy will share some of their tips and tricks, along with their collective expertise, on the intersection of values, authenticity, and resilience.
They will share stories about their journey as friends, as well as how values, authenticity and resilience played a part in their lives as they have navigated miles, workplaces, relationships and the easy as well as the challenging events in their lives.
Kathy Solberg has been the Executive Director of Leadership Snohomish County for the past eight years. Her work history demonstrates her skills in inspiring others through professional and personal leadership development, civic engagement, and a deeper understanding of racial equity as the lens to do that work. As a non-profit leader Kathy has, by necessity, developed skills in philanthropy, organizational development, group facilitation, and creative problem solving. Her greatest satisfaction is when she can support someone to discover and honor their own strengths and express those authentically. Prior to her work in community leadership, she spent 16 years in Academe. She also has owned an art gallery.
Kathy's work embodies Berkana Institute's core belief that "Whatever the problem, community is the answer." In everything she does, Kathy knows that to build healthy community, people must be empowered and united in working for the greater good. She was drawn to the Warrior work for several years and began Warrior Training in 2020. She feels like she has found a home both in the work and the Warrior community.
With more than 20 years' experience creating and driving a world-class culture within a successful aviation organization, Donna Barragan partners with organizations to create outstanding cultures that elevate their most valuable and powerful asset, their people.
Donna was instrumental in creating the culture that inspired top talent to join the organization and she ensured its continued growth for more than two decades. As a leader within a privately held company, Donna excelled in roles within Operations, Customer Support and Contract Management. Her diversity of roles allowed her to build successful relationships and make a greater impact and expand the world-class culture created.
To elevate an organization's impact on its employees, stakeholders, and bottom line, it is essential to build strong relationships and promote a culture of trust, innovation, and respect. A positive culture is developed through the cultivation of relationships that result in greater teamwork, better communication, and better collaboration. Donna understands that in order to attract, retain and reward talent, you have to create an environment where they will be motivated to remain and grow within the organization. She supports leaders to establish their own distinctive culture that becomes a benchmark for how companies can take better care of their employees and make a bigger contribution to their communities.
Donna is a Certified Professional Co-Active Coach (CPCC), Associate Certified Coach (ACC), Certified Corporate Coach, Leadership, Onboarding , Group/Team Coach.