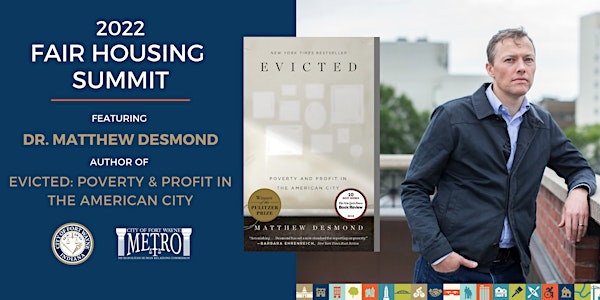 Location
Allen County War Memorial Coliseum
4000 Parnell Avenue
White Room
Fort Wayne, IN 46805
About this event
Please join us for this FREE event featuring Pulitzer Prize winner Dr. Matthew Desmond as the keynote speaker. Desmond's bestseller Evicted: Poverty and Profit in the American City effectively changed the understanding of inequity and economic exploitation in America. Desmond is the founder and Principal Investigator of Princeton's Eviction Lab. He launched it in 2017 following conversations with renters and policymakers in an effort to answer questions about residential instability, forced moves, and poverty in America. In 2018, the organization published the first-ever national dataset of evictions in America.
This year's program will also consist of sessions with top fair housing speakers from various organizations.
Doors will open at 8:30 am for registration.
To limit exposure to COVID-19, wearing of face masks during the event will be required .
Anyone needing special accommodations should notify the City 48 hours in advance by phone at 260-427-2134 or email at OHNS@cityoffortwayne.org