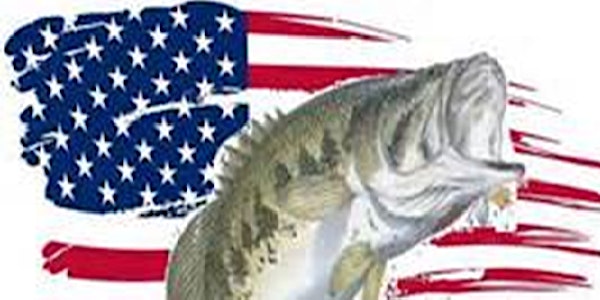 2022 F Catch a Vet $1,000 Payout - Charity Bass Tournament
CATCH a VET The AT&T Veterans of St. Louis , Invite you to the 7th annual Bass Fishing Tournament supporting Veterans in Missouri.
When and where
Location
PB2 Lake Of The Ozarks State Park-Grand Glaize Beach 5142 Old U.S. 54 Osage Beach, MO 65065
Refund Policy
Contact the organizer to request a refund.
Eventbrite's fee is nonrefundable.
About this event
CATCH a VET 
 The AT&T Veterans of St. Louis, in partnership with the Big Bass Bash, invite you to the upcoming "Catch a Vet" charity fishing tournament. Proceeds benefit veterans and their families here in Missouri.
"Catch a Vet" Charity Bass Tournament - FALL event
$1,000 payout
FRIDAY September 30, 2022 - 6am to Noon
Lake of the Ozarks, PB2
 Proceeds Benefit our Armed Forces families, many of whom have lost a parent in combat. Our projects focus on the needs and burden that is often experienced by these families and Children. Please join us in supporting the loved ones of those who have given everything for our country.
The official tournament site weigh in is the marina at PB2 . This a launch from anywhere event - no trailering to weigh- in. You must arrive at PB2 via boat for official weigh in.
The event kicks off with tournament check in and late registration on Thursday 9/29/2022 at the PB2 Parking lot (near the Pavilion) 5-8pm. Come get your t-shirts and final directions from the tournament director. Last minute entries will be allowed up to 8:00pm.
Friday morning 9/30/22- Launch from anywhere - Lines In / First Cast is 6am. Weigh in is 12:00pm (Noon) at PB2.
Awards and auction items will be provided at the weigh in area immediately following the event.
Overview:
•$1,000 first overall payout based on 40 boats
•Payouts for additional places. Example 2-10 place (Base on # of paid entries above 40 (1:15))
PLUS Mystery place payouts
50/50 raffle Thursday Night check-in ; winner awarded at weigh in; must be present to win
Registration:
•Early Registration Entry Fee as low as  $50 per person.
** Best Value for the Vets = "ALL IN" Support includes tournament entry for (2) anglers, (2) T-shirts, and $10 Direct Support to the Veterans = $140.
 •Sign up online for the catch a vet (Fall) event here through our secure web site @ https://2022fcatchavet.eventbrite.com, or by mail.
Tournament day:
• All awards, auction items, attendance prizes and payouts to be distributed at weigh in
* Weigh in is at 12:00pm (Noon) at PB2.
Weigh in Bags will be provided
RULES AND REGULATIONS FOR THE VETERANS TOURNAMENT:
1. The decisions of the judges and event officials shall be final in all matters.
2. Participants and eligibility - Contestants must be at least 18 years of age or have at least one adult accompanying the minor and a signed entry form from the minor's parent or legal guardian. The term "Team" refers to 2 contestants in the same boat. you can have 3 or more - just need to pay the additional entry fees. Everyone, including veterans, active duty, enlisted, retired military, or member of AT&T Employee Resource Group (ERG) are encouraged to participate -- we are doing this to honor and support all who have served.
3. Safety- Safe boat conduct must be observed at all times. A Coast Guard approved life preserver must be worn when the gas motor is running. - The life preserver must be strapped, zipped or snapped securely. Kill switches must be operational and attached to boat and driver whenever the gas motor is in use. All local, state, federal and Game & Fish regulations shall apply and must be observed during tournament hours. Tournament boats may be inspected by tournament officials at any time.
This is a Rain or Shine event – contestants should be aware of the weather conditions at all times
Note: If a contestant is disqualified for rules violations, all other contestants in his/her boat will be disqualified.
4. Sportsmanship- Follow the Golden Rule. Competitors are expected to follow high levels of sportsmanship. Maximum courtesy must be observed especially when fishing close to non-competitors in tournament waters. For safety reasons, it is recommended that there be no alcohol or illicit drug used during this event.
5. Tackle and Equipment - One lure per line; Artificial lures only; with the exception that pork baits may be used.
6. Boat and Motor All boats must have required Coast Guard safety equipment as well as an operational aerator and live-well. No stringers at any time.
7. Your registration into this event, you agree to any quality assurance tests, which may include CVSA, Polygraph, urinalysis, or blood test. Refusal of angler to be tested or a failed test will result in loss of winnings, and immediate disqualification.
8. Trolling as a method of fishing is prohibited.
9. Permitted fishing locations- Lake of the Ozarks except within "No Wake" buoys of PB2 ramp at the weigh in site or within 50 yards of another contestant's boat at anchor. No fishing in any area posted off limits to public fishing. Contestants must remain in the boat to fish and land fish. No trailering.
10. Official Checkpoint - Will be the site of the weigh-in - PB2 Boat Ramp/Dock
11. Scoring: A. Bass include - Largemouth, smallmouth, spotted bass will score. All Bass must be 15" or longer. Measured by Golden Rule, mouth closed, tail pinched. B. Only ONE fish for each person entered may be brought to weigh-in. C. Official weigh-in bags will be given out at weigh-in. D. Fish brought to weigh-must be returned to lake.
12. Dead Fish – Dead fish will not be counted.
13. Late Penalty -No fish will be weighed-in after 12:05PM. Boats returning late into the no wake area will be penalized 2 pounds for being late and an additional 2 per 5min increments. Boats later than 5 minutes will be disqualified.
14. Ties - Payouts from the tied position and the next lower position will be combined and then split equally between the tied boats.
15. Polygraph - Test may be administered to any contestant at the discretion of the tournament committee.
16. Rule Changes and Modifications - Rules are subject to change to conform to state game laws. Officials of the event will make the final decisions regarding all rules, rule changes, and the interpretation of said rules.
17. Protests: all protests must be submitted in writing to the tournament director within 15 minutes of weigh in completion. Tournament director's decision is final on all matters
**Important information; please read carefully. Waiver and Release of Liability: My entry into the Catch a Vet Charity Fishing Event (Event) indicates that I have read; understand and agree to the Event Rules and the waiver and release contained in this paragraph. In consideration of accepting this entry, I agree to assume the risk of and full responsibility for any property damage, personal injury or accident resulting from my participation in this Event or while on the premises of the Event host and expressly agree that the sponsors, promoters and all other persons and entities associated with this Event shall not be liable for any such injuries, damages, losses or claims even if caused by their negligence (this waiver does not, however, apply to gross negligence or intentional torts). Intending to be legally bound for myself, my heirs, executors and administrators, I waive and release any and all claims for damages, demands, actions and causes of actions against all sponsors, promoters and any individual or group associated with this event for any and all injuries suffered by me in this event. I am physically fit and competent to operate the vessels and equipment used in this event. Entry constitutes permission to use winner's name and photos for publicity purposes. Receipt date of entry determines starting position. Fees are non-refundable. (Participants under 18 must have parental signature.)
Congrats to our 2022 (Spring) Catch a Vet Winner... Ryan Jordan!!
Ryan is our first ever repeat winner!