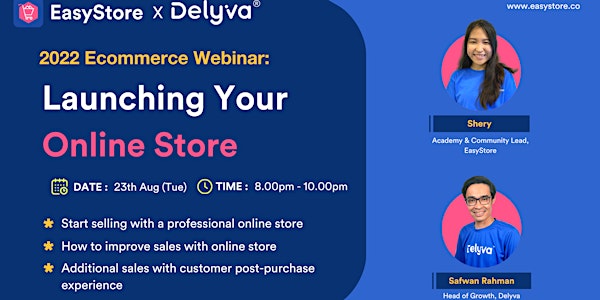 2022 Ecommerce: Launch Your Online Store
In this webinar, we are going to show you how an online store can help up your eCommerce game and how easy it is to start and manage with Ea
About this event
You've got products and you want to make a brand out of them. Then online store is your choice. But how do you start? Is it costly? Is it hard?
Don't worry, in this webinar, we are going to show you how an online store can help up your eCommerce game and how easy it is to start and manage with EasyStore. We have also invited an expert from Delyva to share with you on how you can efficiently plan your logistics.
Your gain:
- Start selling with a professional online store
- How to improve sales with online store
- Additional sales with customer post-purchase experience
Get your tickets fast as we are open to only 50 people for the webinar. Get it now!