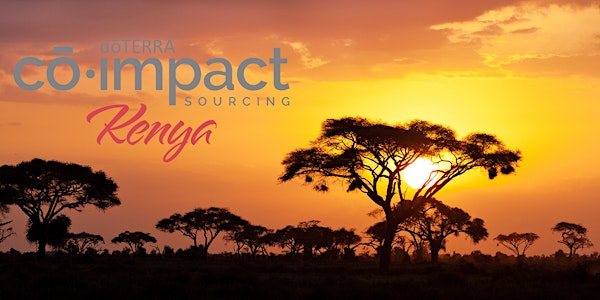 2022 dōTERRA Co-Impact Sourcing Kenya Drawing & Giveaway | US/CA Markets
Heal Connection 2022 Kenya Giveaway and Drawing for 2023 Co-Impact Sourcing Trips
When and where
Location
Kenya TBD Nairobi, TBD Kenya
About this event
Co-Impact Sourcing Trips are coming back in 2023! The long-awaited reuniting with sourcing partners and their communities around the globe is within reach. dōTERRA leaders will again have opportunities to experience sourcing firsthand, learning from our Sourcing Team and the distillers, farmers, and harvesters with whom we work. But also being hands-on working on social impact projects funded through dōTERRA Healing Hands benefitting our sourcing communities.
IMPORTANT - This sign-up has three purposes:
Purpose 1: Qualification to win an all-expenses paid Co-Impact Sourcing Trip to Kenya (Trip Dates: Mar 26-Apr 1, 2023 or Nov 5-11, 2023)
Qualification for the announced free trip drawing requires 1) Minimum of $5 donation to doTERRA Healing Hands added to your monthly Loyalty Rewards Order, and 2) your name needs to be submitted through this form by 11:00am MDT Saturday, September 17.*
Purpose 2. Letting us know if you want to be added to the drawing for upcoming 2023 Co-Impact Sourcing trips and are willing to pay your own way. You don't have to confirm your commitment , but this will be the form used to enter you into the drawings for the different 2023 trips you select. If you'd like to be in the drawing for any of the available trips , where you will pay your own way, make sure we have your information and you select the right trip on which you want to go.
Purpose 3. If you don't want to add a donation of $5 or more to your monthly Loyalty Rewards order but want to be added to a drawing for a particular trip, please make a minimum $10 one-time donation at doterrahealinghands.org.
Trip Dates:
March 26 - April 1, 2023
November 5-11, 2023
Location: Kenya
Co-Impact Sourcing Trip Cost: Approximately $5,000/person
Trip drawing consideration is dependent on a minimum donation of $5 on your monthly Loyalty Rewards order or a one-time $10 donation to doTERRA Healing Hands Foundation. For priority consideration, please join the 25 Collective by making a minimum $25 donation on your ongoing Loyalty Rewards order. The information on this form will be used in the drawing.
The drawing will close on October 31, 2022, at which point there will be a prioritized random drawing first from names who qualify for the 25 Collective by donating $25 or more per month on their Loyalty Rewards order and then a second random drawing from all names to select winners for all available trips. If you are chosen, you will receive a notification email which will be sent to the email address you used to make your dHHF donation. Once the trip has been filled, you will receive an email notification.
Both Kenya trips are intended for the US & CA markets.
*No purchase necessary, for an alternative form of entry Complete the Co-Impact sourcing quiz: https://docs.google.com/forms/d/e/1FAIpQLSdlJ90cA6qrAghpYrekN985FnIRu8KngrT2qkLp1XWl4r86uA/viewform.