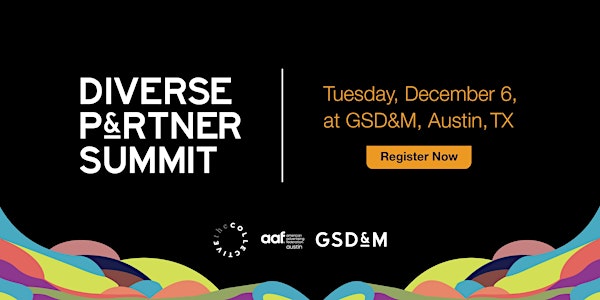 2022 DIVERSE P&RTNER SUMMIT
Collaborating with diverse partners brings better ideas and better results.
When and where
Location
GSD&M 828 West 6th Street Austin, TX 78703
About this event
AAF Austin is once again partnering with GSD&M and the Omnicom Advertising Collective to connect buyers, agencies and brands with small and diverse businesses. The format is a little different this year:
Tuesday, December 6, 2022: GSD&M will host an afternoon of hybrid programming with the goal to include more diverse partners in your bids and work. Followed by in-person networking.
Wednesday, December 7, 2022, and Thursday, December 8, 2022: Register at My Business Matches and you can set 15-minute VIRTUAL meetings to meet with potential partners. You can tailor your schedule based on your availability.
STEP 1: REGISTER
STEP 2: BOOK MEETINGS - Scheduling opens 11/16
STEP 3: ATTEND MEETINGS - Log in here
STEP 4: INCLUDE NEW PARTNERS IN UPCOMING PROJECTS!
NOTE: All steps must be completed to achieve success.
CLICK THE LINK ON THIS PAGE to attend the FREE in-person event at GSD&M in Austin, TX, on Tuesday, December 6.
2022 DIVERSE P&RTNER SUMMIT AGENDA
TUESDAY, DECEMBER 6
(All times are Central Time.)
1:15 P.M. – Welcome
1:30 P.M. – Panel Discussion
2:30 P.M. – Break
2:45 P.M. – Panel Discussion
3:45 P.M. – Closing Remarks (Virtual Session Ends)
4:00 P.M. – In-person Networking & Hors d'oeuvres
5:30 P.M. – Event Concludes
To participate in the VIRTUAL partner meetings December 7 and 8, REGISTER HERE
WEDNESDAY, DECEMBER 7, AND THURSDAY, DECEMBER 8
VIRTUAL ONLY
9:00 A.M.–5:00 P.M.—15-minute Virtual Meetings
COVID-19 PRECAUTIONS: If you are feeling ill, please refrain from attending the in-person event. All employees and visitors to GSD&M must be vaccinated. Proof of vaccination required at check-in. Masks are available at the front desk for those who would like one.