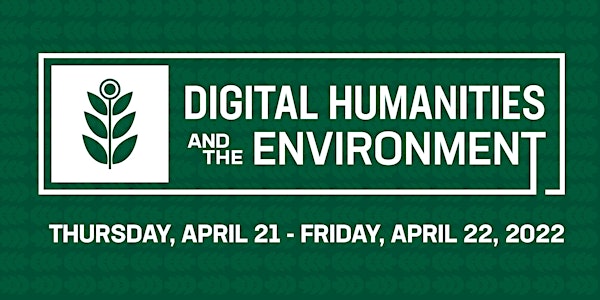 2022 Digital Humanities Institute: Digital Humanities and the Environment
This year's Digital Humanities Collaborative of North Carolina Institute will be a hybrid two-day program taking place on April 21-22, 2022.
By DHC-NC & UNC Charlotte
Date and time
April 21, 2022 · 7am - April 22, 2022 · 11am PDT
About this event
The Spring 2022 DHC-NC Institute will be hosted virtually by UNC Charlotte on Thursday, April 21st and Friday, April 22nd. This two-day institute will begin with a day of virtual presentations and will end with a virtual plenary session and in-person meetups throughout North Carolina. Pre-recorded lightning talks will be shared with registrants the Monday of the Institute with opportunities for asynchronous and live engagement leading up to and during the event.
The theme of this Institute is "Digital Humanities and the Environment." From the natural environment to pedagogical environments, this year's institute will meditate on DH's impact with its surroundings. What are important considerations for ensuring DH work minimizes harm to the environment? How can we teach practitioners to consider the environmental impact of their DH work? How is industry incorporating the environment into DH products and solutions?
Registration
Registration is FREE and required to participate in the Institute. All are welcome! Please save these dates to your calendar!
Program
This year's institute will feature virtual presentations, lightning talks, a plenary session, and in-person meet-ups. Browse the schedule and program to learn more about the presentations!
Plenary Speaker: Amanda Starling Gould, PhD, Duke University
Co-Directs Duke Story+ at the Franklin Humanities Institute. Researches Learning Innovation, Embodied Practice, EcoCritical Digital Humanities, Digital Metabolism. Advocates for access, accessibility, sustainable digitality. Online at amandastarlinggould.com | @stargould
Environments of DH: How Our Work Is in and of the World
Our digital devices and the data processes we code and encode are deeply embedded in physical and social contexts. I'll suggest that mineral mines, undersea cables, data warehouses, the command line, and e-waste mounds are locations where DH is Environmental. These are sites where digitality and wirelessness connect technologies to bodies and soils. These remind us the body does not end where technology begins, and that DH does not begin or end at the device. Messy are the clean categories we might want to use to categorize "environments" when we can perhaps no longer understand separately what is now inseparable.
There is no DH work outside the Environment, and in attuning to the human-earth-technology relation we recognize the Environment in our DH.
The plenary session will be co-sponsored by the Digital Humanities Initiative at Franklin Humanities Institute (DHI@FHI) and UNC Charlotte Atkins Library.
Code of Conduct
The Institute provides a welcoming and inclusive community of digital humanities scholars and practitioners, and it is dedicated to the creation of a safe, respectful, and collegial conference experience for all attendees. All attendees must agree to follow this Code of Conduct.