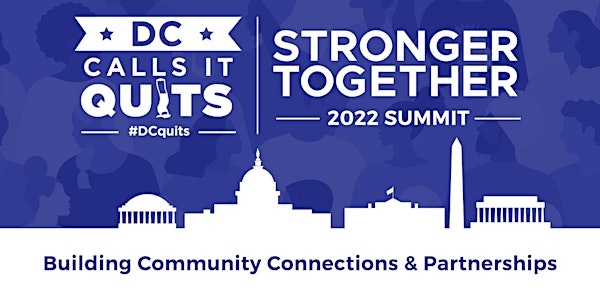 2022 DC Tobacco Control Summit
Join us in person and online for the 2022 DC Tobacco Control Summit on Thursday, September 22nd. Register Now - Space is Limited!
When and where
Location
Kaiser Permanente Center for Total Health 700 2nd Street Northeast Washington, DC 20002
About this event
Together we can make DC a tobacco-free community! DC Tobacco Free Coalition and our community partners are hosting the 2022 DC Tobacco Control Summit to share lessons learned, promote local cessation resources and fuel roundtable talks about tobacco use among adults and youth in the District. Join us on September 22nd, 10:00am – 3:00pm for this hybrid event, hosted online and in person at the Kaiser Permanente Center for Total Health. REGISTER TODAY, SPACE IS LIMITED.
The summit will feature dynamic speakers and interactive breakout sessions.
______________________
KEYNOTE SPEAKER
Carol McGruder ○ African American Tobacco Control Leadership Council (AATCLC)
______________________
PANEL DISCUSSIONS & BREAKOUT SESSIONS - Our panelists will present on critical tobacco control topics, then Summit attendees will choose to participate in the breakout discussion group of their choice.
______________________
Sponsored by DC Tobacco Free Coalition with support and contributions from DC Health, Kaiser Permanente Center for Total Health, Truth Initiative, Action on Smoking and Health (ASH) and Pfizer.
The DC Tobacco Control Summit is a DC CALLS IT QUITS! WEEK activity. DC Calls It Quits is a week-long awareness campaign, with allies and partners hosting quit awareness events throughout the District. To learn more, or to share an event your organization is hosting, please contact DC Tobacco Free Coalition or visit our website at www.dctfc.org.
______________________
MASKS REQUIRED: Please note that masks are required for those planning to attend the event in person.