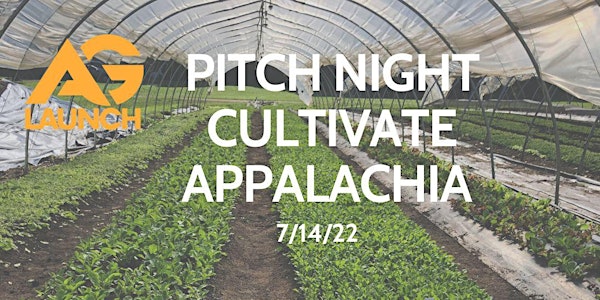 2022 Cultivate Appalachia Pitch Night
Hear pitches from the food & agtech startup companies that participated in the 2022 Cultivate Appalachia Bootcamp!
When and where
Location
445 S Gay St suite 101 445 South Gay Street #suite 101 Knoxville, TN 37902
About this event
Join us on Thursday, July 14th for an in-person reception to hear from the food & agtech pioneers that participated in this year's Cultivate Appalachia Bootcamp. Companies include:
AgricultureApps: AgricultureApps is a custom software development business that specializes in advancing the management and analysis of agricultural data. Our mission is to help scientists, researchers, and industry professionals better utilize big data for state of the art research and on-farm management through innovative software solutions.
Algaeo: Unleashing the power of algae! Algaeo seeks to build the micro carbon credit market, expand algae built products, and provide carbon sequestration tools to every day people; all with algae!
Cosmic Eats: Cosmic Eats is a NASA Award winning, women-led company, focused on feeding people where food access is limited. Cosmic Eats is working with the U.S. military to generate nutritious, supply chain resilient, sustaining food solutions for people in isolated environments, whether space, the Arctic, or the deep blue sea.
Hemp Cattle Company (KY): Hemp Cattle Co. offers the first hemp-grazed and finished beef. The farmer-led company is also developing other innovative products to increase farm efficiency and treat animals more humanely.
Jades Elevation: Jades Elevation LLC was established April 20, 2018 in Memphis. TN. We are a small family urban farm that focus on providing the best hemp products from seed to experience. Our mission is to bring craftsmanship back to the hemp industry.
Reniva Innovations: Reniva Innovations, Inc. develops novel, groundbreaking, proprietary technology solutions at the intersection of plant health and soil health to meet future needs for food and fiber in a changing climate.
Tree of the Field: Tree of The Field solves existing human needs by applying advanced tools of science and technology to biomass in order to manufacture proprietary products that support healthy active living. Our flagship product is the mighty Skeeterlog® , a smoke dispersed mosquito repellant. We make every effort to use renewable resources, locally sourced materials, environmentally responsible practices, and humane decisions. We believe in what we do, why we do it, and in each other. We also believe in a bright future for Appalachia.
X10D: X10D (pronounced "extend") is a SaaS mobile- and web-app solution that provides a record-keeping platform for users, a decentralized educational content delivery system for tiered content creators, and a community of connection for both users and content creators. The record-keeping component enables data collection that will improve the user's management decisions and streamline creator-to-user consultations as well as enable data aggregation that will provide tremendous value to the industry. It is scalable to other agricultural and non-ag sectors.
The Cultivate Appalachia Bootcamp is the first official program of the Appalachian AgriFood Innovation Cluster, coordinated by AgLaunch for the Small Business Administration (SBA). Bootcamp co-sponsors include: AgLaunch, the Knoxville Entrepreneur Center, Sync.Space, The Biz Foundry, InvestSWVA, the South Carolina Research Authority, the Kentucky Department of Agriculture, Economic Development Partnership of Alabama, University of Tennessee Research Foundation, Tennessee Tech, the National Black Growers Council, and the North Carolina Biotech Center, with support from Launch Tennessee.