Location
Timonium United Methodist Church
2300 Pot Spring Road
Lutherville-Timonium, MD 21093
Vendors sell. Crafters create. Combined, they form Vendor Members Group.
About this event
Back by popular demand...
IF YOU ENJOY SHOPPING, REGISTER (HERE ON EVENTBRITE) FOR A GENERAL ADMISSION TICKET, and we will remind you of our events.
In 2021, Vendor Members Group introduced five CRAFTS GALORE! Events to the Timonium area.
In 2022, five CRAFTS GALORE! Events (May thru Dec) have already occured. Now, three CRAFTS GALORE! Events remain (Oct thru Dec).
As an accredited business with the BBB of Greater Maryland, Vendor Members Group operates as a juried, membership group for local, handmade brands (not to be confused with resold goods, national brands, or multi-level merchandise).
Shopping enthusiasts who attend CRAFTS GALORE! Events will discover: One-of-a-kind collections, Home Decor, Photography, Locally published Books, Small Furniture, Therapeutic & Wellness Supplies, Pottery, Signs & Decals, Textiles & Fabric Art, Wooden & Metal Art, Technical & Educational Art, Leatherwork, Custom Sports Favors, Jewelry, Tie Dye & Patriotic Apparel, Beauty Supplies, Fashion Accessories, Jams | Jellies | Sauces, Food, Baked Goods, Tea Boxes, Popular Gifts for Pets, Kids, and Loved ones, as well as much, much more
Bring your loved ones, children, and dog! Show your support for artistic talent, local crafters, and the small business community. We invite you to shop with us if you missed our previous shows (May 28th, June 18th, July 9th, Aug 27th, or Sep 24th). Described as "a local shopping event - practically in your own backyard," we offer free public admission and a handicap accessible facility. Upcoming CRAFTS GALORE! Events are held weather permitting, inside and outside of Timonium United Methodist Church on:
Sat. October 22nd (9AM - 2PM)
Sat. November 12th (9AM - 2PM)
Sat. December 3rd (9AM - 2PM)
IF YOU ARE A MUSICIAN, ARTIST, FOOD, OR CRAFT VENDOR INQUIRING ABOUT PARTICIPATION, PLEASE FOLLOW INSTRUCTIONS (BELOW).
(INSIDE) Vendor space is sold out, and we have met our maximum capacity of jewelry and candle vendors for the entire 2022 series. BUT (OUTSIDE) Vendor space is available:
Asphalt vendor space (Outside, 10x10). 10x10 canopies are recommended
Grass vendor space (Outside,18x18). Canopies are recommended
CRAFTS GALORE! Event vendors are exclusive to Vendor Members Group. Group membership is juried, and assignment is on a first paid basis. Vendor space is reasonably priced, market competitive, and determined by the quantity of events contracted by the member ($55-70/event). Advanced payment is required, non-negotiable, non-transferrable, and non-refundable. Fees collected are appropriated towards annual group operations and monthly event costs. Table(s), chair(s), canopy, canopy weights, and electricity is not provided.
Please complete all questions below, and email them to: vendormembers@gmail.com. Only completed requests will be considered.
How did you discover our events?
Full Name
Business Name
Cell number
Tell us about your craft
Price range of handmade goods
Craft Pics (NOT weblinks)
Upon approval, you will be contacted to discuss your brand, our events, and any related questions. Due to a limitation on vendor space and craft-industry maximums, not all vendor requests will be approved for participation, but there's always next year...
On the fence? Check out our official website: https://www.vendormembersgroup.com or please visit us in person at CRAFTS GALORE! Events :)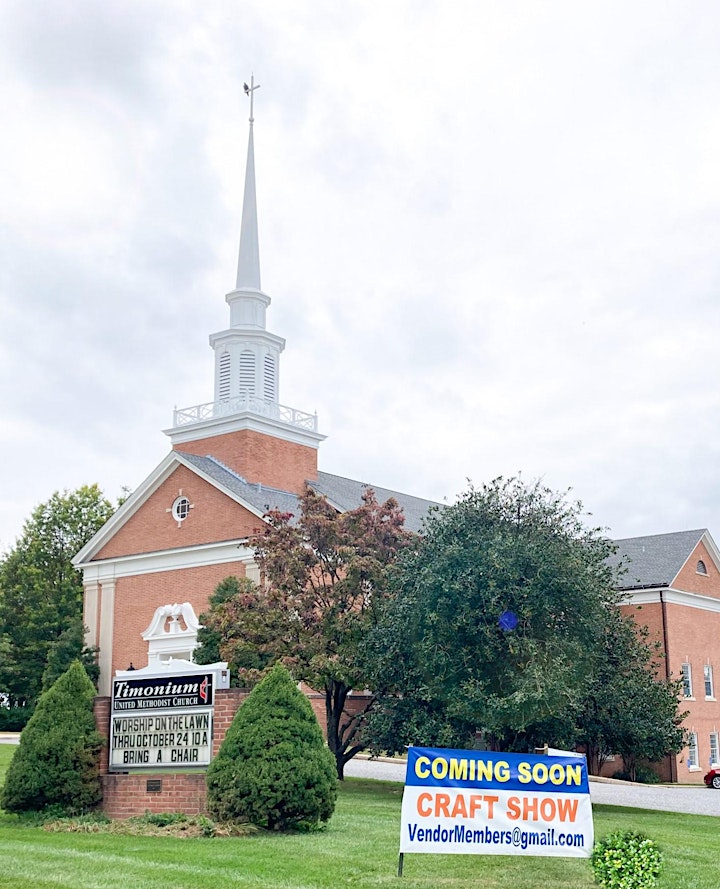 Since 2021, CRAFTS GALORE! Events has been the signature event series of Vendor Members Group.
Vendor Members Group is extremely grateful for the ongoing support we receive from TIMONIUM UNITED METHODIST CHURCH, as well as the Timonium community Baltimore County, MD.
More information can be found on our official website: https://www.vendormembersgroup.com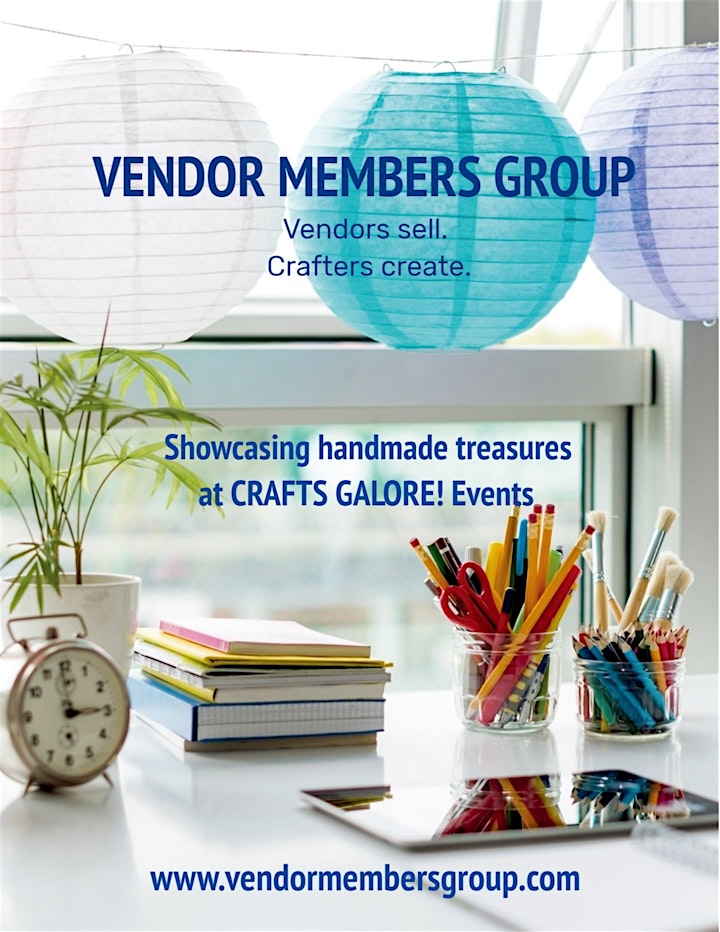 Favorite us! Like us! Love us! Follow us! Rate us! Contact us! Review us!
AND by all means, JOIN US!
Help us spread the word! Screenshot our flyer (below)!
Show your support by posting our flyer to your social media!
Forward our flyer to family and friends. Together, you can gather at our events, shop from our local selection of crafts, and indulge in really great food :)