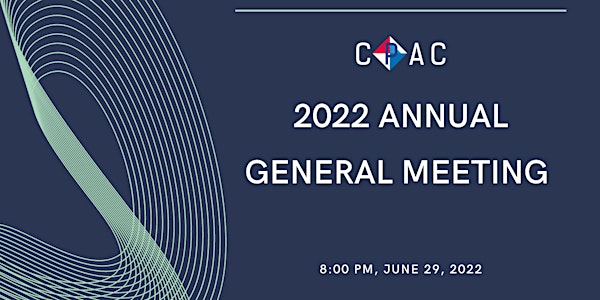 2022 CPAC Annual General Meeting to be Held Virtually on June 29
A seminar on lawn care will be presented on request. A CPAC 30th anniversary souvenir will also be released.
When and where
Date and time
Wed, Jun 29, 2022 5:00 PM - 7:00 PM PDT
About this event
Dear Member,
You are cordially invited to the 2022CPAC Annual General Meeting (AGM), to be held at 8:00 pm on Wednesday, June 29, 2022 on Zoom.
The AGM is the best platform for you to exercise your right as a member and contribute to CPAC's continuous improvement and development. The AGM agenda includes CPAC's annual work report, financial report, by-law amendment, and a Q & A session for you to ask questions and make suggestions.
This year will be CPAC's 30th anniversary. Attendees at the AGM will each receive an anniversary gift. We will also invite a gardening expert, Randy Li to share his tips on lawn maintenance in Mandarin, which have been requested by many members.
Please register NOW and reserve your spot.
20212CPAC AGM Details:
Date: Wednesday, June 29, 2022
Time: 8:00 – 10:00 pm
Location: Zoom Meeting (Meeting code will be sent to your email soon after registration.)
Enquiries: office@cpac-canada.ca; 416-298-7885 ext. 101
CPAC诚邀会员参加2022年度会员大会
草坪维护中文讲座 协会 30周年纪念品赠送
尊敬的会员:
CPAC诚挚邀请您参加即将于6月29日星期三晚上8点在线上举行的2022年CPAC年度会员大会。
会员大会是您行使会员权力、了解协会运作、并提出意见和建议的良好时机,在会上您会听到CPAC过去一年的工作报告和财务报告,参加理事选举,并有机会参与轻松的问答和互动。
时值CPAC成立30周年之际,本次参加会员大会的朋友将会获得一份周年纪念礼物。另外,应广大会员朋友的要求,CPAC今年还特别荣幸的邀请到到毕业于沈阳农业大学园艺学院的李广海 (Randy Li) 先生为大家用中文分享草坪维护的相关知识。李先生具有二十多年加拿大园林植物经验,现任辽宁大学环境工程学院的特聘教授,多伦多Aga Khan Museum和The Ismaili Centre of Toronto的园林顾问。他的园林公司RMJ Landscaping专门从事于私人豪宅及公共建筑的园林植物(soft landscaping)的业务。
请赶快上网登记留位。
会议时间:8:00 – 10:00 pm,2022年6月29日(星期三)
会议地点:Zoom Meeting (会议链接将于活动前发到您的注册邮箱)
查询:office@cpac-canada.ca; 416-298-7885转101
About the organizer
CPAC is a non-profit organization serving a community of internationally trained professionals. For over two decades, CPAC has been helping immigrants with employment and career advancement, gaining necessary credentials, and accessing international business opportunities. CPAC is also an organization that assists them with cultural integration into Canadian society. The organization now has over 30,000 members from various cultural and ethnic backgrounds with a wide range of professional training and skills. CPAC members get access to a comprehensive package of services and benefits to enhance their life in Canada.