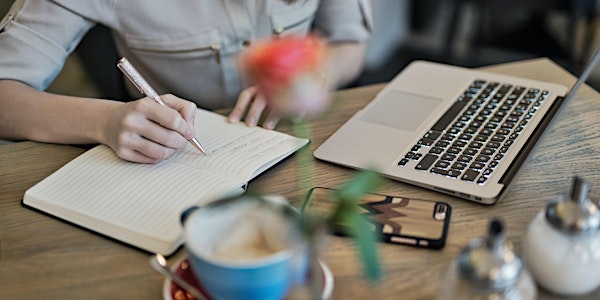 2022 Cook County Human Trafficking Task Force Virtual Conference
Refund policy
Refunds up to 1 day before event
The Cook County Human Trafficking Task Force is pleased to host our 12th Annual Conference virtually on August 9, 10, and 11th, 2022!
About this event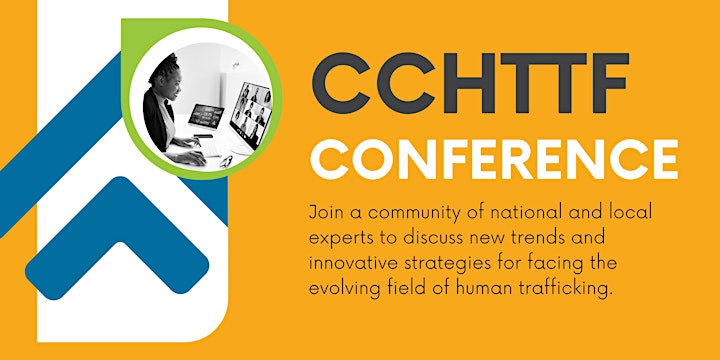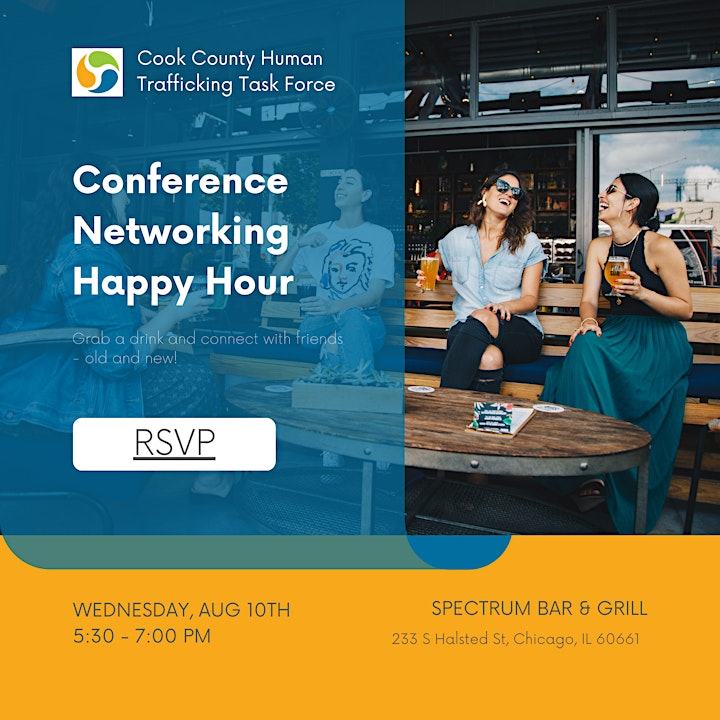 If you have any questions, please contact anna.pastor@usc.salvationarmy.org.
Survivors! Use Promo Code 'SAVEYOURSEAT' to unlock discounted tickets.
All promo codes are applied by clicking 'Enter Promo Code' above the Regular Registration option on the ticket selection page
2022 Conference Speaker Lineup
Tuesday August 9th
Opening the Wayfair Cabinet: An Exploration of Misinformation in Anti-Trafficking | 9:00 - 10:30 am
Speaker: Erin Albright, New Frameworks
Exaggeration, poor methodologies, and even pure fabrication all haunt the anti-trafficking field. We've all heard the sensational claims about human trafficking, and we've all spent more than our fair share of time gently explaining why certain statistics and claims are exaggerated or untrue. This is a seminar session, aimed at all involved in anti-trafficking work and appropriate for all audiences. It will shed light on the different types of misinformation and how they happen. Attendees will hear about the origins and discrediting of several often used "facts," and learn ways to avoid perpetuating misinformation.
When Labor Becomes Trafficking | 11:00 - 12:30 pm
Speakers:
Dolores Ayala, Supervisory Attorney, Employment Team, Immigrant and Workers' Rights Project, Legal Aid Chicago
Lauren Dana, Supervisory Attorney, Illinois Legal Aid Migrant Project, Immigrant and Workers' Rights Project, Legal Aid Chicago
Eduardo Cisneros; Staff Attorney, Trafficking Survivors Assistance Project, Immigrant and Workers' Rights Project, Legal Aid Chicago
Moderator: Lisa Palumbo, Director, Immigrant and Workers' Rights Project, Legal Aid Chicago
All too often labor trafficking go unidentified, misunderstood as exploitation or solely wage theft. Working on interdisciplinary teams, and building out a nuanced understanding of how force, fraud, and coercion force a person to provide labor and other services, can help to ensure that survivors are identified and receive the services they need. Legal Aid Chicago's Immigrant and Workers' Rights team uses an interdisciplinary approach to identify and provide comprehensive services for a variety of survivors: from domestic violence human trafficking (DVHT); to migrant farmworkers; to low-wage workers in various industries. This panel will discuss how survivors are identified and provided with wraparound services using this unique model.
Land of Collaboration: Overcoming Common Challenges in a Multidisciplinary Setting | 2:00 - 3:30 pm
Speaker: Erin Albright, JD, ICF Project Roadmap & Erin Wirsing, MSW, ICF Project Roadmap
This breakout session will guide attendees working in multi-disciplinary teams through the Land of Collaboration. There are enemies and distractions, as well as guiding lights in the land. At times, it is hard to follow the right path to success. This session will help grantees working in multi-disciplinary teams learn to navigate formalizing efforts, obtain buy-in, and manage change.
Wednesday August 10th
Forced Criminality in Labor Trafficking: Illicit Business through the Lens of Forced Labor | 9:00 - 10:30 am
Speaker: Lou Longhitano , JD, Advisory Attorney, AEquitas
System professionals have come to recognize that forced criminality of persons sold in the illicit sex trade is sex trafficking, but they have been slow to acknowledge that the same control dynamics inflicted upon those with other roles or in other illicit businesses is labor trafficking. This presentation will challenge participants to apply a lens of force, fraud, and coercion to better assess whether workers are culpable voluntary participants or victims of labor trafficking and forced criminality in order to achieve justice.
Building Cases with Missing and Intimidated Victims | 11:00 - 12:30 pm
Speakers: Jane Anderson, JD, Advisory Attorney, AEquitas & Jennifer Dolle, JD, Advisory Attorney, AEquitas
Following the arrest of a trafficker or a victim's exit from exploitation, traffickers continue to assert force, fraud, and coercion against survivors. This presentation will provide prosecutors and allied professionals with strategies for minimizing opportunities for intimidation and maximizing offender accountability when victims are intimidated or missing.
Combatting Vicarious Trauma: Putting Your Oxygen Mask on First | 2:00 - 3:30 pm
Speaker: Dr. Becca Johnson, Licensed Psychologist and Author
Those who work with the traumatized at some time or another, will experience Vicarious Trauma - the trauma faced by those who work with trauma victims. Yet, many don't understand or recognize it. Someone said, "Caring for others is noble; caring for yourself is required." Self-Care is essential. Come learn ways to identify, prevent and recover from this 'front lines trauma'.
Thursday August 11th
Serving and Supporting Survivors of Trafficking with Disabilities | 9:00 - 10:30 am
Speaker: Reyma McCoy Hyten, Former US Department of Health and Human Services Commissioner for the Administration on Disabilities
This presentation will provide a high-level overview on supporting survivors with disabilities in a trauma-informed manner. We will discuss recognizing the wide-spread nature of trauma and its effects, which can, in and of itself, cause disability, understanding the potential avenues for recovery and healing, which may or may not include a person's support team, and being able to identify signs and symptoms of trauma in persons served, particularly those who do not and/or have limited ability to communicate verbally.
First things First: Engaging EMS Providers in the Fight Against Human Trafficking | 11:00 - 12:30 pm
Speakers: Chenel Vanden Berk, BS, JD, RN, SANE-A,SANE -P, SANE Coordinator at Advocate Aurora Condell Medical Center Cathy Duchow Cross, BSN, MSN, PMHNP, SANE , SANE Coordinator at Aurora Burlington and Aurora Lakeland
This presentation will address the need to include EMS providers in the fight against Human Trafficking by recognizing their strengths, acknowledging the challenges of engaging these particular providers. This presentation will explore trauma informed care, effective communication, screening, safety concerns, documentation and resources (both at the scene and the ED) and offer strategies to foster a new partnership in the healthcare fight against Human Trafficking.
Concurrent Sessions | 2:00-3:30 pm
Finding Your Strengths! - A New Approach for Serving CSE / CST Youth | VSS Breakout
Speakers: Rebekah Dettmann, MSW , Milwaukee Child Advocacy Center- Anti-Trafficking Coordinator
Claudine O'Leary, Independent Consultant and Non-Profit Leader
This presentation will focus on a set of two, evidence informed, strengths-based tools to enhance service providers' response to high risk and trafficked youth. Providers will learn ways to help young people explore and articulate the strength and resiliency factors they possess to achieve their goals.
Working with Experts to Combat Common Defenses | Legal Providers/Law Enforcement Breakout
Speakers: Jane Anderson, JD, Advisory Attorney, AEquitas & Jennifer Dolle, JD, Advisory Attorney, AEquitas
Expert witnesses testimony can combat common defenses in sex and labor trafficking cases which often rely on myths and misconceptions. This presentation will discuss the identification and qualification of experts, statutory and case law related to the introduction of expert testimony, and the importance of working with experts to prepare for trial, even if their testimony is not introduced.
Human Trafficking and Healthcare Engagement: Innovative Approaches for Prevention and Identification | Healthcare Provider Breakout
Speakers: Traci Kurtzer , MD , Northwestern Medicine - Medical Director of Trauma Informed Care & Education for the Department of Obstetrics and Gynecology
Jaclyn Rodriguez, BSN, BS, RN, SANE-A, SANE-P , SANE Coordinator for the Office of the Illinois Attorney General
The discussion will start with a review of a few innovative approaches and some case studies for problem solving, focusing on efforts in prevention and earlier identification of human trafficking, since we are often the only professionals with whom survivors come in contact. Three focus areas to be covered will address the overlapping connections of human trafficking to social determinants of health, domestic and family violence, and sexual violence will be reviewed. Then we will follow with a facilitated group discussion on ways to incorporate these methods, or any new ideas brought up to address prevention and identification, into our various healthcare settings.