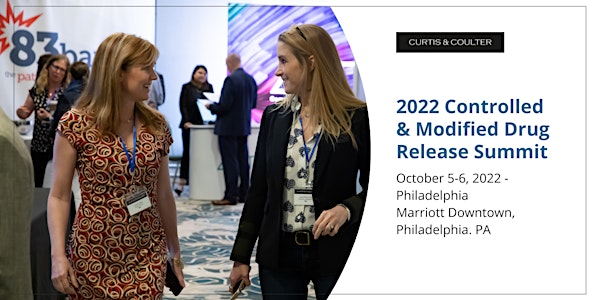 2022 Controlled & Modified Drug Release Summit
2022 Controlled & Modified Drug Release Summit
When and where
Location
Philadelphia Marriott Downtown 1201 Market Street Philadelphia, PA 19107
About this event
Now more than ever, the drug development model is in need of a drastic shakeup. With lengthy and costly approval processes, generic incursion, rising development costs and the challenge of adherence, pharma and biotech need to innovative product development and delivery to improve therapeutic performance.
Now in it's 8th successful year (back in both in-person and virtual), the 2022 Controlled & Modified Drug Release Summit will provide you and your team this dose of innovation. Attendees learn directly from industry's leading experts and hear multiple unique case study sessions and take-home examples to enhance their product pipelines. 2022's Summit showcases the latest technologies and methods for improving drug release mechanisms, maximizing exposure, and reducing time-to-market. Additionally, this must-attend event will showcase the latest regulatory guidance updates and the implications for the industry.
Are you looking to improve the performance of your drug products? Register to attend today and walk away with game-changing development strategies which could decrease time-to-market and save you millions.
This event is also co-located with the 2022 Global Drug Bioavailability Enhancement Summit. Attendees and sponsors/exhibitors have access to both events!