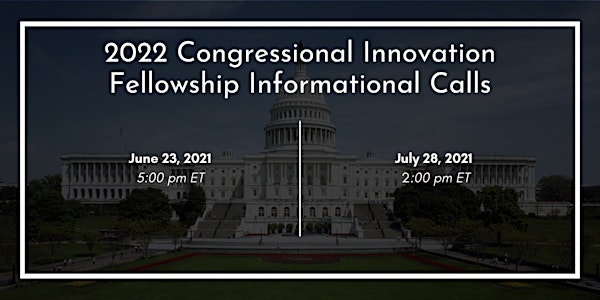 2022 Congressional Innovation Fellowship Informational Conference Call
Join our information calls to learn more about the 2022 Congressional Innovation Fellowship!
When and where
Location
Uberconference Dial 202-792-8091or visit uberconference.com/techcongress Washington, DC 20005
About this event
TechCongress will be holding a series of informational calls regarding the program throughout June and July. Calls will last approximately 45 minutes with lots of opportunity for Q&A.
Calls will include the TechCongress team. Visit uberconference.com/techcongress to join online.
Wednesday 6/23 @ 5:00pm Eastern/2:00pm Pacific (dial 202-792-8091 or join online)
Wednesday 7/28 @ 2:00pm Eastern/11am Pacific (dial 202-792-8091 or join online)