2022 Community of Human and Organizational Learning 28th Annual Conference
Improving Results by Improving our Culture | The 28th Annual Community of Human and Organizational Learning Conference - Formerly HPRCT
About this event
Join The Community of Human and Organizational Learning, formerly the HPRCT Association, for our 28th Annual Learning Conference.
The current storm battering our global working environment is testing everyone's organizational culture. Is your culture an anchor during this storm, grounded in shared purpose, values and desired outcomes? Or did the winds of uncertainty drive your organization away from learning and towards the rocks? Have the right tools, models and measures been implemented to navigate and innovate for the next potential squall, leveraging organizational learning and models to anticipate and mitigate risks? The 2022 Conference will ask the attendees the right questions, provide the latest research and teach practical tools to strengthen systems, renewing focus on positive organizational cultures. 
Please join us in June 2022 in Colorado Springs, Colorado for the 28th annual Community Conference. Monday, June 13 will be the workshops included with the 3-day conference ticket, The 3-day conference starts Tuesday, June 14 and runs thru Thursday, June 16. Workshops will be held on Friday, June 17. 
Discounted Early Bird tickets, up to a $100 discount, are on sale NOW! Take advantage of this limited-time offer.
If you register 3 or more attendees at one time, you will receive an additional $50.00 discount on each registration. Select the Group Discount ticket.
The conference will be held at Cheyenne Mountain Resort.  Be sure to book through the link below to recieve our group rates.
2022 CHOLearning Conference Hotel Reservations
Looking for more information? Visit our conference website.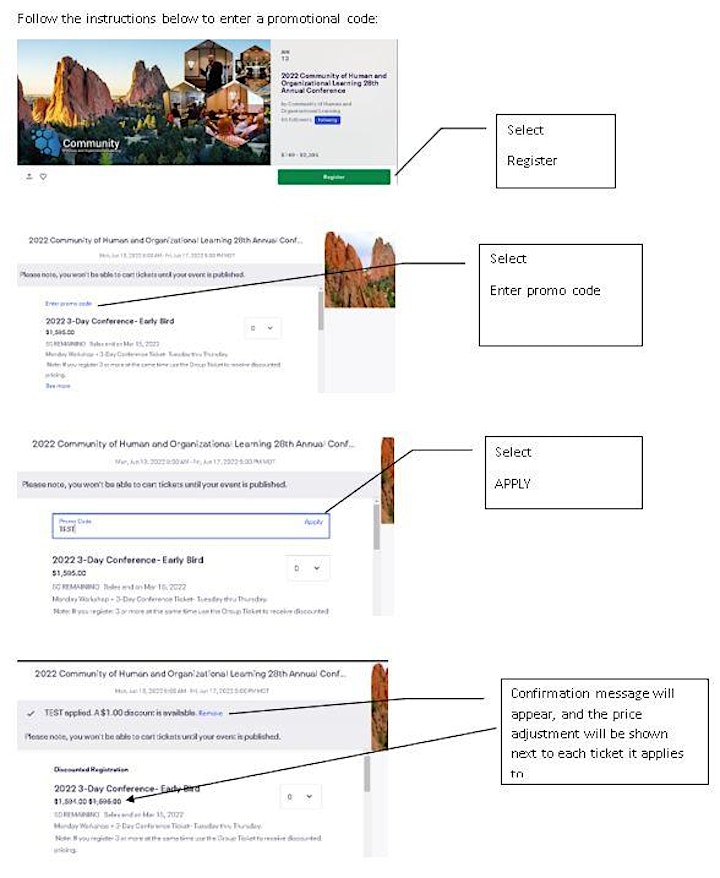 Organizer of 2022 Community of Human and Organizational Learning 28th Annual Conference