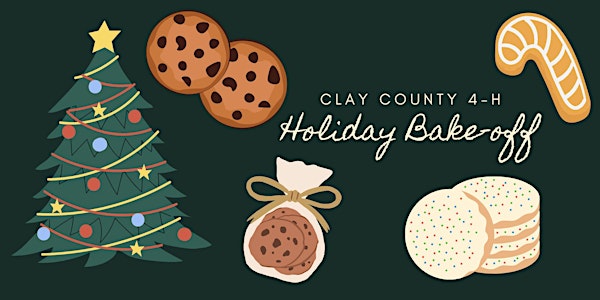 2022 Clay County 4-H Holiday Bake-Off -- Holiday Cookie Edition
2022 Clay County 4-H Holiday Bake-Off -- Holiday Cookie Edition
When and where
Location
UF/IFAS Extension Clay County 2463 SR 16 West Green Cove Springs, FL 32043
About this event
2022 Clay County 4-H Holiday Bake-Off -- Holiday Cookie Edition
UF/IFAS Extension Clay County, 2463 SR 16 W, Green Cove Springs, FL 32043
Friday, December 9, 2022
Entry Setup – 5:00-5:45 pm Judging – 6:00 pm Award Presentation – 7:30 pm
**THIS YEAR'S THEME IS HOLIDAY COOKIES**
1. This is a "Bake-Off", cookies must be BAKED (cooked in an oven, thereby surrounding it with dry heat) and include flour in the recipe.
2. It is open to all Clay County 4-H members and maximum of 10 non-4-H youth. Divisions are: Cloverbud (may enter, but will only receive participation ribbons), Junior, Intermediate, and Senior.
3. Our only category this year is Cookies.
4. Deadline for registration and recipe submission is Monday, December 5th at 4:30 pm.
5. PRODUCT and RECIPE INSTRUCTIONS
a. Participants may enter only one product. Participants may not enter the same recipe if it has been a Division or Overall Winner in the past.
b. Junior, Intermediate and Senior entries may be made using a dry mix plus two other ingredients (this is more than what is needed to make the item just using the mix) OR from "scratch" (completely from basic ingredients). Cloverbud products may be made entirely from dry mixes or like above.
c. Bonus Points - Any product that is made with less fat, sugar, or total calories by modifying a recipe or using an already modified recipe will be awarded bonus points. Indicate on recipe modifications made or why this is a healthy choice.
d. Recipes must be submitted in a recipe format on entry form (see page 2 for more details).
e. Recipes are not to be altered once entry form is turned in.
f. Recipes using frozen or refrigerated dough is not permitted. Recipes baked in a microwave are also not permitted.
6. Overall presentation of the product will be considered in the judging.
7. Entries will be judged using a score sheet. There will be one Overall Winner, winning a scholarship to a 4-H county camp. Overall Winner will be selected from the Division Category Winners.
8. Finished product must be set-up for judging no later than 5:45 pm on Friday, Dec. 9, 2022. Classroom will open at 5:00 pm. Intermediates and Seniors must work alone. Juniors and Cloverbuds may be accompanied by one parent.
9. After announcement of winners, everyone will be invited to sample the products.