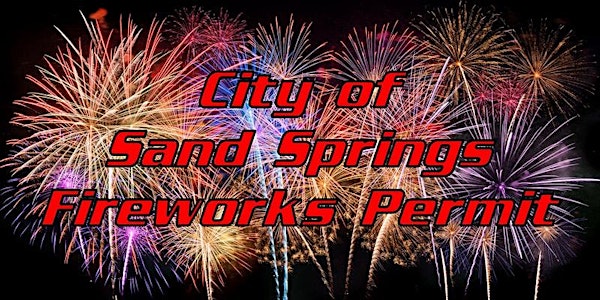 2022 City of Sand Springs, Firework Permit
Fireworks Discharge Permit for residents within the City of Sand Springs.
When and where
Location
City of Sand Springs 100 East Broadway Street Sand Springs, OK 74063
Refund Policy
Contact the organizer to request a refund.
Eventbrite's fee is nonrefundable.
About this event
Thank you for your interest in purchasing a Fireworks Discharge Permit for residents within the City of Sand Springs.
This permit is valid for discharge of Class 1.4G Common Fireworks at or in close proximity to the private residential property address indicated within registration only between the hours of 6 p.m. and 11:00 p.m. on Sunday, July 3, 2022; and 11:00 a.m. to 11:00 p.m. on Monday, July 4, 2022.
NOT VALID FOR COMMERCIAL USE. NOT VALID FOR USERS UNDER AGE 18.
Permit holder must be at least 18 years of age and shall serve as the person in charge of fireworks discharge activities at the permitted location. All persons under age 18 must be supervised by the person in charge. All fireworks debris must be cleaned up and properly disposed of as soon as it is safe to do so after discharge.
Permit holder shall assure all discharge activities are conducted in compliance with Section 9.2.030 of the Code of Ordinances of the City of Sand Springs, OK.
The city of Sand Springs, Oklahoma, may cancel or revoke this permit for violations of any federal, state or local law or regulation; or if its issuance constitutes a detriment to the public health, safety or welfare.
For permit questions, call 918-246-2548. To report a fire or medical emergency, call 911.
Safety Tips:
Children should never play with or light fireworks.
Always keep a bucket of water handy in case of a malfunction or fire.
Read and follow all warnings and instructions before using fireworks.
Only use fireworks as intended. Don't try to alter them or combine them.
Be sure that other people are out of range before lighting fireworks.
Sparklers burn at such high temperatures that they can burn clothing.
Light fireworks one at a time.
Never relight a "dud" firework. Wait 20 minutes and then soak in a bucket of water.
Never put your head or any body part over the top of any fireworks product. Never look into a firework tube or hold to your head.
Spectators should keep a safe distance and the shooter should wear safety glasses.
Alcohol and fireworks do not mix. Have a "designated shooter".
Be cautious of lighting any fireworks during strong wind conditions.
Always light fireworks on a hard, flat and level surface to insure stability.
Never aim, point or throw any fireworks at another person or at any property.
Please be considerate of your pets and other animals when using fireworks. Noise and lights often frighten pets and animals.
Buy fireworks only from reliable, licensed fireworks dealers.