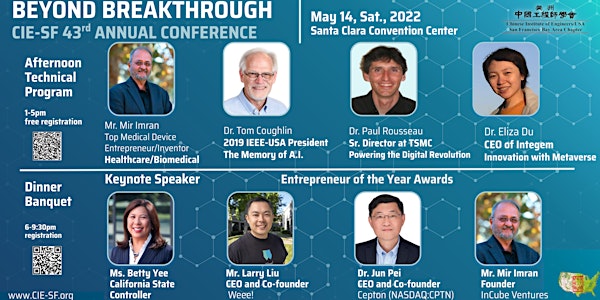 2022 CIE-SF 43rd Annual Conference (Technical Session & Dinner Banquet)
Event Information
Location
Santa Clara Convention Center
5001 Great America Parkway
Santa Clara, CA 95054
Free registration will end soon. The space is limited.
About this event
We are back in person!
Join us on May 14 for CIE-SF 43rd Annual Conference!
Last year, CIE held the Asian American Engineer of the Year Award and had great success. This year, we cordially invite you to join us at our 43rd Annual Conference. This will be our first in-person annual event in three years since the pandemic. It would be a great opportunity to hang out and meet the executives, industrial talents, and friends at our conference in person again. We hope to see you there!
The theme of the 43rd Annual Conference is Beyond Breakthrough. Our esteemed speakers from leading industries and academia will talk about current technology bottlenecks, solutions, potential breakthroughs and beyond covering the fields of healthcare, biomedical, future A.I., memory and storage, semiconductor, and Metaverse (AR/VR/MR).
Healthcare/Biomedical: Mr. Mir Imran, Innovator and Entrepreneur, found over 20 companies; 15 of them have seen "liquidity events" (IPO/Acquisition)
Future A.I. Application: Dr. Tom Coughlin, 2019 IEEE-USA President, President at Coughlin Associates
Semiconductor Breakthrough: Dr. Paul Rousseau, Senior Director at TSMC North America
Metaverse (AR/VR/MR): Dr. Eliza Du, CEO of Integem, Former Director of QualComm, Tenured Professor at Purdue University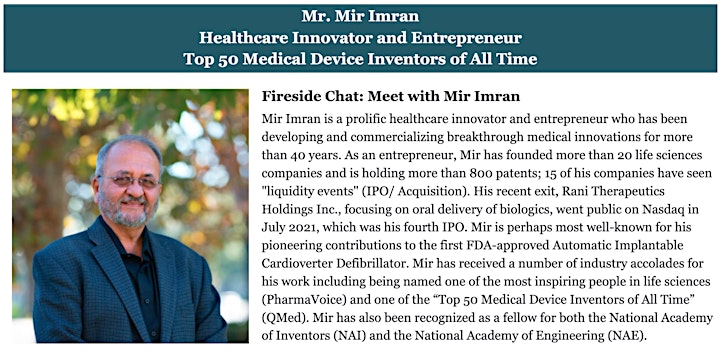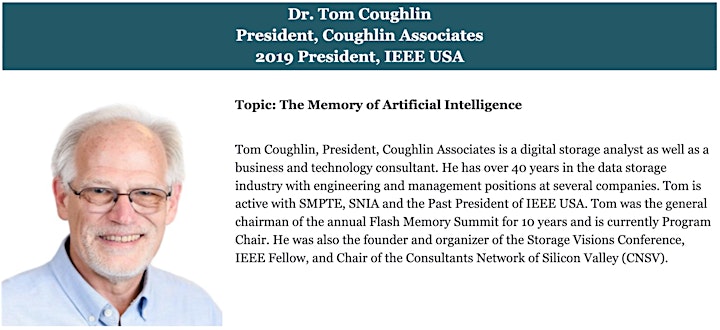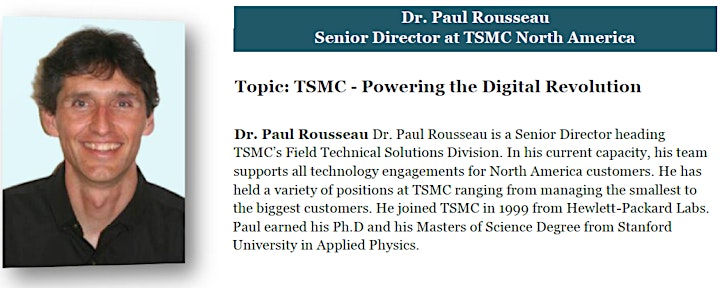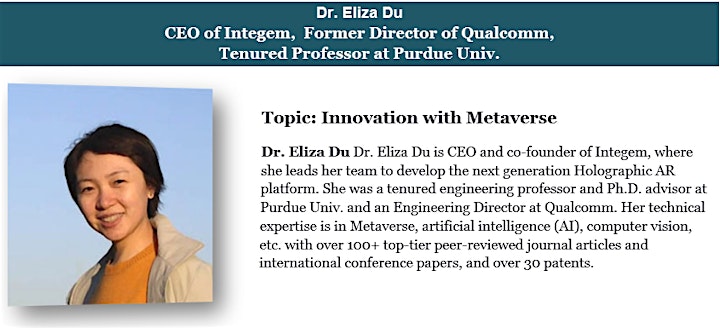 CIE/USA-SF 43rd Annual Conference Program Schedule (tentative)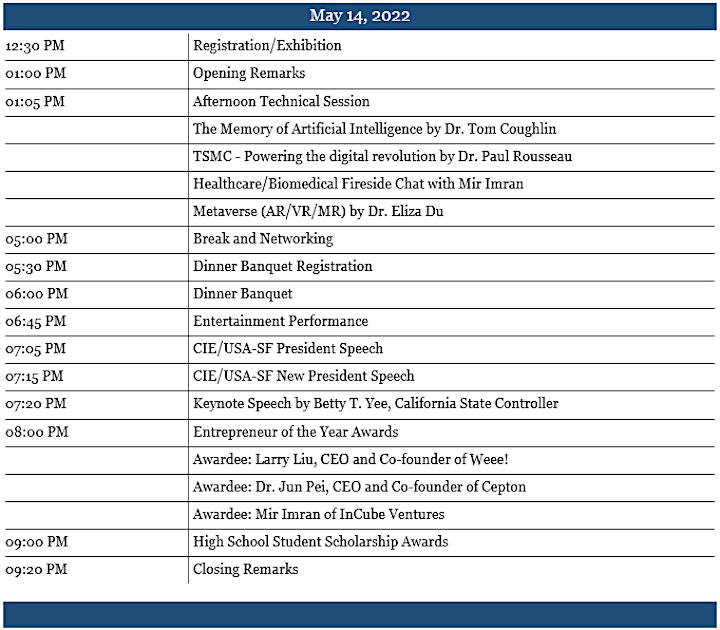 Event Venue: Santa Clara Convention Center, Mission Ballroom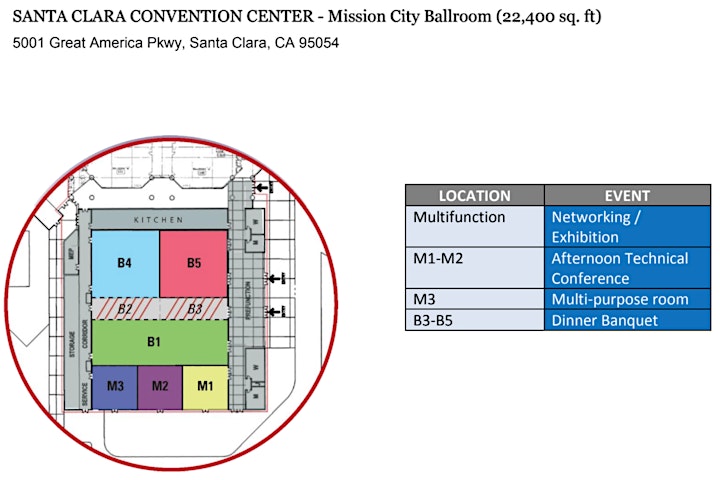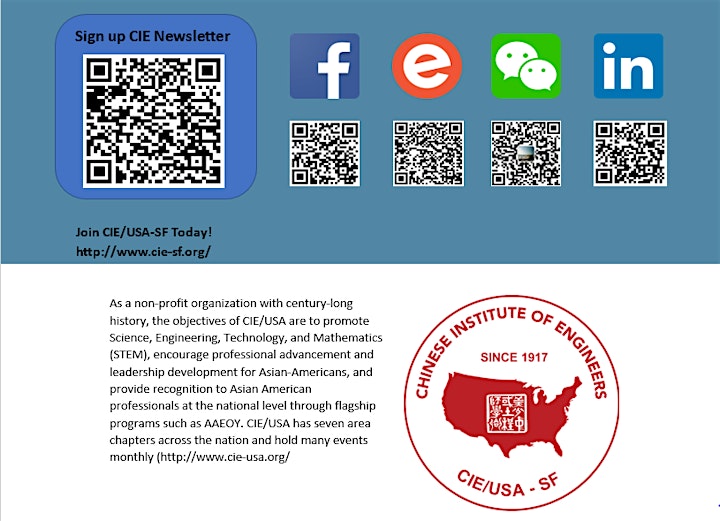 History of Chinese Institute of Engineers, USA
The first railroad project designed and managed by Chinese engineers was in 1905 when American educated Zhan Tian-You/Jeme Tien Yow 詹天佑 headed the building of Jing-Zhang railroad 京張鐵路 connecting Peking 北京 (now Beijing ) and Chang-Jar-Ko 張家口 (now Zhang-Jia-Kou).
Recognizing the need for engineers to help modernize China, more students were sent abroad to study science and engineering. In 1917, the Chinese Institute of Engineers (CIE – 中國工程師學會) was founded in New York by a group of able, dedicated and far-sighted Chinese engineers. These charter members were graduate students from American colleges and/or were receiving practical training in American railroads and industries.
Later on, the CIE merged with Chung-Hwa Engineers (中華工程師學會- founded in 1910 by Zhan Tian-You) in August 1931, at a joint engineering convention held in Nanjing. Afterwards, the headquarter was relocated to Nanjing. The post-merger enrollment reached 2,169 members.
The organization remained active during the World War II in Chongqing, re-established the convention in 1938, and formed chapters in Kunming, Chengdu, Guiyang, Lanzhou, Guilin and Chongqing. During the period of Japanese invasion of China, the engineers provided the needed technical services to the government for the defense of China.
In March 1950, the CIE-ROC was re-established in Taiwan. On the 50th anniversary in 1960 (adopted the founding date of Jan 1910 of the Chung-Hwa Engineers), its membership was more than 3000.
In July 1953, some members of CIE in the United States re-activated CIE-NY as an independent entity in the US . Together with CIE-ROC, CIE-NY co-founded the bi-annual Modern Engineering and Technology Seminar (METS) in 1966. This helped Taiwan in establishing the infrastructure for industrialization, promoting industrial research and development of advanced technologies. For example, it set up the stage for Taiwan's microelectronics miracle.
The CIE/USA National Council, established in 1986 by the Greater New York and San Francisco Bay Area Chapters as its founding chapters, became the federation organization of all Chapters of CIE in the US. In the years since, CIE/USA grows to 7 chapters around the country. In 1993, the CIE/USA established another bi-annual seminar series, SATEC (Sino-American Technology and Engineering Conference), with the People's Republic of China, with the same objectives as METS.
At the US national level, in conjunction with National E-week, CIE/USA has hosted the annual Asian American Engineering of the Year Award (AAEOY) since 2002. AAEOY creates a meaningful platform for recognizing outstanding Asian American professionals in the areas of Science, Technology, Engineering and Mathematics (STEM) and leadership. The awardees are nominated from corporations, academics, government, and renowned national institutions. Many of their achievements represent monumental breakthroughs in their respective fields and their impacts are global and everlasting.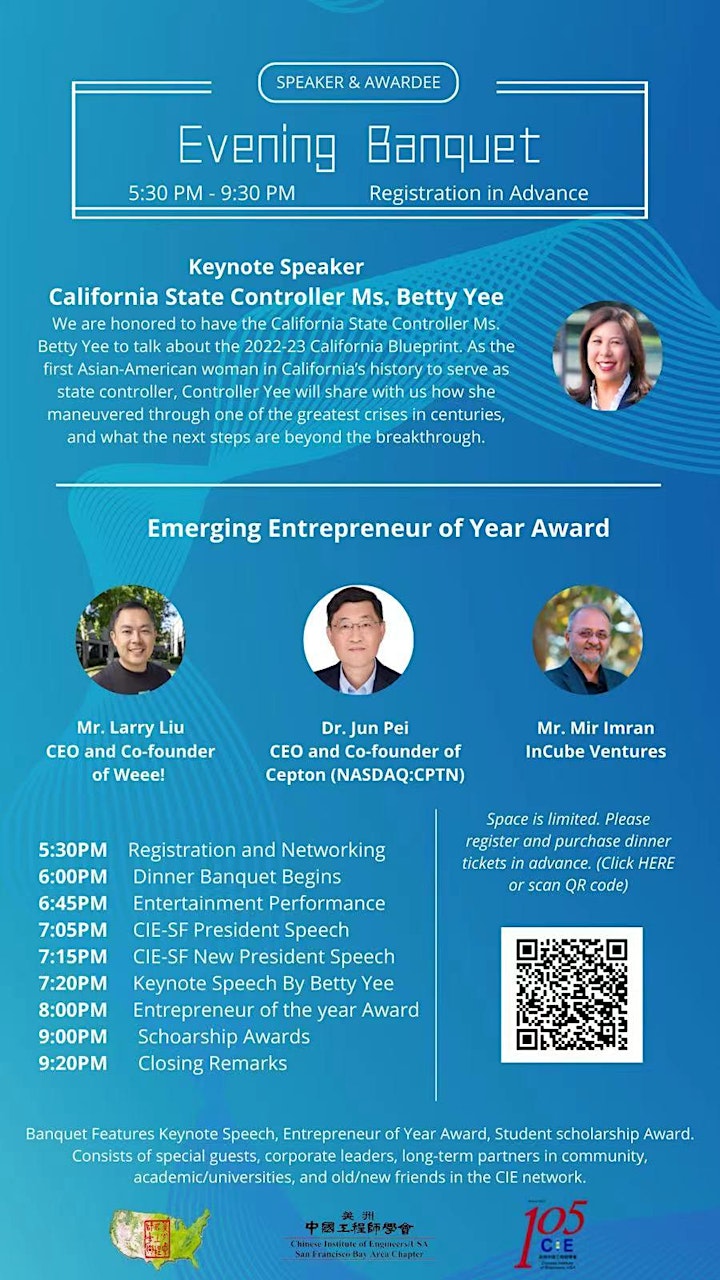 Date and time
Location
Santa Clara Convention Center
5001 Great America Parkway
Santa Clara, CA 95054
Refund policy