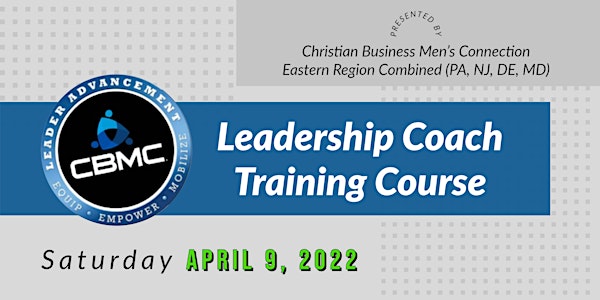 2022 CBMC Leadership Coach Training Course
One day of interactive classroom training held on Saturday, March 11th, plus eight weekly assisted peer-to-peer coach training exercises
When and where
Location
Wilmington Christian School 825 Loveville Road Hockessin, DE 19707
About this event
Leadership Coach Training is a workshop focused on the intentional development of coaching skills in Christian businessmen. It is a one-day interactive training plus eight weeks of peer-to-peer training exercises (via conference call or in person), resulting in your certification as a Leadership Coach.
Presented 'live' by program creator Dr. Roger Erdvig

>>>>>>>> <<<<<<<<
Hear from Dr. Roger Erdvig, program creator, as he shares a short intro on the framework of coaching and how it transforms the way we lead.
Follow this link >>> CBMC Leadership Coach Training
If you would like a preview of the coach training, click HERE for the recorded CBMC Coach Training Discovery Session.
>>>>>>>> <<<<<<<<
LEARN A NEW WAY TO HELP OTHERS GROW
Explore and clarify personal and professional values
Create specific action plans for pursuing dreams
Hear from God and wrestle through life and leadership challenges
IMPROVE YOUR 'LEADING' AT HOME, WORK, CHURCH
For changed relationships
For improved impact and results
EXPERIENCE A UNIQUE TRAINING PROGRAM
Based on professional coaching standards
Mix of content, fun interaction, and useful practice which results in genuine learning
In a Christ-centered one-on-one relationship where you partner for growth, change, and forward-moving progress
WHAT YOU CAN EXPECT FROM THIS TRAINING?
One full-day workshop, based on professional coaching standards, facilitated by a certified coach trainer, complete with breakout sessions and practical application, including these topics:
The Art of Leadership Coaching
What is Coaching - What it isn't
Coaching Values - Living them out
The Practice of Leadership Coaching
Intuitive Listening
Powerful Questions
Goal Setting and action steps
Sustainable Change
Establishing a coaching culture
Followed by eight weeks (via conference call) of peer-to-peer coaching practice.
You will have the opportunity to practice the coaching principles with a peer in the program. You will also have the opportunity to listen in on coaching conversations and experience coaching conducted by a certified CBMC Leadership Coach.
COSTS
First-time students pay $249, which includes your textbook, workbook, continental breakfast, and lunch on Saturday.
Returning coaches pay only $89 for the in-person training, as they will re-use the textbook and workbook.
No charge for the returning coaches who serve as trainers and observing coaches.