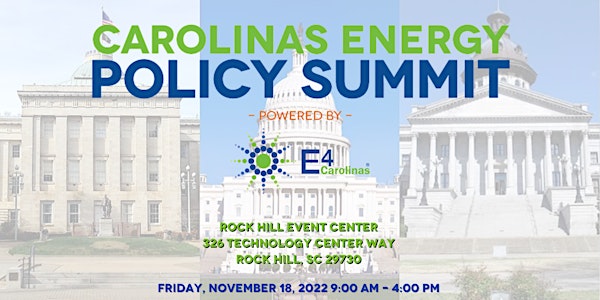 2022 Carolinas Energy Policy Summit
A Carolinas Energy Event powered by E4 Carolinas, the energy trade alliance of the Carolinas
When and where
Location
Rock Hill Sports & Event Center 326 Technology Center Way Rock Hill, SC 29730
About this event
Staying apprised of energy policy matters important to the future of your business. Regulation and legislation are moving at breakneck speed. Actions in Washington, Columbia, and Raleigh are fueling growth and change with momentous impact on the energy industry. The 2022 Carolinas Energy Policy Summit brings together regulatory and legislative leaders at both the federal and state level who are active on energy matters. Scheduled after the mid-term elections, the Summit is an excellent opportunity to hear initial prognostications of energy policy over the next several years, interact with public officials and network with others engaged in the Carolinas energy industry.
Speakers and panels include the following:
Federal Keynote
FERC Commissioner James Danly
Moderator: Jeff Merrifield, Chair, E4 Carolinas Board of Directors, Co-Chair, E4 Carolinas Energy Policy Task Force, Global Energy Section Leader and Partner, Pillsbury Law
SC Energy Policy Panel featuring elected leaders active in energy legislation, such as the Electricity Market Reform Measures Study Committee
Moderator: Weston Adams, Co-Chair, E4 Carolinas Energy Policy Task Force, and Partner and Co-chair Energy Industry Group, Nelson Mullins
Senator Tom Davis, (R - Beaufort County)
Senator Wes Climer, (R - York County)
Regulatory Panel featuring Commissioners and staff from the NC Utilities Commission and the SC Public Service Commission
Moderator: Taylor Speer, Partner, Fox Rothschild LLP
Commissioner Kim Duffley, Commissioner at North Carolina Utilities Commission
James McLawhorn, Director, Energy Division at North Carolina Utilities Commission Public Staff
JoAnne Wessinger-Hill, General Counsel, SC Public Service Commission
SC Office of Regulatory Staff (INVITED)
NC Energy Policy Panel featuring elected leaders central to the recently passed House Bill 951, which established carbon reduction targets for the state and authorized changes in the way public utilities are regulated.
Moderator: Bruce McKay, Co-Chair, E4 Carolinas Energy Policy Task Force, Senior Director, External Affairs, BHE Gas Transmission & Storage
Senator Paul Newton, NC Senate District 36 (R)
Senator Mike Woodard, NC Senate District 22 (D)
Located adjacent to Winthrop University, redevelopment of Rock Hill's core - known as Knowledge Park - is symbolic of the economic transformation of the region. The event center is in the historic Lowenstein building, part of the adaptive reuse of the former Rock Hill Printing and Finishing (Bleachery) property.
Lodging: Need a place to stay for the summit? The Cambria Hotel is adjacent to the event venue.
Cambria Hotel
354 Technology Center Way
Rock Hill, SC 29730
Visit our Carolinas Energy Events website for more information on this and all the events powered by E4 Carolinas!