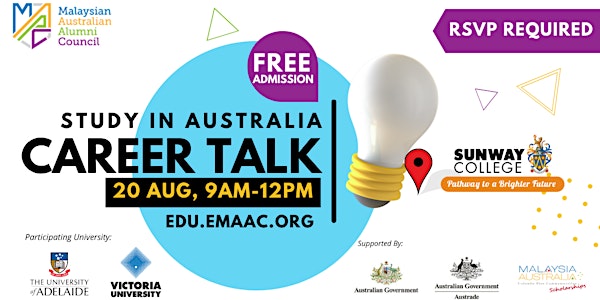 2022 Career Talk Series By Malaysian Australia Alumni Council
2022 Career Talk Series immersion program.
When and where
Location
Sunway University 5 Jalan Universiti Petaling Jaya, Selangor 47500 Malaysia
About this event
You are invited to participate in 2022 Career Talk Series immersion program.
This is a FREE program conducted only once a year, by the MAAC together with Victoria University and The University of Adelaide. It is supported by the Australian High Commission in Kuala Lumpur, the Australian Trade Commission (Austrade) and the Australian Department of Education, Skills and Employment (DES).
MAAC is also the organiser of the MACC Scholarship program, since 1996, and has awarded over 250 scholarships valued over RM5 Million to Malaysian students.
COME JOIN this opportunity at the 2022 Career Talk immersion program to hear about education pathways, graduates career sharing, scholarships and living in Australia… and fun tour of the university campus! Quizzes with prizes throughout our session, and an info bag with goodie tokens from our university & partners.
20 Aug 2022 (Sat), 9am `- 12pm | Victoria University @Sunway College.
PROGRAM DETAILS
9.00am: Arrival + refreshments
9.30am: Safety briefing
9.35am: Welcome Notes by MAAC (Introduction by Department of Education and Science, Australia)
9.40am: Featured Speaker (Alumni from University of Adelaide) & Q&A
10.10am: Education Pathways & MACC Scholarship
10.40am: Featured Speaker (Alumni from Victoria University) & Q&A
11.00am: Overview of Victoria University & Sunway College
11:15am: Victoria University, Sunway Campus Tour
12.00pm: End
Registrations are mandatory due to limited seats. Standard COVID SOP is still enforced within the campus premises. REGISTER HERE