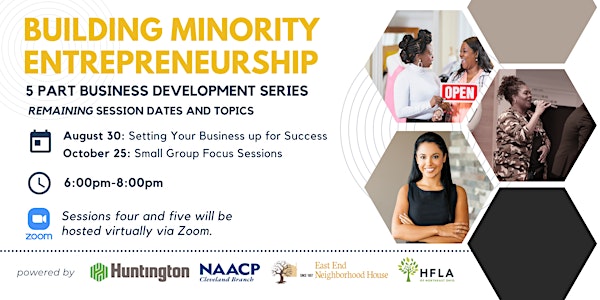 2022 Building Minority Entrepreneurship Series
A five-part series designed for minority business owners to access practical lessons and resources from area business leaders and experts.
About this event
Remaining sessions on August 30, 2022, and October 25, 2022 will be held virtually via Zoom. Zoom login information will be provided upon successful registration.
The US economy is deeply divided, and projections show that median household wealth for Black and Latinx families is expected to drop nearly to zero — creating barriers that may ultimately prevent them from fully participating in both the economy and democracy.
To combat this potentially devastating and unjust trajectory, the Cleveland Branch of the NAACP, HFLA, and East End Neighborhood House have formed a partnership with support from Huntington Bank and their 'Lift Local Business,' program to deliver the 2022 Building Minority Entrepreneurship Series. The five-part series, which runs from April through October 2022, will provide practical and informative resources to minority owned businesses that are seeking to scale up in their business growth or to community members who are looking for trusted strategies to jump start an idea.
Participants who attend all five sessions of the 2022 Building Minority Entrepreneurship Series will be provided with a membership to a community small business center, and a free laptop, upon completion of a survey or questionnaire. These incentives will be distributed on a first-come, first served basis.
Register today and join us as we work to build an inclusive economy where all people, especially women, veterans, and racially diverse business owners, can benefit from economic growth and prosperity!