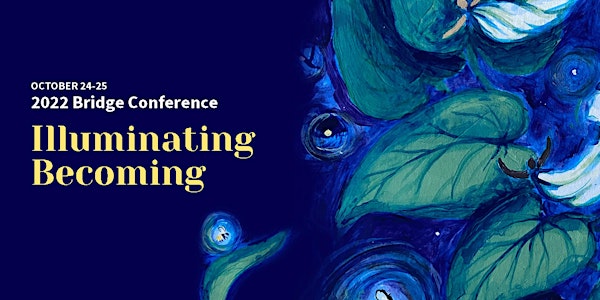 2022 Bridge Conference: Illuminating Becoming
We are in the process of becoming what we imagined.
When and where
Location
Greater Tacoma Convention Center 1500 Commerce Street Tacoma, WA 98402
Refund Policy
Contact the organizer to request a refund.
About this event
What is Bridge?
SOWA's annual Bridge Conference brings together school-age care providers, youth development professionals, leaders, community organizers, funders, and policymakers from across the country. In 2022, we will celebrate the 20th anniversary of Bridge. Attendees hear from thought-provoking presenters and learn new strategies to build strong programs and equitable systems for young people, in and out of school. Reflected in all aspects of the Bridge Conference are the values of equity, belonging, leadership, nourishment, change, innovation, and community. Our attendees and presenters represent the diverse communities we work with across the state.
Learning Objectives
We gather to:
Engage with a diverse range of knowledge, people, and perspectives. 
Identify and address the specific ways that racial inequities impact youth, expanded learning opportunities, and educational outcomes.
Experience a sense of belonging to nourish social connection and professional networking.  
Learn how to implement tangible practices that promote high quality programs and an equitable expanded learning opportunity ecosystem. 
Strive to recognize power dynamics throughout programs and systems and begin to strategize how to co-create stronger partnerships across sectors.
Schedule
We are thrilled to be back in person for this year's Bridge Conference with a schedule that will include a Systems Leaders Track, inspiring keynote speakers, six workshop periods, an exhibitor showcase, a welcome reception, and more.
Day 1 — Monday, Oct. 24, 9:00 AM - 6:00 PM PST
Day 2 — Tuesday, Oct. 25, 8:30 AM - 4:00 PM PST
Registration Rates
Registration will open on July 1, 2022. This is a two-day Conference (Monday, Tuesday), and you will need to indicate which day(s) you plan to attend when you register.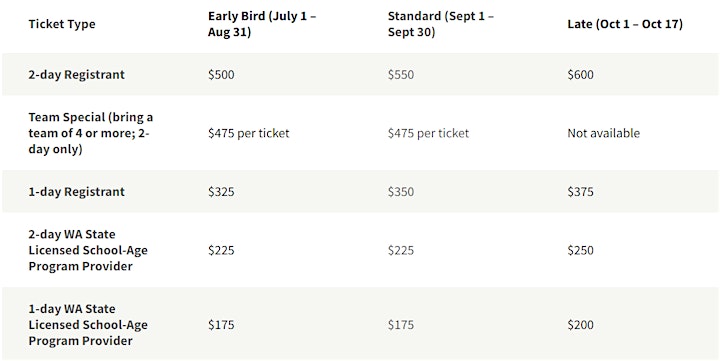 Questions about registration?
Watch our Quick Tips Video: How to Register for the Bridge Conference? for a virtual walk through of how to:
Navigate the Bridge Website and Eventbrite
Understand the different ticket types
Learn how to enter Promo Codes
Explore more in the Registration FAQ - Frequently Asked Questions
Submit the Exhibitor Registration, if you plan to exhibit
Read our Registration Frequently Asked Questions (FAQ) for written and visual supports on:
Registering Yourself and/or your Team: for how to navigate Eventbrite, enter Promo Codes, use the Early Bird Team rate, and more.
Registration Policies: for information on cancellations, refunds, and registration changes.
Scholarship Information: for Promo Code information and how to request scholarships.
Still have questions? Reach out to us by sending an email to bridge@schoolsoutwashington.org
Cancellation and Refunds
Registration Cancellation requests for Attendee tickets will receive a:
PARTIAL REFUND, if sent by Friday, September 30, 2022. These requests are subject to a 10% cancellation fee, and you will be refunded 90% of the total cost of your registration. (e.g., an individual will receive a refund of $495.00 for a $550.00 ticket)
NO REFUND, if sent after Friday, September 30, 2022. This is considered a late cancellation.
There are NO REFUNDS for Exhibitor Tickets. All sales are final.
Accessibility Information and COVID-19 Health & Safety Protocols
See our Access and Inclusion Guide for the 2022 Bridge Conference. This resource includes our most up-to-date health and safety protocols in relation to COVID-19, including our Universal Masking Policy.
If you have a disability and/or accommodation request, please describe your request in your registration form for reasonable accommodations to fully participate in the conference. We will follow up to see how we might be able to accommodate your accessibility needs. Please reach out as soon as you are aware of your access need and/or by Friday, Oct. 7, 2022 if you have an accommodation request.
Request Scholarship Assistance
Seeking financial support to attend the Bridge Conference? If you are interested in receiving information about scholarships, please fill out this Scholarship Interest Form. Because this is a nonprofit Conference, we have limited scholarships available and at this time those scholarships are reserved for specific initiatives. We will contact you as soon as possible if additional funds become available. Our goal is to notify potential scholarship recipients at least one week prior to the Conference. If you know of organizations interested in sponsoring Bridge, please refer them to our website or to afullerton@schoolsoutwashington.org to learn about Sponsorships.
Team Special Registration (Group of 4+, 2-Day only)
Register 4 or more people for Bridge and receive a discounted rate at $475 per ticket. Offer valid until September 30, 2022.
DCYF Training Reimbursement
If you have a STARS ID, you can qualify for DCYF Training Reimbursement. Please follow these steps to request reimbursement:
Head to the DCYF Training Reimbursement webpage.
Scroll down and navigate to 'Training Reimbursement' to learn more on how to apply. Individuals can apply for up to $250 worth of training reimbursement each year.
If you have any questions, please contact our training team at training@schoolsoutwashington.org
Exhibitor Opportunities
Are you interested in promoting products or services at the conference? For more information, see our Bridge Exhibitor Opportunity Document. You can submit your exhibitor application via Eventbrite by heading to the "Exhibitor Registration" ticket group.
For more information about exhibitor opportunities, see our Bridge website or contact Ben Baird at bridge@schoolsoutwashington.org
Questions?
Any questions about the 2022 Bridge Conference? Our customer service team will respond to your requests within 1-2 business days. Contact us at:
Customer Service Email: Contact us at bridge@schoolsoutwashington.org
Customer Service Support Number: +1 (208) 996 1249. Note: This is a 208 number and not a local 206 number.
For more information head to our 2022 Bridge Conference Website!