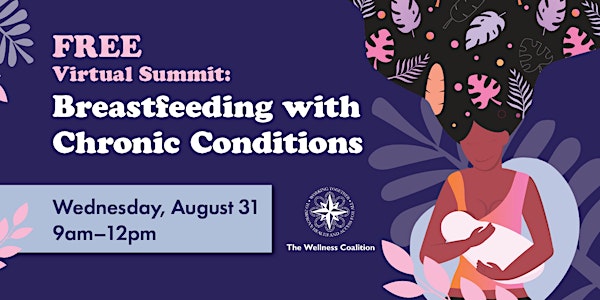 2022 Breastfeeding Summit: Breastfeeding With Chronic Conditions
Join us for a FREE online breastfeeding summit to celebrate National Breastfeeding Month!
About this event
This is a free event. Social work and nursing CEUs are available for $10.
Nursing: 3.6 CE credits
Social work: 3 CE credits
To pay for CEUs, please select a ticket option with the type of CEUs you need. Please note that refunds will not be offered for CEU payments.
Join us for "Breastfeeding With Chronic Conditions" on Wednesday, August 31! This virtual summit is for moms, moms-to-be, support persons, lactation professionals, and anyone who wants to learn more about breastfeeding.
Speakers:
Kristina Habchi, CLC, Mothers' Milk Bank of Alabama
The Importance of Donor Milk
Tenise Hordge, IBLCE, MBA, CLC, Mothers Magic Milk, LLC
Building Breastfeeding Supportive Black Communities
Shiphrah Israel, Birth Doula, For Mothers, LLC
Breastfeeding & Motherhood: Support, Misinformation, and Education
Nikia Lawson, MA, BSW, BDT/CD(DONA), DONA International
Community-Centered Doulas Educators: Building Capacity to Help Mitigate Infant and Maternal Mortality and Morbidity in Vulnerable COVID-19 Communities Through Lactation Education
Bianca Pressley, MSW, MPH, American Heart Association
Management of Chronic Disease While Breastfeeding