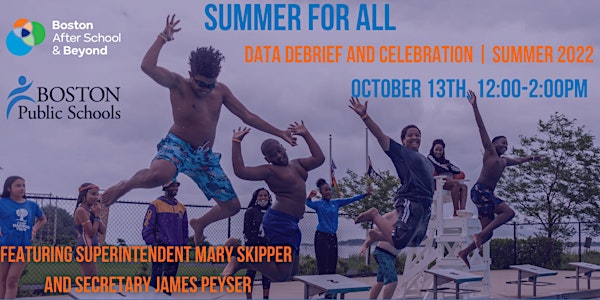 2022 Boston Summer Learning Debrief & Celebration
2022 Boston Summer Learning Debrief & Celebration
About this event
Open to: Boston After School & Beyond partners, supporters, and friends.
Description: Boston Beyond will present results from the summer of 2022, including trends in program performance, accomplishments and areas for improvement, as well as student growth in key skills.
Superintendent Mary Skipper will deliver remarks, and summer learning programs will share challenges and successes.
Zoom Link: https://bostonbeyond-org.zoom.us/j/85421871933?pwd=V09OcWVzV2xiVW9SdDhqeklnOW5aUT09
Agenda:
Remarks by BPS Superintendent Mary Skipper
Summer 2022 Data Review -- Program Performance and Students' Skills
Highlights from the Field
We hope you will join Boston Beyond's community of program leaders, educators, funders, policymakers, and researchers.
Follow along on Twitter! @BostonBeyond
If you have any questions about the event, please contact Wil Cardwell (wcardwell@bostonbeyond.org) and Abbey Basile (abasile@bostonbeyond.org).