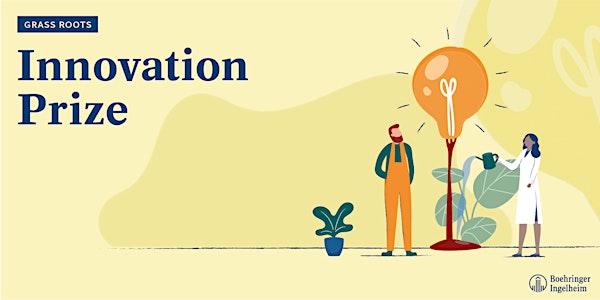 2022 Boehringer Ingelheim Innovation Prize and Networking Reception (NYC)
Please note, if you intend to compete for the Innovation Prize please scroll to the bottom to submit your application.
When and where
Location
BioLabs@NYULangone 180 Varick Street #Floor 6 New York, NY 10014
About this event
BI Innovation Prize at Biolabs NYULangone
(Including Networking Reception and BI Panel Discussion)
Thursday, October 27th, 2022 starting at 4:30 pm at 180 Varick St, New York, NY 10014.
We're excited to welcome you to our first 'In Person' event post Covid at Biolabs NYULangone, where together we can celebrate innovation with our 2022 Boehringer Ingelheim Innovation Prize and discuss a key topic of interest in our BI Academy panel session. We look forward to joining you for an evening of celebration, discussion, and networking!
Boehringer Ingelheim's Grass Root Innovation Program
Boehringer Ingelheim 's NYC Innovation Prize , 2022
Boehringer Ingelheim recognizes the impact biotech start-ups can have to create and sustain innovative pipelines for the pharma industry. These entrepreneurial scientists are driven by their passion to innovate and create new medicines for patients. We know that passion. And our entrepreneurial heritage, from our roots in a small factory in 1885 to today's multi-billion-dollar global organization, has taught us the importance of nurturing young science and technology businesses.
The innovation power of young life-science companies and bio-entrepreneurs is an essential element for the discovery of the next generation of breakthrough medicines. Our Innovation Prize recognizes the challenge and dedication it takes to start a new company by supporting the innovation process and celebrating life-science entrepreneurs.
The BI Innovation Prize, which provides access to lab space and shared equipment at the biotech incubator facility at 180 Varick St, New York, NY will be awarded live during the event. To apply, see the bottom of this announcement. Qualified applicants will be invited to present at the poster session, which is open to the public and takes place at BioLabs NYULangone, NYC, New York. Of the presented posters, our audience will choose five companies for a final, oral pitch session and a panel of judges will award the prize to the winner.
Past winners have consistently told us the best benefit of winning the prize is the network connections they form during the process. Selected previous winners include Thymmune Therapeutics, Synthis Therapeutics, Abexxa Biologics (acquired by BI in 2021), RIFT Biotherapeutics, and Axonis.
Entry Requirements
We invite all inventors, early-stage innovators and spin-outs, that are pursuing life-science therapeutic platform technologies and therapeutics (in any indication, any modality), to participate.
Inclusion/exclusion criteria
Companies must be founded and have their principal place of business in New York, preferably in the NYC area and willing to occupy BioLabs NYULangone
Companies cannot be capitalized over $2 million
Companies must not have a major partnership with another large bio-pharmaceutical company
Companies must be focused on new target concepts or drug discovery in any therapeutic indication. Please note that CROs, diagnostics, instrument development, and health-IT are excluded.
How to apply
Applicants must provide a non-confidential deck of no more than seven slides, which will be used for the 5-minute pitch if successful. Slides must address unmet medical need, solution, scientific principal, key data supporting the scientific principal, overview of business case, and intellectual property.
SUBMISSION DEADLINE EXTENDED: BY END OF BUSINESS, MONDAY OCTOBER 3rd , 2022
Please send your application: Anindita.Nanda@boehringer-ingelheim.com
Boehringer Ingelheim's Innovation Prize Past Winners
Boehringer Ingelheim Academy: "The NY biotech cluster: What's going well and where is there opportunity to grow?"
In the evening BI Academy Panel session, we will discuss the current state of the NY biotech cluster and what is needed for the NY biotech scene to match the Boston/Cambridge hub on the east coast or San Francisco hub on the west coast. At its core, NYC has the academic, scientific and business infrastructure in place for success. Its world-class academic centers and medical institutions provide the fuel for the innovation engine with a deep talent pool to draw from, while access to capital provides the necessary funds for successful growth and development.
This ecosystem has led to many startups and early-stage biotechs over the past several years, but are there opportunities for improvement to further build off of these successes and foster an even more robust biotech hub?
Our expert panel will be discussing questions including:
What is in place now and what additional components are needed to increase the success of early-stage biotech's? What does success look like?
With the current changes in the market, has the strategy shifted for start-ups and early biotech's with regards to funding and/or partnering?
Moderator: David Blair, Sr Associate Director, Business Development & Licensing, Immunology
Panelists:
Scott DeWire, US Head of Business Development & Licensing, Boehringer Ingelheim
Patrik Erlmann, US Head of Research Beyond Borders, Boehringer Ingelheim
Jonathan Mandelbaum, Vice President, Healthcare Venture Capital at OrbiMed
Glennis Mehra, Site Director, BioLabs NYC
Fei Shen, US Head of Venture Fund, Boehringer Ingelheim
Boehringer Ingelheim's Academy
EVENING AGENDA
4:00 pm - 4.30pm :: Arrival and Registration for Poster Session Set Up
4:30 pm - 5:00pm :: Arrival and Registration (General)
5:00 pm - 6:00pm :: Networking Reception
6:00 pm - 7:00pm :: BI Academy Panel
7:00 pm - 7:15pm :: Announce top 5 of Innovation Prize Finalists
7:15 pm - 8:00 pm :: Pitch Presentations
8:00 pm - 8:15pm :: Judging for Grand Prize
8:15 pm - 8:30 pm :: Innovation Prize Award
ALL ENTRY PRESENTATIONS (INNOVATION PRIZE) MUST BE SUBMITTED BY END OF BUSINESS, MONDAY OCTOBER 3rd , 2022.
ALL ATTENDEES MUST BE REGISTERED VIA EVENTBRITE TO ENTER FOR THE PRIZE.
Please send your application: Anindita.Nanda@boehringer-ingelheim.com
Good luck – and we look forward to seeing you in NYC!