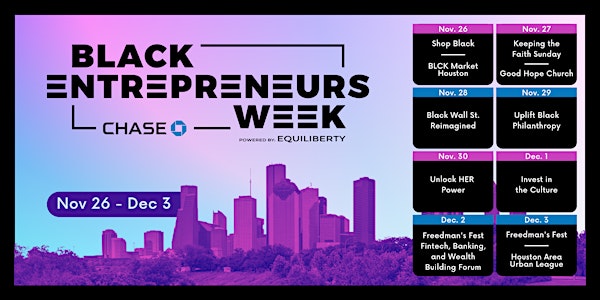 2022 Black Entrepreneurs Week
Honoring the legacy of the Freedman's Bank, the BEW is about innovation, inclusion, and inspiring the next generation of wealth builders.
When and where
Location
The Ion 4201 Main street Houston, TX 77002
About this event
Black Entrepreneurs Week (BEW) is week-long series of events and promotional campaigns designed to foster opportunities that will uplift community entrepreneurship and wealth-building initiatives. The events will consist of various in-person and online business and community leaders covering thought-provoking topics, interactive panel discussions, and community-building programs that educate, connect, and inform in accordance with our theme.
Saturday, November 26, 2022: Small Business Saturday
"Shop Black @ BLCK Market Houston" Night Market
Time: 6:00 pm - 12:00 am
Location: 1201 Main Street, Houston TX, 77002
Sunday, November 27, 2022: Keeping the Faith Sunday @ Good Hope Church
"Praise and Worship for the Black Entrepreneur"
Time of Service: 10:00 am
Overview: The importance of Mental Health, Community, and Fellowship.
Location: 3015 N. Macgregor Way, Houston TX, 77004
Monday, November 28, 2022: Cyber Monday
"Black Wall Street Reimagined"
Overview: Learn how the Black community can leverage technology and buying power to build generational wealth and economic mobility for Black Communities.
Time: 12:00 pm - 1:00 pm
Virtual Activation with Radio One Houston
Tuesday, November 29, 2022: Giving Tuesday
"Uplift Black Philanthropy"
Overview: Learn how investors are using philanthropy and the broader capital market to support Black Entrepreneurs.
Time: 12:00 pm - 1:00 pm
Virtual Activation with Radio One Houston
Wednesday, November 30, 2022:
"Unlock HER Power"
Overview: Recognizing the importance of having Black Women Executives in Capital Markets, Community Building, and Funding Strategies
Time: 6:00 pm - 9:00 pm
Location: TBA
Thursday, December 1, 2022:
"Invest in the Culture"
Overview: Conversation on how to use Technology, Innovation, Real Estate, and more to unlock capital opportunities.
Time: 4:00 pm - 7:00 pm
Friday, December 2, 2022:
"Fintech, Banking and Wealth Building Forum @ Ion"
The 1865 Legacy Pitch Competition (Cash Prize)
Time:10:30 am - 3:00 pm
Location: 4201 Main Street, Houston, TX 77002
Saturday, December 3, 2022:
"Freedman's Fest: A Celebration of Community, Culture, and Capital"
Time: 10:00 am - 4:00 PM
Location: Houston Area Urban League 1301 Texas Avenue Houston, TX 77002
Small Business Exchange for the Black Entrepreneur with the Houston Area Urban League Community Pitch Competition: Main Street Businesses (Cash Prize)
Chase - Wealth Building Forum and Capital Activation
The Village: Holiday Soul Nutcracker Market; and Marketplace
Entertainment
Food Drinks (Holiday Spirits)
Special Guests, Free Giveaways, and More.