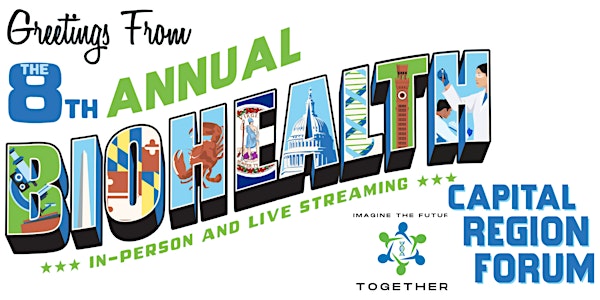 2022 BioHealth Capital Region Forum
Imagine the Future Together: BioHealth 8th Annual Capital Region Forum
When and where
Location
United States Pharmacopeia 12601 Twinbrook Parkway Rockville, MD 20852
About this event
Thank you for your interest in the 8th Annual BioHealth Capital Region Forum, being held on Tuesday, September 20th. We are thrilled to welcome executive-level biohealth industry leaders from across the country and overseas to Rockville, MD for this year's in-person event. The BHCR will gather, learn, and network together at US Pharmacopeia. Thanks to our sponsors, registration is free for all attendees!
The BioHealth Capital Region Forum will be held both In-Person and Virtually in 2022. At this time, in-person registration is closed. Register as a virtual attendee to access the virtual platform.
After registering, you will have the opportunity to create your profile with the virtual event platform. Simply register for the event, and you will receive information on how to access EventMobi. After accessing EventMobi, please review the conference agenda and plan your day. This will enable you to make the best use of your time, network with our 600+ registrants, and learn from the 40+ industry speakers.
Virtual Forum Application (EventMobi)
Use the 2022 BHCR Forum App, EventMobi, to view the virtual program, interact with fellow attendees, and view the agenda, speaker, and sponsor information.
To access EventMobi on your computer:
1) Go to https://eventmobi.com/bhiforum22
2) Enter your email address to enter the site, create a password, and customize your profile.
3) Once your profile has been created, you can continue to access the event at https://eventmobi.com/bhiforum22
4) Chrome and Firefox are the recommended browsers, offering the most stable user experience.
To access EventMobi on your mobile device:
1) Download the EventMobi application from your phone's app store
2) Open the application on your mobile device and add the event by entering the code "BHIForum22"
3) Select "Launch App" sign in using your email address, create a password, and customize your profile.