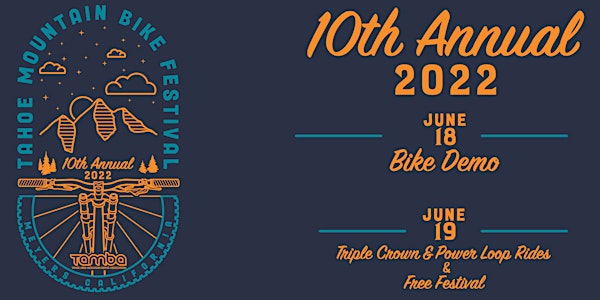 2022 Bike Demo + Triple Crown Registration (Tahoe Mountain Bike Festival)
Location
Meyers, CA
1111 Meyers
South Lake Tahoe, CA 96150
United States
TAMBA presents the 10th Annual Tahoe Mountain Bike Festival! Register here for the Bike Demo + Tahoe Triple Crown / Power Loop!
About this event
June 18 + 19th
The Tahoe Mountain Bike Festival in Meyers, CA is back for its 10th Annual! Join us in celebrating a DECADE of the best party in mountain biking. Let's celebrate our great trails, raise money so TAMBA can build more, and have some fun while we're at it!
*NOTE: this is a registration page for the bike demo and coordinated rides - the festival on Sunday is free and does not require registration*
SCHEDULE:
SATURDAY 6/18: BIKE DEMO @ CORRAL
SUNDAY 6/19: THE RIDES: Tahoe Triple Crown and Power Loop and the FREE Tahoe Mountain Bike Festival @ PARADISE PARK
ABOUT THE EVENTS:
BIKE DEMO. Corral Trail Parking Lot. Two time slots are available 9-12, 1-4pm. Shuttles provide regular access to Corral trail network—high quality singletrack riding with something for riders of all levels to enjoy. Brands for demo will include Specialized, Norco, Kona, Trek, Rocky Mountain, and Intense, among others. Pre-registration costs just $55 (limited number so sign up early!) or you can register at the event for $65. This donation to TAMBA helps enable access to all the bikes and products at the Trail Demo event, and the various shuttles.
THE RIDES. We now have 2 ride options to suit different rider levels (info below). Register NOW to lock in your spot at a discounted rate of $45 or you can register at the event for $55 (options below). Registration includes access to TAMBA rest stops along the ride, one (1) drink ticket for redemption at the festival, and the coveted Tahoe Mountain Bike Festival T-Shirt – designed by our friends at RISE Designs!
Stay tuned on TAMBA's Facebook and Instagram for important updates about the rides.
PS. We love to see your rides!!! Post your ride and photos – don't forget to include #tahoemtbfestival and tag @tambatahoe!
PSS. Check out our PRIZE CATEGORIES below! YOU COULD WIN A BIKE FOR REGISTERING!
MORE INFO ABOUT THE RIDES
Tahoe Triple Crown: named for its 3 big climbs, boasts 5 hrs, 5,000 vertical feet, 30 miles. Check the route HERE.
Power Loop: if you're not quite ready for the Tahoe Triple Crown, we have the fun and friendly Power Loop that starts and ends at the Corral Trailhead. The Power Loop is less suffering but no less fun. Named for time spent on Powerline Trail, this is a great option for anyone who wants to score the benefits of the ride! This ride is 7 miles long with just over 1000 feet of climbing. If you want to enjoy the trails in Meyers, but save the Triple Crown for another year this is a great option. Check the route HERE.
Rest stops will be in Big Meadow and the Corral parking lot. The two rest stops will offer free snacks + beverages for registered riders. BikeMinded will be offering repair capabilities at the rest stop in lower Corral parking lot. This is not a supported ride, so prepare for a long day with plenty of snacks, water, sunscreen, and bike tools!
START TIME? There is no official start time. Start at your leisure, but plan on joining in for the Tahoe Mountain Bike Festival starting at 1pm on Sunday afternoon!
Register in-person options:
- At the Saturday Bike Demo (see us at the TAMBA tent between 9-4)
- At Paradise Park (the location of the Festival later that day) beginning at 7:30 a.m.
Pro tip: Leaving your car at the park means you'll be extra ready for the festival party after your long ride.
Your tax-deductible ticket scores you commemorative Tahoe Mountain Bike Festival gear. Folks who choose to donate more will be rewarded accordingly. All proceeds go to building and maintaining Tahoe trails – in support of TAMBA's mission.
Got another question? Send it over to info@tamba.org
Not yet a TAMBA member?
This event is open to everyone but you can show your trail stewardship by joining TAMBA, only a $20 donation or $30 for your household. Want to go above and beyond? Donors of $1,000 or more become part of our Core Supporter Program, helping fund our organization to help us build more trails and community.
Follow TAMBA to stay connected to our trail building and community events. We hope to hang out in person later this summer!
Register for the ride to score a limited edition Tahoe Mountain Bike Festival shirt!
FAQ
Q: I won't be in the Lake Tahoe area, can I still participate?
A: Of course! To be part of the action just go for a big ride, crush some vertical feet in your area. Share it on social media with #tahoemtbfest and tag @tambatahoe for a chance to be featured.
Q: I am still getting into mountain biking and 30 miles is too much. Are there options for shorter rides?
A: Getting out for a ride is all that matters, along with understanding your limits. We have a few options for intermediate riders, but feel free to create your own route that challenges you within reason. Any ride counts towards participation. Check out a few recommended routes.
Q: What does my registration include?
A: Purchasing a registration is a tax-deductible donation to TAMBA, and includes Tahoe Mountain Bike Festival gear based on the level in which you supported. The ticket along with the Ride log will enter you into prize categories that will be awarded at the end of the virtual festival. TAMBA's Tax ID is: 91-1852297 for tax deduction purposes.
A: How can I support mountain biking in Lake Tahoe?
Q: Join TAMBA! We are a nonprofit organization that relies on our community to help build the best trails and advocate for mountain biking. Support TAMBA by becoming a member, making a donation, or volunteering. Visit TAMBA.org for more information.
Other questions? Email us at info@tamba.org
2022 Partners and Sponsors