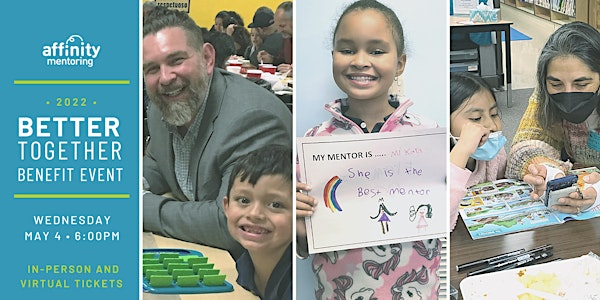 2022 Better Together Benefit
Join our team, mentors, students, and partners to experience the work and community of Affinity Mentoring.
When and where
Location
The High Five GR 19 La Grave Avenue Southeast Grand Rapids, MI 49503
About this event
Experience Affinity.
Join our team, mentors, students, and partners virtually to experience Affinity and learn how we are Better Together in good times and difficult ones.
The business community has been important partners throughout this past year. We look forward to sharing how our corporate partners have positively impacted the lives of students and families in our community through innovation, passion, and generosity. In years to come, the partnership between the education, social service, and business sectors will be even more important to support the next generation of leaders.
Online and In-Person Tickets and Sponsorships Available
In-person participation notes:
must be fully vaccinated or have received a recent negative covid test
we will not be requiring proof of either but will be trusting those who attend to be respectful of our requests
masks will be required despite vaccination status when not eating/drinking
for those who may plan on attending in-person and end up in quarantine or ill, we can provide a virtual ticket link AND/OR post-event recording.
Interested in Sponsoring this event? Sponsorships are available at a variety of levels. See affinitymentoring.org/donate/better-together/ for more information.
Questions? Contact us at 616.215.0888 or info@affinitymentoring.org.
La Experiencia de Affinity.
Pase tiempo con nuestro equipo, mentores, estudiantes y socios virtualmente para aprender de Affinity y cómo somos todos mejores juntos en momentos buenos y difíciles.
La comunidad empresarial ha sido socios importantes durante este último año. Queremos compartir cómo nuestros socios corporativos han tenido un impacto positivo en las vidas de los estudiantes y las familias de nuestra comunidad a través de la innovación, la pasión y la generosidad. En los próximos años, la asociación entre los sectores de educación, servicios sociales y negocios será aún más importante para apoyar a la próxima generación de líderes.
Boletos en línea y en persona y patrocinios disponibles
Notas de participación en persona:
debe estar completamente vacunado o haber recibido una prueba de covid negativa reciente
no estaremos requiriendo prueba de ninguno pero estaremos confiando en que los que asistan sean respetuosos con nuestras solicitudes
se requerirán máscaras a pesar del estado de vacunación cuando no se coma/beba
para aquellos que planeen asistir en persona y terminen en cuarentena o enfermos, podemos proporcionar un enlace de entrada virtual Y/O una grabación posterior al evento.
¿Interesado en patrocinar este evento? Los patrocinios están disponibles en una variedad de niveles. Consulte affinitymentoring.org/donate/better-together/ para obtener más información.
¿Preguntas? Contáctenos en 616.215.0888 o info@affinitymentoring.org.