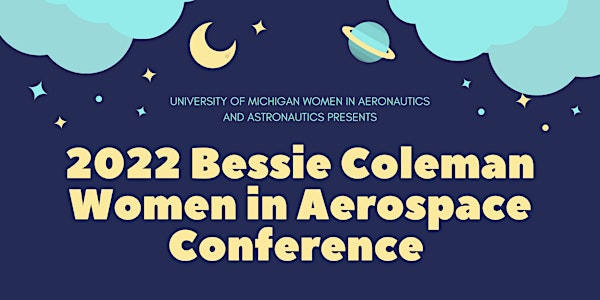 2022 Bessie Coleman Women in Aerospace Conference
The fourth annual conference hosted by WAA, celebrating the past and future achievements of women and minorities in aerospace!
When and where
Location
University of Michigan - Ford Motor Company Robotics Building 2505 Hayward St Ann Arbor, MI 48109
About this event
Join us on November 5th from 10:00 am to 4:30 pm for the 2022 Women in Aerospace Conference! This year's theme is Breaking Barriers, and the conference will be held in hybrid format.
This event will be full of speakers, panels, tech talks, mentorship and more for anyone who is passionate about improving diversity in the aerospace industry. The conference is completely run and organized by students at the University of Michigan as an initiative by Women in Aeronautics and Astronautics (WAA).
WAA proudly hosted conferences in 2019, 2020, and 2021, and we are thrilled to continue our work of empowering women and minorities to participate in the aviation and space fields. We aim to provide networking opportunities for all of our conference attendees, while celebrating some truly talented speakers and panelists as they share their experience in the aerospace enterprise.
This event is free for anyone to attend, including university and high school students*, professionals, and anyone who loves things that fly! The conference will include speaking events and activities focused on professional and academic growth, technical innovation, and diversity, as well as mentorship and career opportunities. We look forward to seeing you there!
WAA will also be hosting an in-person mentorship reception on Friday November 4th from 6 pm to 8 pm. Food will be provided and further details will be sent to attendees at a later date.
**Please only reserve one ticket under your name. Reserving an in-person ticket is a guarantee of attendance**
Questions? E-mail waaconference@umich.edu
* Please note: High school students must reserve a virtual ticket and attend the 2022 Women in Aerospace Conference virtually. Participation forms requiring parent/guardian signature will be sent out prior to the conference.