Event Information
Location
Barn Sanctuary
20179 McKernan Rd
Chelsea, MI 48118
Tour and meet our friendly farm animal rescues at Barn Sanctuary!
About this event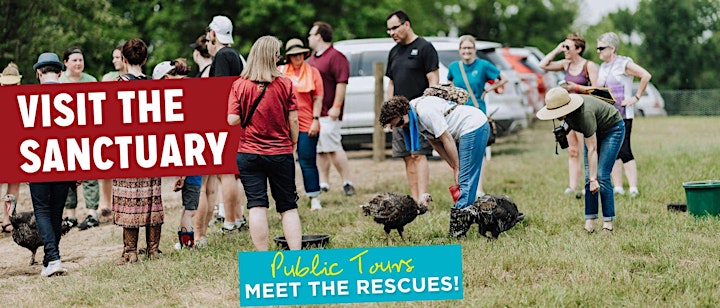 **RESERVATION ONLY, MUST BUY TICKET IN ADVANCE. GO TO TICKETS TO CHOOSE TOUR TIME, MUST GIVE 7-DAY NOTICE FOR REFUND**
See the sanctuary and meet our fantastic animal residents in person! We will take you to barns and coops on our tours, allowing you to see most of the animals you've known and loved online. Get ready to learn too! You will hear their rescue stories and history, discover surprising facts and qualities of each rescue- behavior, character, quirks, and more - and better understand why Barn Sanctuary is here and why our work is so important.
Please be prepared to move out in the open air and endure whatever weather Mother Nature sends our way! Bring appropriate outdoor walking shoes as we walk on dirt paths and grass. Tours run for about 90 minutes.
We reserve the right to limit or cancel tours during dangerous conditions like lightning, high winds, or extreme heat.
Q: What do the tours consist of?
A: You will be taken from species to species and enter SOME of the pastures. We'll tell you their stories, including where they came from before, how they were rescued, and whom they have become since.
Q: Is there much walking?
A: We will trek up and downhill to cover a mile of ground, so please come prepared to walk. Bring a reusable water bottle!
Q: Are the tours child-friendly, or do you have special kid tours?
A visit to the sanctuary is appropriate for children. They will meet all sorts of animals, and many enjoy being touched or scratched. The sanctuary is an environment of respect and compassion, and there are no graphic pictures.
Q: Will I see all the animals?!
A: You will not go into the living spaces of our cows or pig residents, but you will greet them over the fence. You will not go into the chicken or turkey coops at this time because of the ongoing Avian Flu spreading throughout the United States.
Q: Can I feed the animals?
A: Many of our animals are on special diets, so please do not feed any food to the animals at the sanctuary.
Q: Can I bring my dog?
A: Dogs are not allowed on sanctuary grounds for the safety and comfort of both our rescued animals and your dog.
Registered service animals are the only exception to this rule and are on a leash.
Q: Can I bring my own food?
A: Yes, but please do not include meat, eggs, dairy, or animal by-products out of respect for the animals, staff, and fellow visitors. You may be asked to put your food back in the car for consumption elsewhere if it does not meet these criteria.
Location
Barn Sanctuary
20179 McKernan Rd
Chelsea, MI 48118
Refund policy