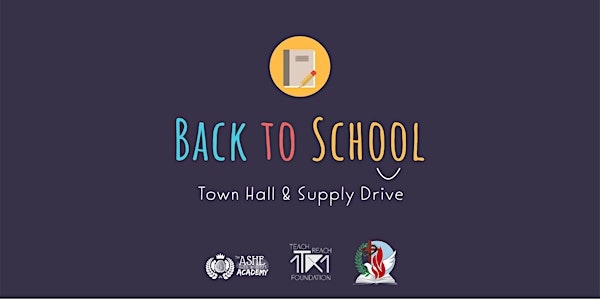 2022 Back to School Supply Drive Giveaway
We are handing out school supplies to K-12 and college students who are in need for the upcoming school year!
When and where
Location
Holy Trinity Lutheran Church 9300 S Crenshaw Blvd Inglewood, CA 90305
Refund Policy
Contact the organizer to request a refund.
Eventbrite's fee is nonrefundable.
About this event
2022 Back to School Supply Drive!!!!
Please spread the word about this event with your friends, family, staff, and colleagues.
The Ashe Academy has been busy and we're finishing out August strong. We are excited to partner with Holy Trinity Lutheran Church and the Teach 1 Reach 1 Foundation for a supply drive to giveaway to the students and families in the Los Angeles/Inglewood community on Saturday, August 20, 2022.
We will be giving away school supplies to the students and families in the Los Angeles/Inglewood/Long Beach/Compton communities. You are invited to participate. Spread the word to youth/families you know that can and will attend. FIRST COME, FIRST SERVE. While supplies last.
This is a great opportunity for our children to receive school supplies…
*PRE-REGISTERING DOES NOT guarantee you will receive supplies, it just allows you to get checked-in faster.
CHILDREN MUST BE PRESENT TO ACCEPT THE ITEMS – no deliveries/no proxies! This event is open to the community, so let's make sure that our families are there!
Ticket instructions:
Click green "Tickets" button (in the upper right corner)
When the ticket options appear, click "Enter promo code" (in the upper left corner, above the first ticket option).
Use "AASA-Free". (If the code is valid, the free ticket option will appear. If your code is showing as "not valid", check to make sure it's entered correctly and try again. If your code isn't working, contact us.
Select your tickets and click "Checkout".
Complete your order.
Event Sponsorship Opportunities
Help support this event by donating supplies for this event via Amazon! To donate school supplies follow this link: 2022 Back to School Town Hall: Supply Drive Giveaway
Adopt-A-Classroom
Support our 2022 Adopt-A-Classroom program. The Ashe Academy and our partners Holy Trinity Lutheran Church and the Teach 1 Reach 1 Foundation want to help provide crucial materials to classrooms that all too often are paid for out of the pockets of teachers. On average, each school year teachers spend $750 of their own money on supplies for the classrooms and students. Our goal is to adopt 10 classrooms across the nation. Here is your opportunity to nominate a teacher/educator and their classroom for our Adopt-A-Classroom initiative. We want to equip teachers and students with needed school supplies for the 2022-2023 school year. Individuals and businesses are invited to participate by sponsoring or "adopting" a classroom. Adopt-A-Classroom today!
Thanks to our partners the Teach 1 Reach 1 Foundation, when you adopt a classroom in Los Angeles, Ventura, Riverside, San Bernardino, and Orange counties, ALL the students at that school are eligible for a drawing for 30 FREE tickets to a Los Angeles area NBA game in Jan/Feb 2023.
Become a Member – Join the Ashe Academy
Official Ashe Academy members are generous donors and committed volunteers who help us to continue doing the work required to bridge the gap between representation and access to education, for BIPOC students pursuing careers in the ARTS and STEM. Become a member! Your membership funds the core team and tools that it takes to build a movement to address bridging the gap between representation and access to education, for BIPOC students. The Ashe Academy offers our programs for free, but it costs us about $100,000 each year. We rely on grassroots support from folks like you to sustain the work. A donation in any amount helps us continue our mission to bridge the gap between representation and access to education for BIPOC students pursuing the ARTS and STEM fields. https://theasheacademy.org/become-a-member-join-the-ashe-academy/
About Teach 1 Reach 1
Teach 1 Reach 1 Foundation is a non-profit 501(c)(3) organization that supports, inspires, and empower people to strengthen and create better life skills and opportunities by teaching and reaching out to others. Their tax ID is 300595467.
Their mission is to help people strive for success through education. Teach 1 Reach 1 Foundation's vision is for people to Teach, Reach, and Empower others embracing their mission.
About Holy Trinity Lutheran Church
Holy Trinity Church is a worshipping, learning, witnessing, and serving congregation that seeks to provide Christian care for one another and teach and mentor people of all generations, especially our children in the Word and the Way of the Lord.
Holy Trinity Child Care Center (HTCCC) has been caring and educating Inglewood's young children for 40 years. Their program continually builds a foundation that facilitates self-esteem, independent thinking, the importance of good citizenship, sharing and caring, respect, and a strong academic program.
They serve children aged 18 months through 5 years old. Their full-time program boasts a full curriculum, on-site lending library, enrichment classes, music, field trips, assemblies, and family involvement.
About The Ashe Academy
The Ashe Academy is a registered, tax-exempt public charity under section 501(c)(3) of the IRS. Please note that your contribution is tax deductible to the full extent permitted by law. Our FEIN is 82-4537269. Please consult with your tax advisor in this regard. The confirmation you receive from at the end of your transaction is sufficient to serve as a receipt for tax purposes.