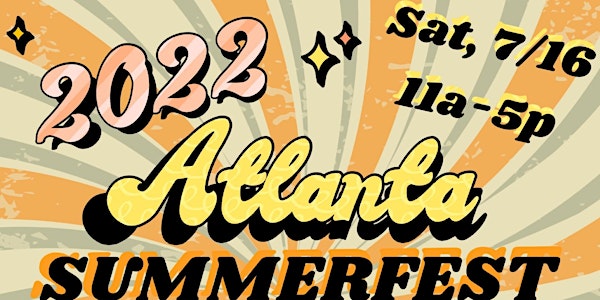 2022 Atlanta SummerFest: Biz/Artist Exhibit, Showcase and Film Screening
Join us, on 7/16/2022 for the ATLSummerFest to support businesses, visual, music, performing artists, authors, film, and more.
When and where
Location
Pittsburgh Yards (Greenspace) 352 University Avenue SW Atlanta, GA 30310
About this event
July 16, 2022 (outdoor) Atlanta Summer Festival
will include a Business and Services Fair, Film Screening, Artist/Author Exhibit, Talent Showcase, and Workshops. The ATLsummerfest will be located at 352 University Avenue SW, (Pittsburgh Yards - Greenspace), Atlanta, GA, 30310, and is sponsored by the Seamón Family Foundation's BizNet, the Blackberry Arts Collective, and the Pittsburgh Community Market.
NO SMOKING (tobacco or electronic cigarettes/vapes and any similar products prohibited) / NO DRINKING (alcohol consumption of any kind is prohibited) Private Property - Atlanta Police & Fire Monitored & Enforced.
Thank you for your interest in Attending / Sponsoring / Vending / Performing or Logo Placement at our July 16, 2022, #ATLsummerfest.
The 2022 Festival has multiple tier categories for the early bird sponsor, vendor, and/or performer. We have invited local and surrounding area residents (families), community groups, organizations, corporations, and businesses. Those in attendance will include vendors of food/drink, youth/adult activities, sports, education, technology, science, arts & entertainment, film, music, business, technology, health & wellness, and more.
Please be advised that SPACES ARE LIMITED. Official event participants will be chosen after pre-registration is received to ensure non-duplication. Registration does not guarantee your space. After you have received your pre-registration approval and payment link, your payment receipt will serve as your confirmation.
This year's festival will include various opportunities to mingle with many new & seasoned business owners, community organizers, and product/service providers and will include workshop-style segments to learn and gather info and resources about various benefits right in our backyard. The festival will also include an Artist Showcase, where we will welcome live performers of song, 2 DJs, and 3 bands.
LOGO/PRODUCT PLACEMENT: Remember, even if you are not in the Atlanta area, you can have your logo placed virtually, by submitting your request (use the pre-registration link below) and forwarding your logo, and sending a 60-second video showcasing your business/brand (to Admin@SeamonEnt.com, for all of our participants/vendors to see and for advertisement through our social media and website marketing options.
There are several options for payment including $ManagingMoms (Cash App), PayPal.me/seamonenterprises, or (Zelle) Admin@seamonent.com. Contact admin@seamonent.com for more info or Call Felicia Seamón at 404-500-7801 for questions.
Click the ATLsummerfest Summary of the event for Vendors, Performers, etc.: https://docs.google.com/document/d/12ZtVKu3xoqREAvmSqkmK_yAlU051xfqNlgLZll_lLaA/edit
Click the ATLsummerfest Pre-registration to gain participation approval: https://form.jotform.com/221123675527151
EARLY BIRD DISCOUNTS ENDED 5/31/22.
LATE REGISTRATION WILL CLOSE ON 7/13/22.
COVID PROTOCOLS WILL BE ENFORCED.