Event Information
Location
Camelot Theatres at the Palm Springs Cultural Center
2300 E Baristo Rd
Palm Springs, CA 92262
Refund policy
Refunds up to 7 days before event
Join us for the 2022 edition of the Arthur Lyons Film Noir Festival!
About this event
Founded in 2000 by the late mystery author and Palm Springs community leader, Arthur Lyons, the popular Film Noir festival includes an eclectic mixture of prestigious and obscure black and white "B" movies from the classic film noir period. The Festival is known for unearthing and screening rare films, restored classics, and for the special appearances of the stars who were in them
Arthur Lyons' Film Noir Festival is presented by the Palm Springs Cultural Center - a 501(c)(3) non-profit organization, that was established to encourage the development of the cultural arts in the Coachella Valley with a specific focus in the areas of film, fine art, and community festivals.
The Palm Springs Cultural Center incubates, produces and encourages arts and cultural programs in order to leverage the unique power of creativity to open minds, bridge what divides us, and discover what connects us.
Our programs include film festivals, farmers' markets, live performances, art installations and lecture series – all of which act as creative inspiration points – expanding our learning and building meaningful relationships with the people and the natural environment around us.
As an organization, The Palm Springs Cultural Center is also at the forefront of recognizing the interconnection between the cultural arts and food culture, and their combined importance to the vitality, collective consciousness and sustainability of the community.
NOTE: Between performances each theatre is completely sanitized. We also have sanitizing stations throughout the theatre.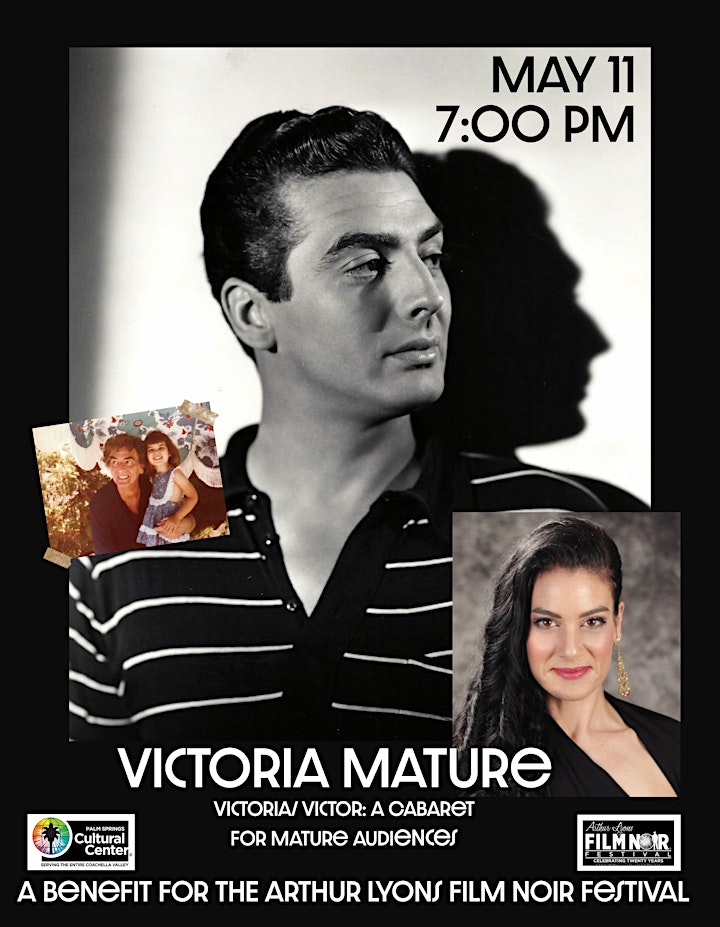 Victoria/ Victor: A Caberet For Mature Audiences- May 11 - Film Noir Benefit
In this 85 minute, multi-media cabaret,
Victoria Mature sings music inspired by her father's career in motion pictures...everything from Opera to Broadway to Folk to Weill to Jazz, and more...in between, she tells stories about Mature's movie career and about what it was like having Victor as her Dad.
A delightful evening of song and storytelling!
From Dvorak to Gershwin, Saint-Saëns to Kurt Weill, Riz Ortolani to Paul Williams, Victor Young to Steven Foster, Carmichael to Loesser, Arlen to REM...
There's something for everyone!"
"Not many people can relate to having a movie star for a father, but just about everyone can relate to the desire to connect with the people they love...
That's what I've been doing for the past 6 years...connecting with my Dad...first by watching his films on the small screen at home, and then, by watching and introducing them on the big screen (the way they were meant to be seen) at classic film festivals like Arthur Lyons, TCMFF, Film Geeks SD, and Noir City...
...and now, I'm connecting with my Dad and his legacy in a new way...the Victoria/Victor Cabaret... where I celebrate my Dad's life and career through song and storytelling...I even appear with him in scenes from several of his films through the magic of multi media!"
Date and time
Location
Camelot Theatres at the Palm Springs Cultural Center
2300 E Baristo Rd
Palm Springs, CA 92262
Refund policy
Refunds up to 7 days before event