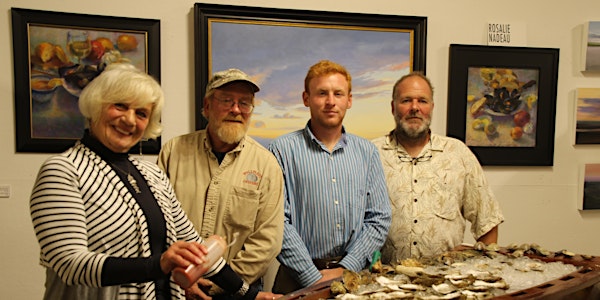 2022 Art & Oyster Crawl, RESCHEDULED
4th annual Wellfleet Art & Oyster Crawl, Sat. Oct. 8: 4 - 7PM. Galleries, shellfish, beer, wine. Tickets vanishing faster than summer.
When and where
Location
Town of Wellfleet Commercial and Bank Streets Wellfleet, MA 02667
Refund Policy
Refunds up to 7 days before event
About this event
Wellfleet SPAT will host the fourth annual Art & Oyster Crawl, and you are invited to celebrate two of Wellfleet's treasures: outstanding art galleries and delicious local shellfish. The Art & Oyster Crawl has been RESCHEDULED for Saturday, October 8th, 2022, due to foul weather. Participants will receive a gallery guide via email and a Wellfleet SPAT cup for beverages when you register, beginning at 4:00 PM. You will visit with the 6 participating galleries, hosting raw bars and beverage stations, along the 1.6 mile gallery circuit. Enjoy freshly shucked Wellfleets™, the quintessential American Oyster™, as well as Wellfleet clams paired with a selection of Devil's Purse Brewing Company beer, Liquid Geography- Wellfleet SPAT Rosé, and nonalcoholic drinks as you survey Wellfleet's art scene. Meet and talk to the shellfisher-folk who farm and wild harvest our quintessential Wellfleet oysters and clams each day. The A & O Crawl will run from 4 - 7PM and will be held rain or shine. Sunset is at 6:14pm, and the streets are dimly lit so bring a flashlight!
Participating galleries include Jeff Soderbergh Gallery, AMZehnder Gallery, Front Porch Gallery, Marrinan Gallery, The Works Gallery, and Frying Pan Gallery. A selection of wild harvested and farmed WELLFLEETS will be shucked for you by Wellfleet's finest farmers, wild and cultivated, as ever.
Remember WELLFLEETS™ cultivate character!
Tickets cost $85 and include admission to the event, all the Wellfleet oysters and clams you can eat, and a selection of Devil's Purse Brewing Company beer, Liquid Geography- Wellfleet SPAT Rosé wine, and non-alcoholic drinks at each gallery, plus the essential Wellfleet SPAT metal cup.
Wellfleet Shellfish Promotion and Tasting, S.P.A.T., is a 501(c)(3) non-profit organization that was chartered in 2002, the year after the first Wellfleet OysterFest®. The event began as an impromptu event to celebrate the Wellfleet Oyster and the town's shellfishing legacy and grew to become the premiere fall festival in the region. The event has been wildly successful attracting an average of 23,000 visitors to the Cape during the shoulder season.
Proceeds from the 'Fest and other fundraising activities enable S.P.A.T. to fulfill its mission of preserving, protecting and promoting the region's shellfishing and aquaculture industries. S.P.A.T. achieves this through its college scholarship program, community grant awards and other industry related initiatives. To date over $ 750,000 has been reinvested back into the community via Wellfleet S.PA.T. To learn more visit wellfleetspat.org .
In 2022 there will be two admission spots: Main Street on the way too Jeff Soderbergh Gallery and the south end of Commercial Street, near the Frying Pan Gallery:
#1 Park behind the Wellfleet Town Hall or in the lot opposite Preservation Hall and go to admissions in front of the CCFive branch on Main Street, on your way to the Jeff Soderbergh Gallery located at 11 West Main Street (beyond the Sickday Surf Shop and the corner of Holbrook Ave and Main) or...
#2 Park at the town pier at the intersection of Commercial Street and Kendrick Avenue and go to admissions at the Frying Pan Gallery at 250 Commercial Street.
Per Wellfleet Board of Health guidelines for the A & O Crawl all drinks and food will be served in a dedicated area outside and open containers of alcohol will NOT be allowed in between galleries.
Buy your ticket for OysterFest on Saturday, Sunday, or both here : https://www.eventbrite.com/e/wellfleet-oysterfest-2022-tickets-396620702197
Buy your ticket for OysterFeast at CShore Restaurant on October 12 here:
https://resy.com/cities/dem/venues/cshore-kitchen-and-bar/events/c-shore-oysterfest-2022-10-12?date=2022-10-01&seats=2
Check out other SPAT events in September and October via this calendar: https://wellfleetspat.org/events/
Read more about the 501(c)3 that nourishes Wellfleet's historic Shellfishing Community: https://wellfleetspat.org/about-spat/