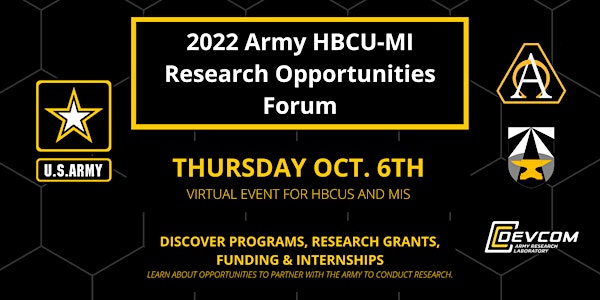 2022 Army HBCU-MI Research Opportunities Forum
Join the virtual U.S. Army Research Opportunities Forum for HBCU-MIs to discover methods of science & technology collaboration with the Army
When and where
Date and time
Thursday, October 6, 2022 · 10am - 1:30pm PDT
About this event
On Thursday, October 6th, the U.S. Army will discuss partnerships, grants, and internship opportunities with Historically Black Colleges and Universities (HBCUs) and Minority Institutions (MIs).
HBCU-MIs in attendance will gain key insight into a wide variety of ways Army partnerships can benefit their programs. Representatives from the Army will showcase opportunities to conduct partner research, procedures to compete for research grants, and outreach programs for students and faculty. Similar educational institutions will share specific examples of success they found when collaborating with Army S&T (Science & Technology). At the conclusion of the event, attendees will be able to engage in a Q&A session with Army officials.
This event builds on a series of Army S&T programming for HBCU-MIs designed to build relationships and share beneficial tools.
For more information, visit https://www.hbcu-mi-xarmy.fedtech.io/