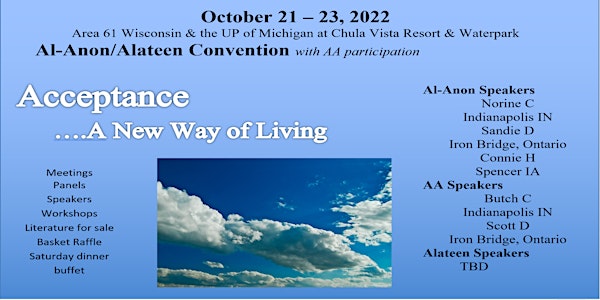 2022 Area 61 AFG Convention
Area 61-WIUPMI (Wisconsin and the UP of Michigan) Al-Anon/Alateen Convention with AA participation
By Area 61-WIUPMI AFG (Wisconsin & the UP of Michigan)
Date and time
October 21, 2022 · 2pm - October 23, 2022 · 11am CDT
Location
Chula Vista Resort & Waterpark 1000 Chula Vista Parkway Wisconsin Dells, WI 53965
About this event
The Convention will be held October 21 - 23, 2022 at Chula Vista Resort & Waterpark in Wisconsin Dells. Area 61 Al-Anon Family Groups is comprised of Al-Anon and Alateen groups in Wisconsin and the Upper Peninsula of Michigan. The Convention is a time for fellowship, fun, and giving.
In cooperation with Alcoholics Anonymous, we have a full track of AA meetings, panels, workshops & speakers as well. Note that Al-Anon & AA meetings are open to all. Alateen meetings are closed; only Alateens and certified AMIAS' may attend.
---------------------------------------------
SCHEDULE
Friday
Registration opens at 2:00pm
Meetings begin at 3:00pm
Dinner on your own
Al-Anon and AA speakers in the evening
Saturday
Nature Walk at 7:00am
Meetings & Panels begin at 8:00am
Alateen and AA speaker at 1:00pm
Saturday night Banquet
Al-Anon speaker after the Banquet
Sunday
Breakfast Buffet 8:30am
Al-Anon Speaker after breakfast
---------------------------------------------
REGISTRATION - Online registration ends October 17th:
Early registration $25 (by September 19th)
Regular registration $30 (by October 7th)
Late registration $40 (after October 7th)
Alateen registration $15
WALK-IN REGISTRATIONS are welcome! Pay $40 ($15 Alateen) at the Registration table starting Friday, October 21, 2022 at 2:00 p.m.
---------------------------------------------
MEALS (tickets available through October 7th)
Due to COVID safety concerns, hotel staff will serve all food at the buffet table.
Saturday Night Banquet Buffet, $45
ENTREES:
Sliced Sirloin - Slow roasted to tender perfection. Served with a beef demi glaze.
Honey Glazed Chicken (no breading) - bone-in thigh and breast, seasoned with salt and pepper and roasted and glazed with honey and butter. Non-gluten option avaiable.
SIDES:
Three Mushroom Risotto
Oven Roasted Baby Red Potatoes Rosemary
Buttered Green Beans and Carrots
Green salad
Dinner rolls
Coffee, tea or milk
DESSERT:
Sunday Morning Breakfast Buffet, $25
Scrambled eggs
Honey cured ham
Turkey sausage links
Breakfast potatoes
Muffins and breakfast breads
Fresh cut fruit
Orange and apple juice
Coffee and hot tea
---------------------------------------------
LOCATION & RESERVATIONS
Chula Vista Resort & Waterpark (2501 River Road, Wisconsin Dells WI 53965) or alternate GPS address (1000 Chula Vista Parkway, Wisconsin Dells, WI 53965
Call 855-468-5281 and mention "Al-Anon Convention-H86407" when making hotel reservations. Rates guaranteed through September19th. The hotel charges a $30 cancellation fee.
Convention room rates: $119 + Tax for up to 6 people. All rooms are semi-suites and include waterpark passes for all room registrants.
---------------------------------------------
Find more information on the Convention website, convention.area61afg.org .
Email conventionregistration@area61afg.org with questions.
We look forward to seeing you there!
---------------------------------------------
FREQUENTLY ASKED QUESTIONS
How do I pay for my ticket?
We accept Mastercard, Visa, American Express, and Discover cards
I have special needs. How do I let you know what they are?
Special needs, accommodations, and/or dietary restrictions will be requested when you checkout.
What is your refund policy?
Non-emergency refund requests must be submitted by email (conventionregistration@area61afg.org) or mail (postmarked two weeks prior to) October 21, 2022. Emergency refund requests may be made by contacting the Registration Chairperson (conventionregistration@area61afg.org) prior to October 21, 2022. As a rule, as long as the Meal Ticket is resold, the registrants's refund request will be granted.
Will there be tickets at the door?
Yes, but only event tickets. The deadline for purchasing meals is October 7th.
Do I have to bring my printed ticket to the Convention?
That would make our lives easier. But if you can't, we will have a list of all the people who purchased tickets in advance.
I'm interested in volunteering.
Thanks! We really need your help. Please go to our volunteer page for more information and to sign up:
About the organizer
Area 61-WIUPMI is comprised of Al-Anon and Alateen groups in Wisconsin and the Upper Peninsula of Michigan.  We support local groups in helping family and friends of alcoholics.