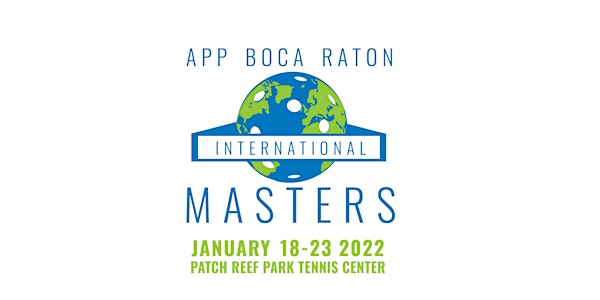 2022 APP Boca Raton 75K Masters ..USA Pickleball GOLDEN TICKET Series event
The World's top men and women pickleball professionals on the APP Tour will be competing for $75K..USA Pickleball GOLDEN TICKET event
When and where
Location
Patch Reef Tennis Center 2000 Northwest 51st Street Boca Raton, FL 33431
About this event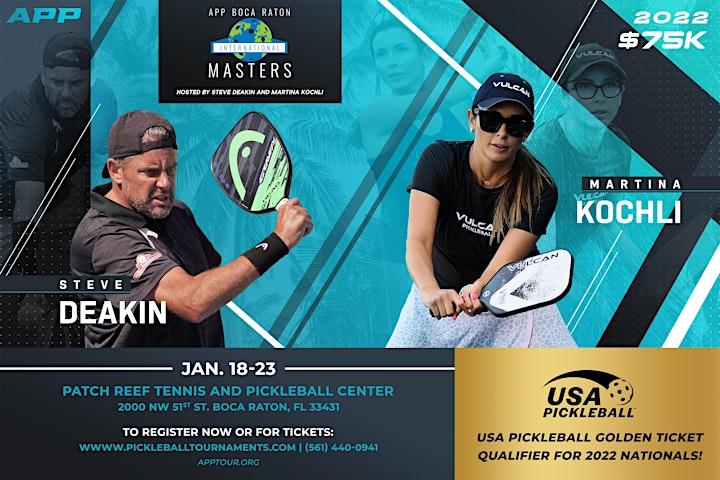 6- days of Amateur and Professional APP Pickleball play!!
Jan. 18-23, 2022 at Patch Reef Park Tennis & Pickleball Center
Come watch the world's best pickleball players compete in pro, senior pro and amateur divisions at the APP $75k Boca Raton Masters International Championships.
USA PICKLEBALL GOLDEN TICKET QUALIFIER!!
Limited VIP Courtside and Best seats in the house on Stadium court STILL available and where all the top pro and senior pro matches will be played and live streamed worldwide on ESPN +, Facebook Live and APPTV You Tube channels.
A grounds pass gets you entry into the pickleball venue at Patch Reef Park Tennis and Pickleball Center for each day to view 38 courts of play plus bleacher seating on Stadium court. You MUST have a valid ticket for each day Tuesday thru Pro Medal Championship Sunday.
Finals weekend to air on ESPN as a USA Pickleball sanctioned tournament.
For daily schedules of divisions amateur, pro and senior pro plus brackets during event go to Pickleball Tournaments APP Boca Raton Masters home page.
*Players registered to play do not need to purchase a grounds pass on days that they are participating. All registered players are allowed to bring a guest each day while they are playing. Kids under the age of 18 are free with ID. Active military and veterans also get free grounds passes with military ID.
**Limited Tickets will also be available for cash purchase at the gate each day.
No dogs or alcohol are allowed in Patch Reef Park per City of Boca Raton guidelines.
JOIN US FOR AFTER PARTY BEER AND FOOD SPECIAL WITH LIVE MUSIC EVERY NIGHT AFTER PICKLEBALL JUST MINUTES AWAY FROM PATCH REEF PARK AT THE BARREL OF MONKS...THE OFFICIAL BEER OF THE APP BOCA RATON MASTERS!!
WWW.BARRELOFMONKS.COM FOR MORE INFO. FREE BEER TICKETS AT EVENT BOOTH.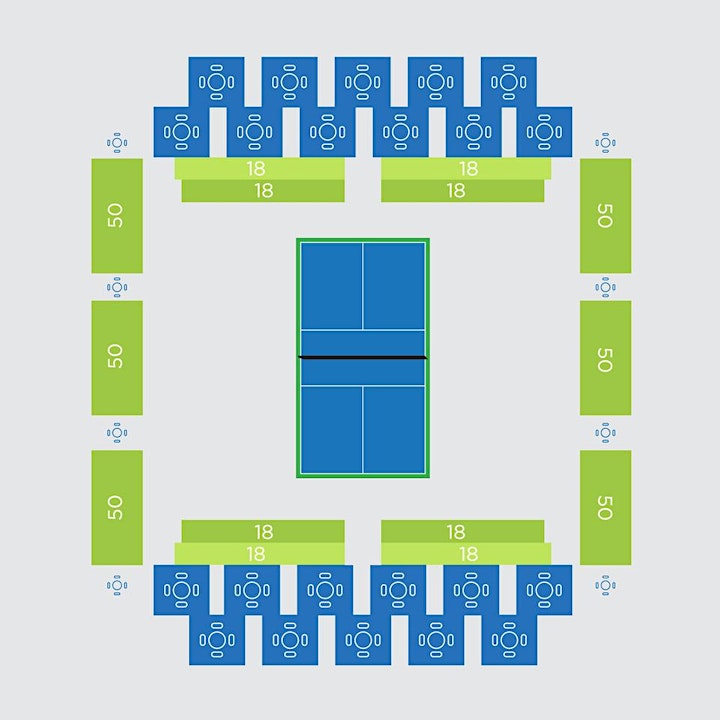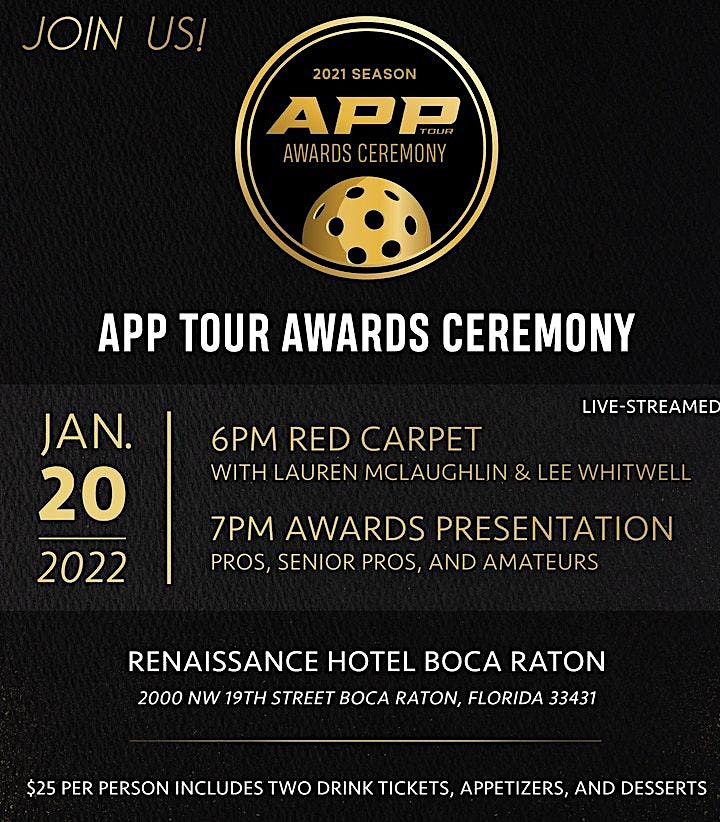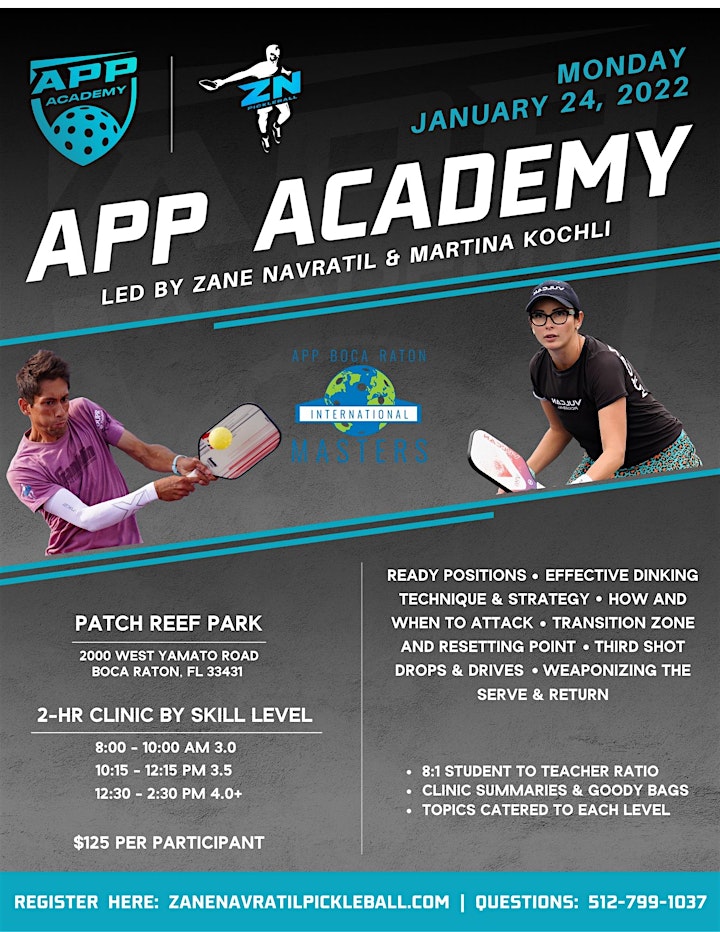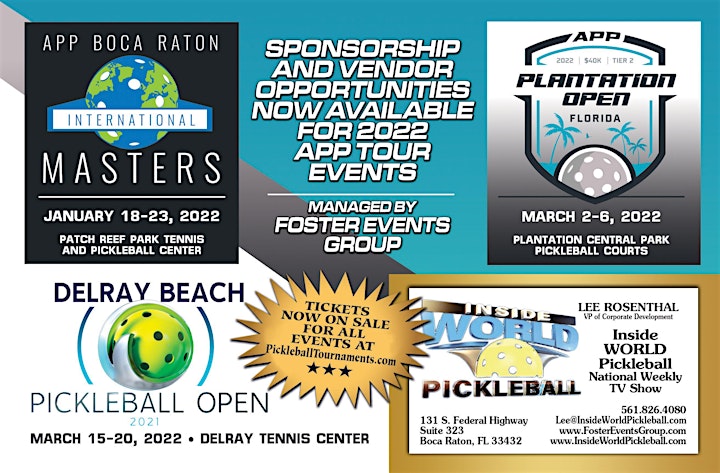 FOR IMMEDIATE RELEASE November 1, 2021
APP BOCA RATON MASTERS INTERNATIONAL PICKLEBALL CHAMPIONSHIPS
SET JANUARY 18-23, 2022, AT PATCH REEF PARK
Boca Raton, FL – Foster Events Group, LLC,(FEG) announced a partnership with the Association of Pickleball Professionals Tour (APP Tour), agreeing to host the APP Boca Raton Masters International Pickleball Championships at Patch Reef Park Tennis and Pickleball Center, January 18-23, 2022, in Boca Raton, Florida.
The first ever professional Tour sanctioned by USA Pickleball, the APP Tour features a series of tournaments in the U.S. and Europe where professionals and amateurs can set performance goals, track results and play against peers in a sanctioned Tour environment that adheres to all USA Pickleball guidelines.
The 2021 APP Tour season featured 18 tournaments and more than $700,000 in prize money, and will conclude with the season ending $75,000 APP Boca Raton Masters International Pickleball Championships, Jan. 18-23rd, 2022, at Patch Reef Park Tennis and Pickleball Center in Boca Raton, Florida.
The APP Masters will also be a Golden Ticket event for the 2022 USA Pickleball National Championships at the Indian Wells Tennis Garden in November with the Medal Sunday Pro Finals airing live on ESPN plus national television. APPTV Network will also live stream pro and senior pro matches Thursday, Friday and Saturday on their YouTube and Facebook Live social media outlets.
"How exciting is this to be culminating the 2021 APP Tour season at the beautiful Patch Reef Park Tennis Center in Boca Raton, Florida," said APP Tour Creative Founder and CEO Ken Herrmann. "I value my partnership with Foster Events Group and their vision for growing the sport in South Florida with one of the premiere venues on the east coast in Boca Raton."
Michael J. Kalvort, Recreation Services Director for the City of Boca Raton stated, "I am extremely excited for the upcoming 2022 American Professional Pickleball Championship at the beautiful Patch Reef Park Tennis Center.The City of Boca Raton continues to successfully partner with the Greater Boca Raton Beach and Park District and this tournament will allow our district and city residents the ability to watch some of the worlds best pickleball players and experience our world class service. It's my hope that this event will encourage more of our united citizens to learn about, and ultimately play, the sport of pickleball." "The Greater Boca Raton Beach & Parks District is excited the APP Tour is bringing its championship to Boca Raton and the Patch Reef Park Tennis Center. We think this provides a great opportunity for our community to witness pickleball at the highest level and are happy to be the host facility," stated Susan Vogelgesang, Chair, Greater Boca Raton Beach and Parks District.
The six-day event will host more than 1,500 players and over 3,000 spectators and will include professionals, senior professionals and amateur pickleball players from around the world from ages 18-80. A vendor village with a variety of foods and merchandise will be on site as well with local and national sponsors.
The APP Masters will offer a prize pool of $75,000. Registration for this first event of the 2022 APP Tour season is now open with many age divisions selling out fast at: https://www.pickleballtournaments.com.
"This will be the first professional pickleball tournament to be played at Patch Reef Park in Boca Raton, which will feature a total of 39 pickleball courts, including a 564-seat Stadium Court with VIP on court and courtside reserved seating over the six days. The popular new age/skill and gender divisions for the 50 plus/50 under age doubles have been added," said FEG CEO and Tournament Chairman, Carl Foster.
The Boca Raton Pickleball Club lead by Raul Travieso will head up over 150 volunteers and will be on site supporting local charity efforts including the APP Youth Foundation,Hope for the Warriors and The Children's Burn Foundation of Florida receiving proceeds from event activities and a concert scheduled throughout the tournament.
Player registration and spectator tickets are now available online at www.PickleballTournaments.com; www.apptour.org or www.InsideWorldPickleball.com.
For event information call or text: Jeri Ann Hart at 561.573.5598 or email: FosterEventsGroup@gmail.com.