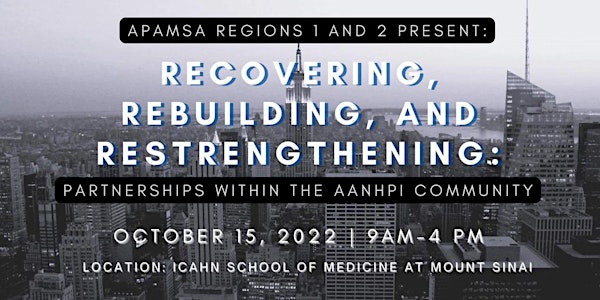 2022 APAMSA Region I/II Conference
Recovering, Rebuilding, and Restrengthening: Partnerships within the AANHPI Community
Date and time
Saturday, October 15, 2022 · 9am - 4pm EDT
Location
Icahn School of Medicine at Mount Sinai 1 Gustave L. Levy Place New York, NY 10029
About this event
CAPPED AT CAPACITY! We will no longer be accepting new sign-ups on our Google Forms. If you pre-registered (already signed up on Google Forms previously) and need to pay for your ticket, please proceed to do so here.
**Please email proof of COVID vaccination to region1@apamsa.org and region2@apamsa.org -OR- bring proof during the conference. You will NOT be able to attend the conference without proof of COVID vaccination!**
Welcome! Please join APAMSA Regions 1/2 at their annual in-person conference, "Recovering, Rebuilding, and Restrengthening: Partnerships within the AANHPI Community". The event will be held on Saturday October 15, 2022 from 9am-4pm EST at Icahn School of Medicine at Mount Sinai.
Key note speakers, panels, breakout sessions, and workshops will be available for attendees to listen, learn, and network with one another. There will be a poster session during which APAMSA members can share their research. Lunch and swag will be provided. Early tickets will be $15 and will be sold until 9/30. Regular ticket sales after 9/30 will be $20.
If you are attending, please fill this Google Form before purchasing your eventbrite ticket: https://forms.gle/HrMYFSTUsBkDDA8p7
NOTE: Name tags will be printed one week before the conference. We will provide blank name cards for attendees who register within one week of the conference.