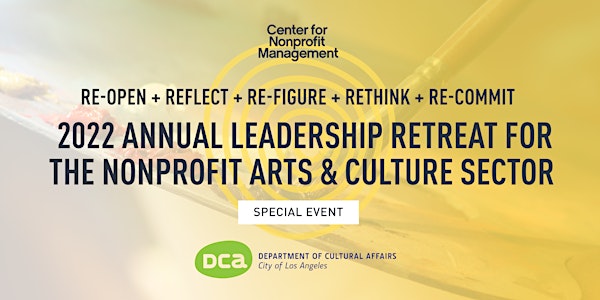 2022 Annual Leadership Retreat for the Nonprofit Arts & Culture Sector
JOIN US TO DISCUSS ADVANCING EQUITY AMONG ARTS ORGANIZATIONS AND RELATED TOPICS AROUND RECOVERY, WELLNESS, and EMBRACING CHANGE.
About this event
About this Event
These are challenging times for creative communities and arts organizations. As the way we experience the arts has changed, leaders and innovators are developing creative solutions to ensure the arts continue to play a vital role in the fabric of our communities and our region's economic resiliency.
Join CNM and the City of Los Angeles Department of Cultural Affairs for RE-OPEN + REFLECT + RE-FIGURE + RETHINK + RE-COMMIT – a free virtual special event for the nonprofit arts and culture sector. We'll discuss renewed community wellness for ourselves and our client communities, revised preparedness for operating during (episodic) crises, and rebalancing our commitments to uplift greater equity. Beyond insights from leaders, attendees will have an opportunity to connect with colleagues and peers in the arts.
Who Should Attend: Nonprofit arts directors, CEOs, board members, and organization leaders.
Event Speakers are listed in alphabetical order
Regina Birdsell, President & CEO, Center for Nonprofit Management Southern California
Joel Garcia, Program Co-Creative Director, Meztli Projects
Gustavo Herrera, Chief Executive Officer, Arts for LA
Kristin Sakoda, Director, Los Angeles County Department of Arts and Culture
D'Artagnan Scorza, Ph.D., Executive Director of Racial Equity, Los Angeles County
Brenda Shockley, Deputy Mayor of Economic Opportunity & Chief Equity Officer, City of Los Angeles
Joe Smoke, Grants Administration Division Director, Department of Cultural Affairs
Daniel Tarica, Interim General Manager, Dept. of Cultural Affairs, City of Los Angeles
Lynne Thompson, Poet Laureate for the City of Los Angeles (2021-2022)