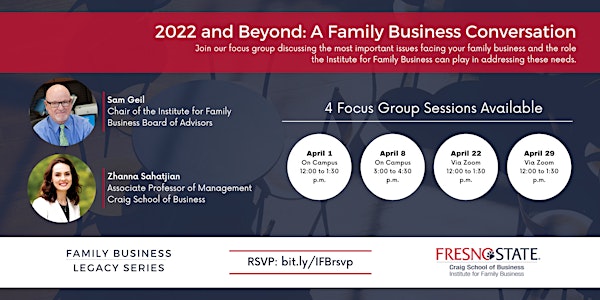 2022 and Beyond: A Family Business Conversation
Join our focus group discussing the most important issues affecting your family business and the role Fresno State can play to support you.
When and where
Location
University Business Center 5245 North Backer Avenue Fresno, CA 93740
About this event
Join us for our next Family Business Conversations Series "2022 and Beyond" to have a conversation regarding the most important issues facing your family business. This forum will solicit input from the family business community in the Central Valley to understand what are the most important issues affecting family businesses and what is the role that the Craig School of Business can play in addressing these needs.
For over 30 years, the Institute for Family Business (IFB) at the Craig School of Business, California State University, Fresno has had a mission to provide a forum for education, resources, and networking directed to the unique needs of the family-owned and closely-held businesses in our Central Valley community while inspiring and engaging with the diverse student body who are the next generation of family business leaders. Now more than ever due to the pandemic, family business owners are in a place that most had never envisioned.
From our recent conversations with civic-minded and supportive local family business owners, we have determined that now is the time to embolden the IFB's vision, its purpose, and its intended impact on the campus and family business community it serves. Our objective is to build upon the foundation that the IFB has established over so many years by reaching out to those family business owners in the community who are open to articulating their unique and valuable perspectives. Each has experiences over the history of their businesses and how the support of others assisted in growing, sustaining, and confronting financial and non-financial challenges. Would you be willing to share your thoughts with us?
ABOUT OUR MODERATORS
Sam Geil is the Chair of the Institute for Family Business Board of Advisors. He is the principal of Geil Consulting, a California-based management and leadership consulting firm specializing in Enterprise Development. Prior to starting Geil Consulting, Sam served as President and Chairman of the Board of Geil Enterprises Inc., an industrial services company located in Fresno, California.
Zhanna Sahatjian, Ph.D. is an Associate Professor of Management at California State University, Fresno. Her research focuses on ethical decision-making in organizational contexts, trust repair between leaders and subordinates, and investigating pedagogical practices that may enhance students' ethical decision-making to better prepare them to assume leadership roles within organizations.