2022 American Grown Field to Vase Dinner @ Ocean Breeze Farms in CA
Ocean Breeze Farms | Arroyo Grande, CA
When and where
Location
Ocean Breeze Farms 1810 Willow Rd Arroyo Grande, CA 93420
About this event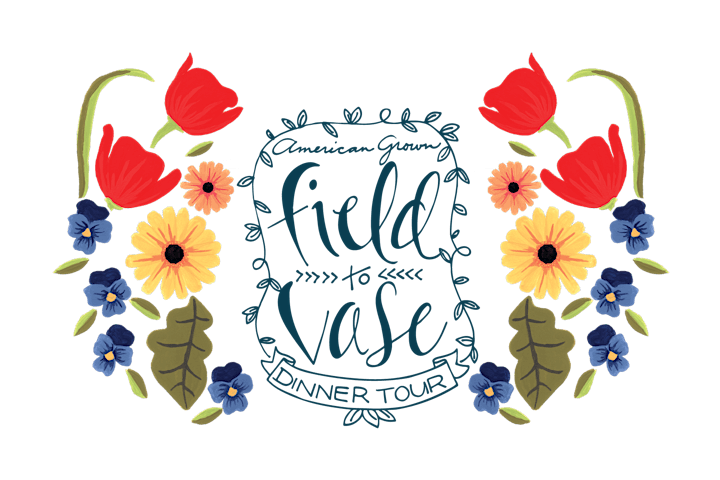 Experience the Abundance of Color and Delight under the Glass of the Greenhouse
When floral aficionados want to revel in gorgeous colors, tactile experiences and the sense of peace nature brings to the soul, California's coastal hills call their name.
You are invited to join the American Grown Field to Vase Dinner Tour, as we host an incredible multi-sensory experience at one of the California's crown jewel farms, Ocean Breeze Farms in Arroyo Grande.
Your Experience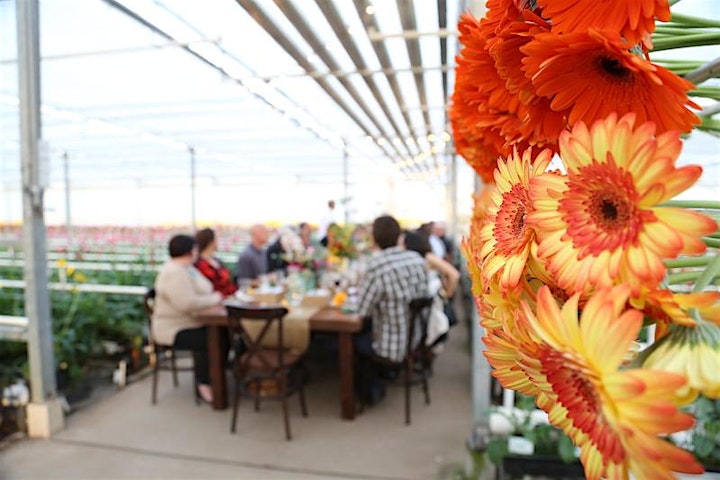 This wonderful experience will include a feast for the eyes, a culinary thrill, and a stunning delight for all to enjoy thanks to the innovative tablescapes featuring all local flowers and foliage designed by a renowned American floral designer, Kelly Shore of Petals by the Shore.
While surrounded by these stunning floral designs and rows of colorful Gerbera daisies, you will also enjoy a locally sourced, multi-course artisan meal created by renowned Chef Jeff Olsson, owner of Industrial Eats and New West Catering in Buellton, CA. Chef Olsson's stellar culinary resume experience includes working at Restaurant Nora (the nation's first certified organic restaurant) and preparing meals several times for Outstanding in the Field at local wineries. The menu for this special dinner will feature many local favorites, including Morro Bay Oysters, Santa Barbara Sea Urchin, Lions Mane Mushrooms, King Salmon and Beef Strip Loin as well as seasonal vegetables.
Accompanying this fabulous meal and during the reception's wine pavilion, there will be wines from all over the central coast that guests will be able to sip and savor. Featured wineries include: Laetitia Vineyard & Winery, Brick Barn Wine Estates, McPrice Myers, Sea Grape Wine Company and Margerum Wine Company.
To round out the experience, you will hear personal stories from all involved - the farmers, chef, winemaker and designer and enjoy lively conversation alongside flower fans like yourself. You will walk away with a memory of a lifetime accompanied by a new or reinvigorated appreciation for the value of sourcing from and supporting our American Grown farms and surrounding communities.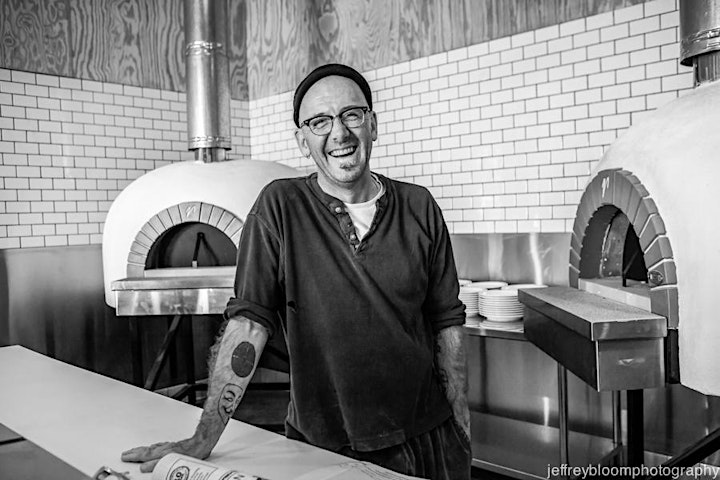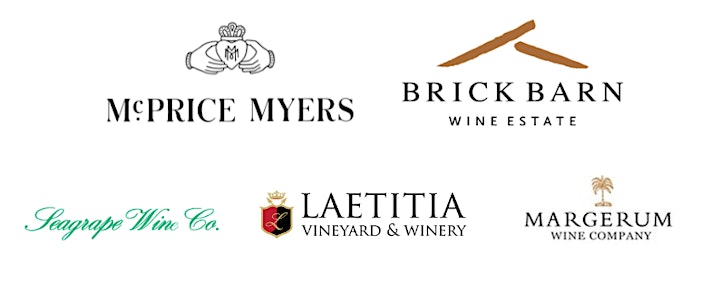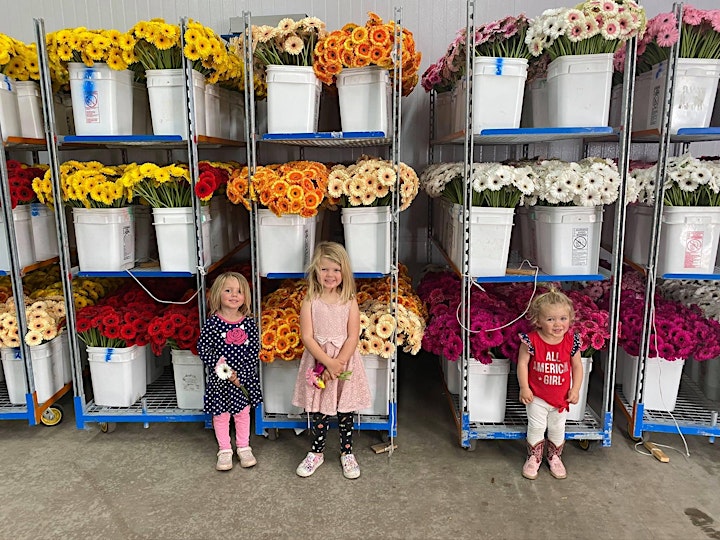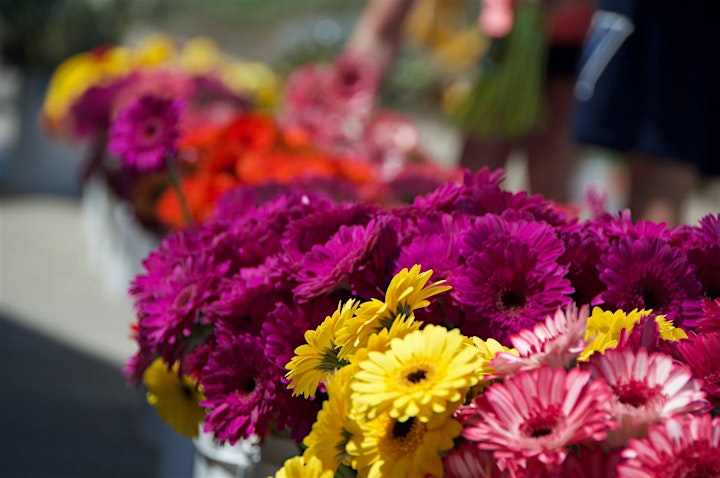 Ocean Breeze Farms has helped define California diversity in floriculture for the domestic market. At its various sites throughout coastal California, Ocean Breeze grows Gerberas, oriental hybrid lilies, tulips and hydrangeas.
Guests at the Field to Vase Dinner will be introduced to rows and rows of colorful greenhouse-grown Gerberas and will be surrounded by the farm's stunning orchard.
The Flower Farm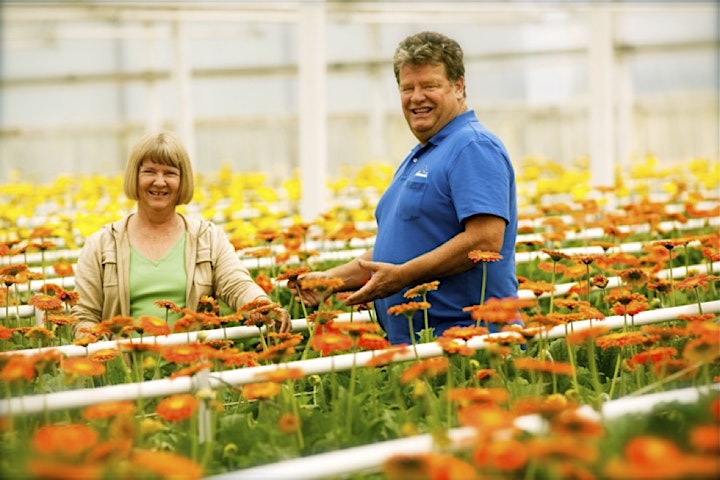 Ocean Breeze Farms was founded in Carpinteria, California, in 1973 by Rene Van Wingerden. In the early years, Ocean Breeze grew chrysanthemums, which are still grown by the company in limited quantities to this day. The operation now focuses on gerbera daisies and Oriental lilies in its operations in Carpinteria, Nipomo and Arroyo Grande, which it distributes nationwide through its wholesale customers and can be found in markets and retail outlets around the country.
The Arroyo Grande location was brought into the Ocean Breeze Farms family in 1999 as an 80-acre avocado orchard. A 5.5 acre greenhouse was then developed in the middle of the site for hydroponic cut rose production – at the time one of Ocean Breeze's main products. Changing markets and international pressures caused Ocean Breeze to stop rose production in 2009. Following the transition to other crops, in 2019, gerberas were planted to maintain steady year-round production and make up for decreasing gerbera acreage in other parts of California. The first flowers were harvested for Mother's Day 2019, and most of the production is sold to local bouquet makers on the Central Coast for grocery store sales.
Cool Arroyo Grande nights and mild days net excellent flower quality with increased stem length and bloom size. The climate, together with Ocean Breeze's commitment to pest scouting and integrated pest management, advanced greenhouse and hydroponic controls, and a well-trained and committed team of employees creates a flower quality that can compete with top production anywhere in the world.
Seating is limited. Reserve your seat today!
Two More Floral Experience you can add!
An Extra Tour with Flower Farmer Ivor!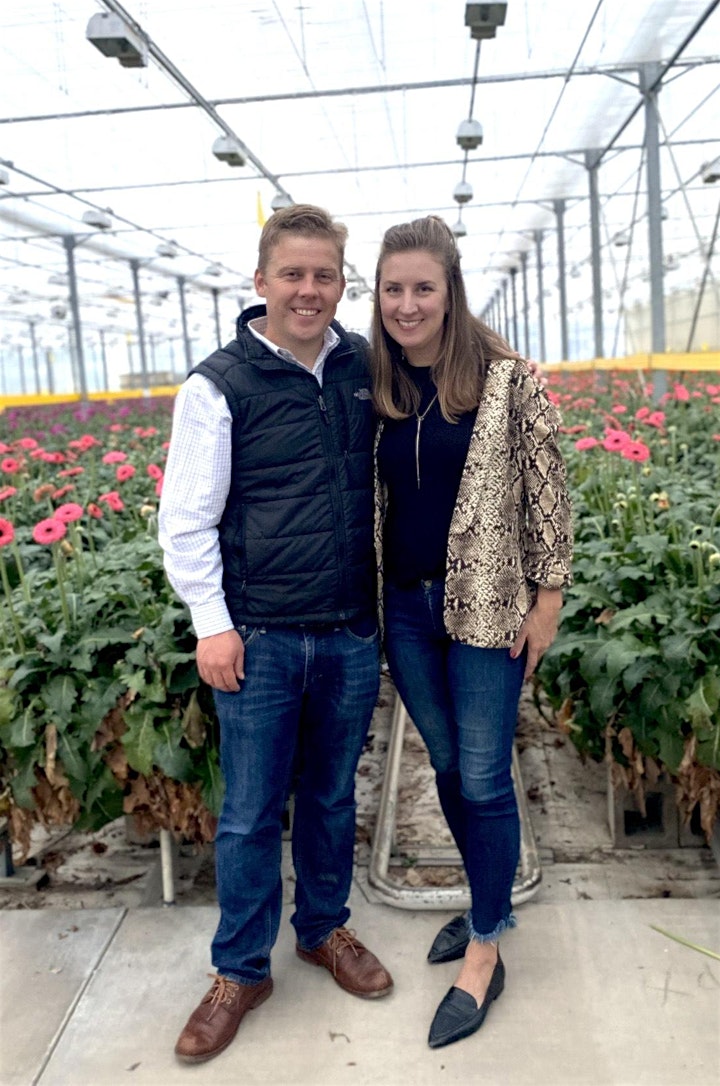 If you'd like to dig deeper into the dedication and science behind growing the flowers, you don't want to miss the added VIP Farm Tour, available for purchase upon checkout. The VIP Farm Tour is an exclusive opportunity for 25 guests to join flower farmer Ivor Van Wingerden for an hour-long tour of Ocean Breeze Farms. The extra VIP tour will take place prior to the start of the event and includes a VIP reception.  
Floral Design Workshop with Featured Designer: Kelly Shore
Join floral designer Kelly Shore for her workshop Friday, August 5th from 10 a.m. to 11 a.m at Ocean Breeze Farms in Arroyo Grande, California where each attendee will design and take home a centerpiece made up of all American Grown farm fresh florals. Kelly will guide participants from beginning to end as she discusses how to choose blooms and the supporting flowers and foliage. Be sure to add the workshop at checkout. Only 40 spots are available!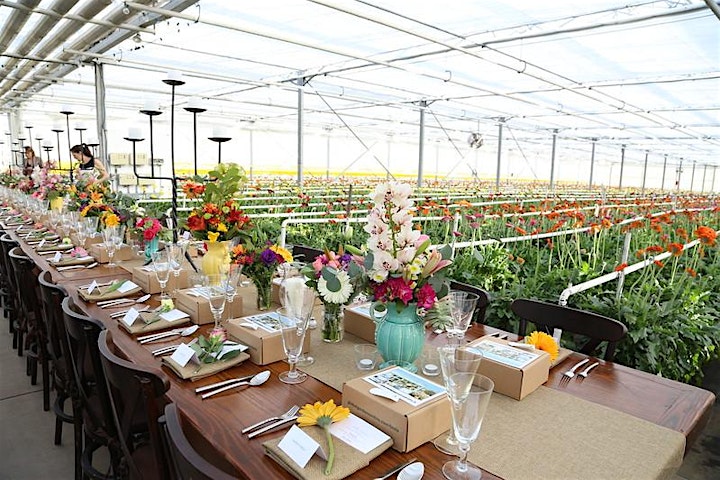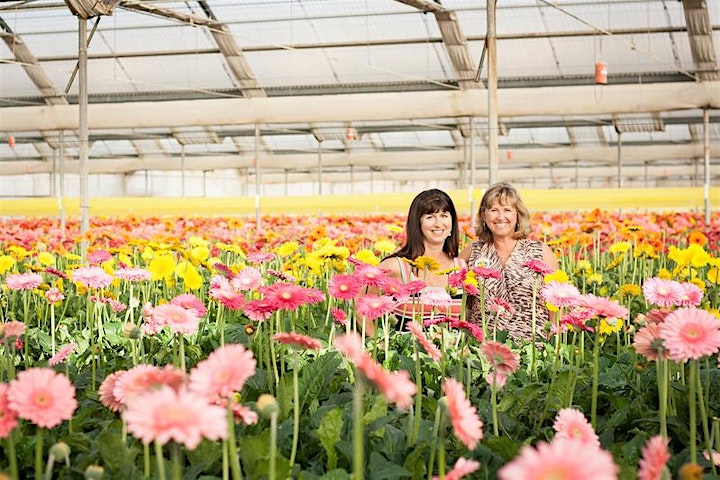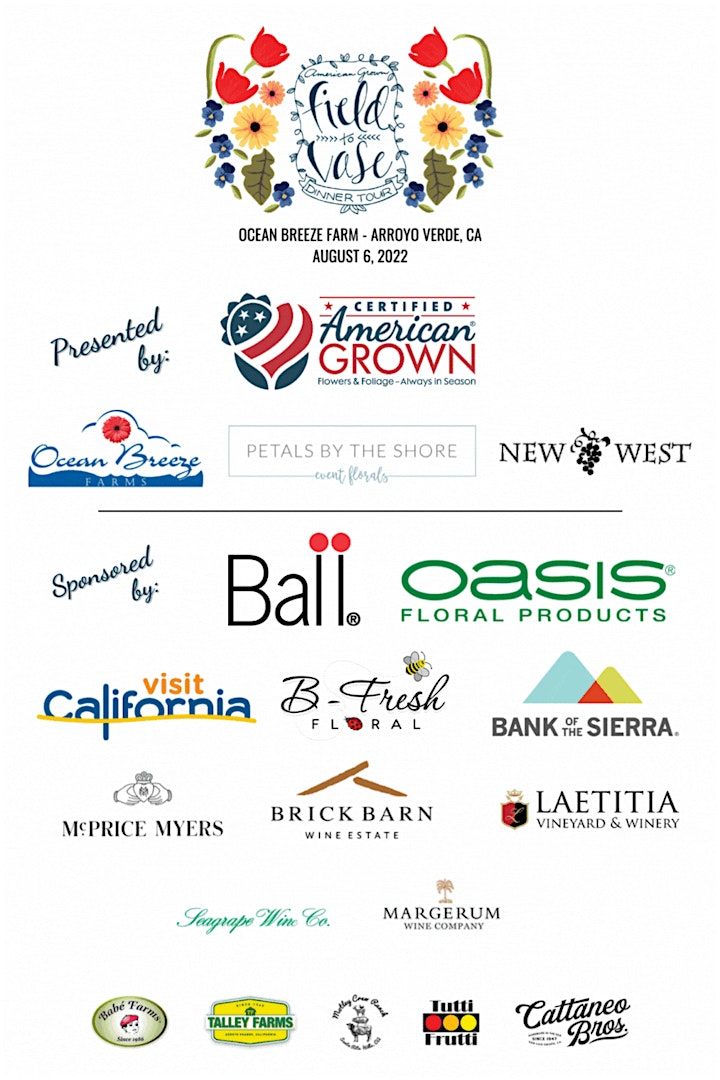 About Certified American Grown
The American Grown Field to Vase Dinner Tour invites guests nationwide to dine in the fields of America's most stunning flower and foliage farms. The dinner tour is a cross-country series of gatherings where seasonal blooms and foliage dazzle on beautifully designed tablescapes dressed by top U.S. floral designers, while gourmet meals are prepared by well-known farm-to-table chefs.
Since launching, the dinners have garnered unprecedented local and national media attention and provided a wildly successful way to showcase the heritage of America's flower-farming families. In 2017, the tour snagged Floral Management's Marketer of the Year Award.
Certified American Grown is a non-profit 501c6 trade association. Proceeds from the Field to Vase Dinner Tour contribute to CAG's advocacy and marketing efforts to promote American farms and preserve American floriculture heritage.