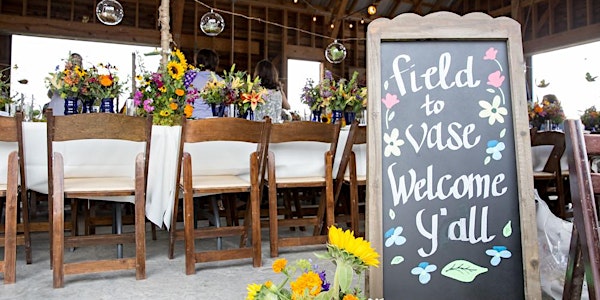 2022 American Grown Field to Vase Dinner @ Arnosky Family Farms, Blanco, TX
Unique farm to table pop up dinner event hosted on an American farm for lovers of local ag - perfect for flower, food and wine enthusiasts.
When and where
Location
Texas Specialty Cut Flowers & Arnosky Family Farms 13977 FM 2325 Blanco, TX 78606
About this event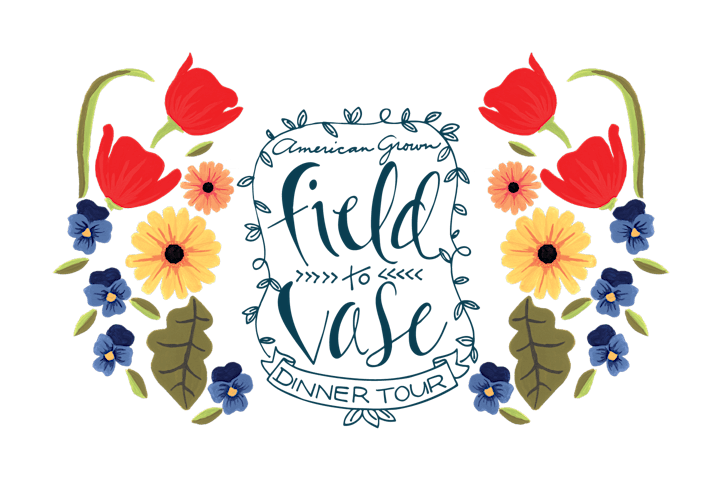 About the Tour
The American Grown Field to Vase Dinner Tour invites guests nationwide to dine in the fields of America's most stunning flower and foliage farms. The dinner tour is a cross-country series of gatherings where seasonal blooms and foliage dazzle on beautifully designed tablescapes dressed by top U.S. floral designers, while gourmet meals are prepared by well-known farm-to-table chefs.
Since launching, the dinners have garnered unprecedented local and national media attention and provided a wildly successful way to showcase the heritage of America's flower-farming families. In 2017, the tour snagged Floral Management's Marketer of the Year Award.
Certified American Grown, the organizer of these dinners, is a non-profit trade association who provides a voice for ONLY American farmers. Proceeds from the Field to Vase Dinner Tour contribute to CAG's advocacy and marketing efforts to promote American farms and preserve American floriculture heritage.
Delight in a Special Floral Experience in the Marigold Capitol of Texas
Mark your calendar for October 15, 2022, to join Texas Specialty Cut Flowers and Arnosky Family Farms farmers Frank and Pamela Arnosky for an American Grown Field to Vase Dinner Tour among fields of blooming and fragrant marigolds.
Located just an hour outside San Antonio and Austin in the marigold capital, these flower fields come alive in late October as Texans prepare to celebrate Dia De Los Muertos – Day of the Dead. It's a reverent yet joyful experience that leaves your soul singing with bright memories.
Your Experience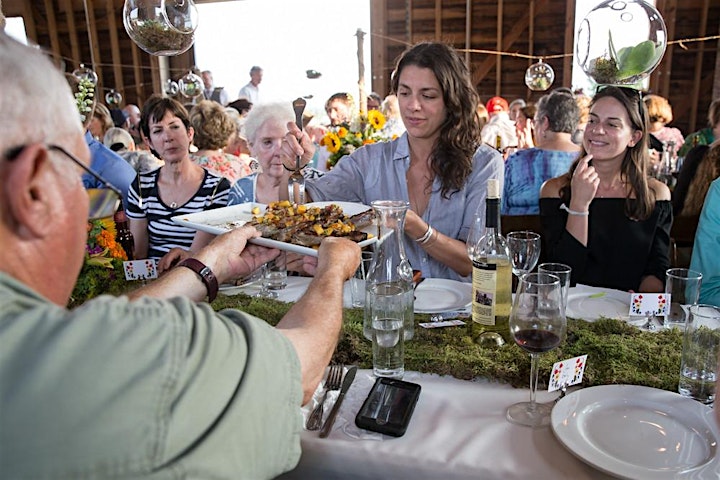 Your dinner experience will include a feast for the eyes with boldness of oranges and gold surrounding you in every direction thanks to innovative tablescapes and decore featuring all local flowers designed by a renowned floral designer Andy Hopper, AIFD of HEB Blooms.
Andy is excited to make this Field to Vase Dinner a tactile, immersive experience and looking forward to incorporating unique cultural elements into the event. Since this dinner focuses on the Día de Los Muertos (Day of the Dead) celebration, attendees can expect beautiful marigold garlands, festive hand-crafted sugar skulls, golden candelabras, an ofrenda and more. "Day of the Dead is all about reflecting on your loved ones who have passed on," Andy said. "We hope to bring it full circle and make it a beautiful yet traditional way to have a Day of the Dead dinner party. It's about bringing a piece of those who have left, with you, and capturing the feeling of family and community."
Read more about Andy and the inspiration for the dinner HERE.
You'll also enjoy a multi-course artisan family style meal surrounded by waves of stunning flowers alongside flower aficionados like yourself, while learning about the value of buying and supporting Certified American Grown flowers and foliage farms.
As an accompaniment to the meal and continuing the local focus, there will be refreshing brews from Blaco's own Real Ale Brewing and tantalizing wines from Texas Hill Country's Carter Creek Winery.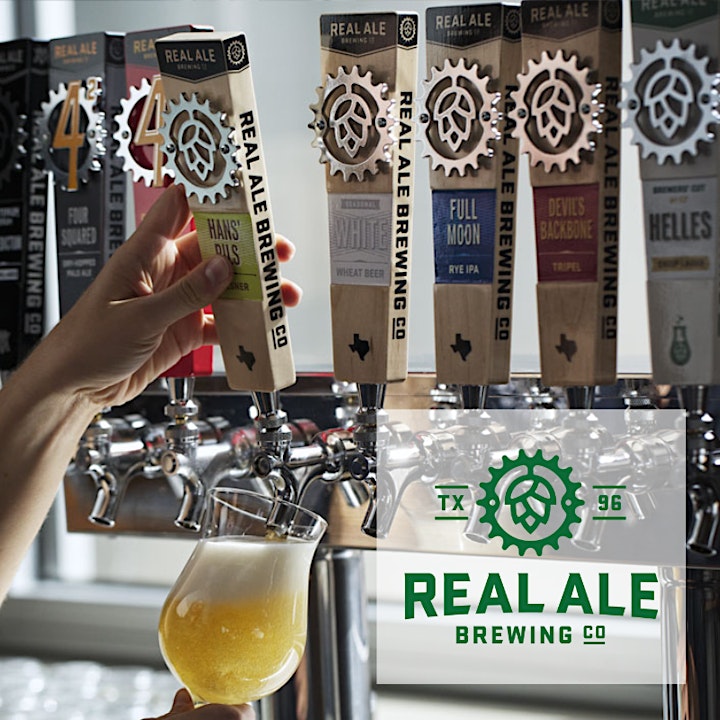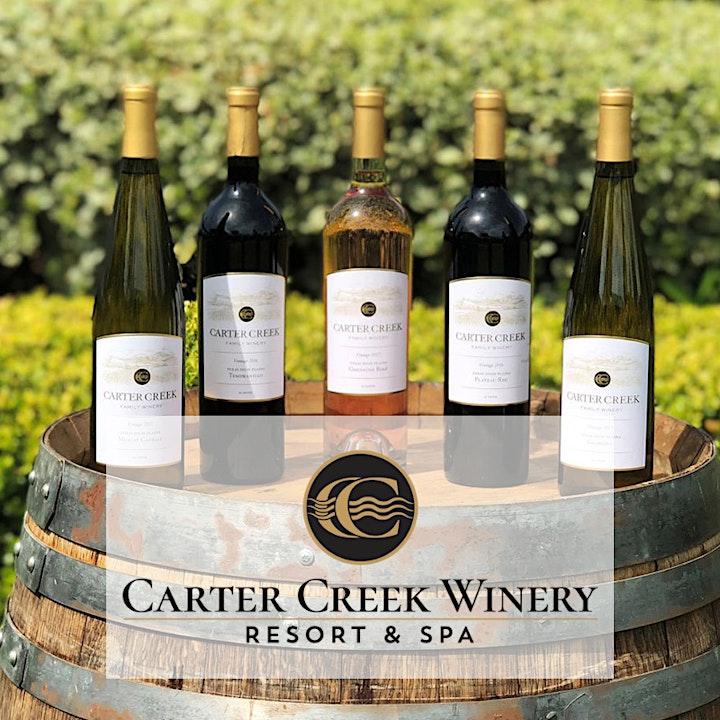 Texas Specialty Cut Flowers and Arnosky Family Farm is a haven for the Lone Star State's seasonal flowers, starting with blue cornflower and Texas wildflowers in the spring, black-eyed Susans in the summer and lilies and poppies to bring a burst of color to winter.
But it's the fall spectacular marigolds that have earned this farm an important role in the region's history. As residents honor friends and family who have passed on, marigolds decorate ofrendas (alters), and the petals strewn along pathways guide the spirits of loved ones back to their families
The Flower Farm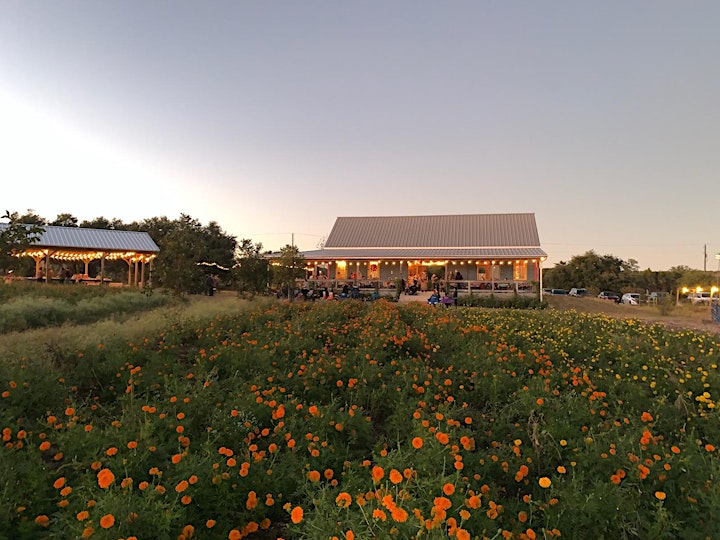 Texas Specialty Cut Flowers and Arnosky Family Farm in Blanco, Texas, are nestled in the heart of Texas Hill Country, is the result of Frank and Pamela Arnosky's moxie driving their dream. They purchased 12 acres of land in 1990, literally carved out their own road, pitched a tent and began clearing the cedar trees to make room for their lovingly tended rows of flora. Today, the farm extends across 20 acres and 22 greenhouses.
The Big Blue Barn is the heart and soul of the farm, where the family holds a market featuring fresh cut flowers and vegetables every day from 9 a.m. to 3 p.m. With the help of local experts, the Arnoskys raised the barn, including its amazing arched tresses, in only five days. This landmark now stands in the region as a symbol of the power when a community comes together.
Read more about how the farm will bring this event to life HERE.
An Extra Tour with Flower Farmer Frank! - SOLD OUT!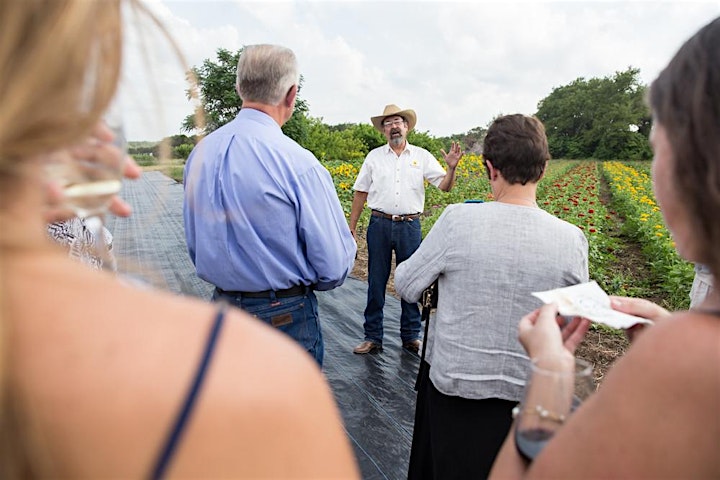 If you'd like to dig deeper into the dedication and science behind growing the flowers, you don't want to miss the added VIP Farm Tour, available for purchase upon checkout. The VIP Farm Tour is an exclusive opportunity for 25 guests to join flower farmer Frank Arnosky for an hour-long tour of Texas Specialty Cut Flowers. The extra VIP tour will take place prior to the start of the event and includes a VIP reception.
There are limited seats at the dinner table. Reserve your seat today!