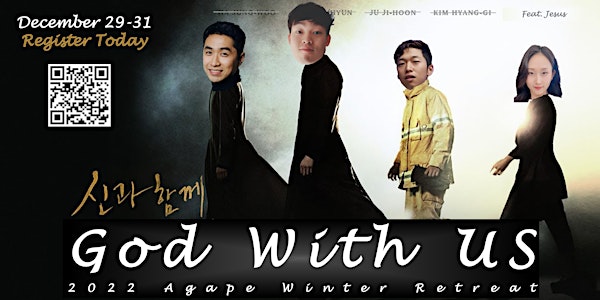 2022 Agape Winter Retreat (Early: $100 /Regular: $120)
Welcome to Agape's 2022 Winter Retreat! Come to praise and worship God with Agape. We got activities, campfire, food, and a talent show!
When and where
Location
Pine Creek Retreat Center 1794 Back Creek Road Gore, VA 22637
About this event
2 days 5 hours

Mobile eTicket
Registration is not complete until the payment is submitted by either check or cash.
Early Registration: $100 (11월 20일 - 12월 4일)
Regular: $120 (12월 5일 - 12월 25일)
Late: $130 (12월 26일 이후)
PK/MK: $60
Sibling discount: 2nd: $80, 3rd: $60
*신청비는 학생을 통해 소그룹 선생님에게 Check 또는 Cash 로 내주시기 바랍니다. 아가페를 다니지 않는 학생은 신청 후 수양회 접수일날 (29일) 신청비를 내시면 됩니다.
Note: Please make checks payable to "KCPC". Also, include the student's name and grade. For external students, we will process your payment during the check-in on 29th.
Eligibility:
등록은 선착순 100명에게만 주어집니다. 학생은 DMV 지역의 비성인(20`) 중학생 또는 고등학생이어야 합니다.
Registration is open to first 100 students. Student must be a non-adult (20`) middle or high school student in DMV area.
Arrival:
체크인은 오전 8시 30분 (12/29) KCPC 다목적실에서 시작됩니다. 아가페에서 Pine Creek 수양관까지 왕복 교통편을 제공합니다.
Check-in begins 8:30 AM (12/29) at KCPC Multi Purpose room. Agape will provide round-trip transportation to the Pine Creek Retreat center.
Departure:
12월 31일 오후 2시 30분경 KCPC에 도착할 예정입니다. 참고하시고 집으로 가는 교통편을 준비하시기 바랍니다.
We will arrive at KCPC around 2:30 PM on December 31. Please arrange your transportation accordingly.