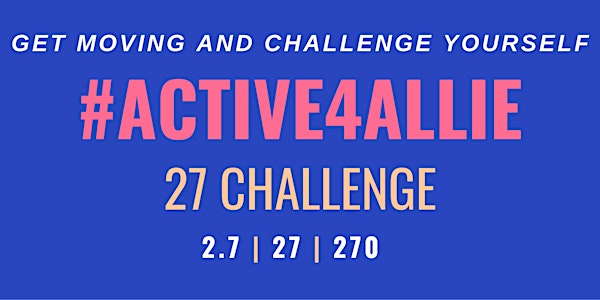 2022 #Active4Allie 27 Challenge
Get moving and challenge yourself with the #Active4Allie challenge! Choose the challenge tier that motivates you.
Refund Policy
Contact the organizer to request a refund.
Eventbrite's fee is nonrefundable.
About this event
What is the #Active4Allie challenge?
In the #ACTIVE4ALLIE virtual event, 3 challenge levels will be available to participants, to include 2.7, 27 or 270 options, encouraging people to get active for Allie. Over the 62-day event, participants can complete multiple activities to complete their mileage amount, such as walking, running, biking, or swimming. The goal is to get moving, so do what you love!
Who is Allie?
Allie Rose Zambito tragically passed away in June 2019 just hours before her 24th birthday doing what she loved, running and staying physically active. Allie was pursuing a doctoral degree in Physical Therapy from the University of Delaware and was only months away from graduation at the time of her accident. Learn more about Allie and her amazing life.
To honor Allie's pursuit of excellence in academics and physical fitness, a registered 501C-3 scholarship organization has been established to recognize 2nd year doctoral physical therapy students at Allie's alma maters, High Point University (HPU) and the University of Delaware (UD).
The #ACTIVE4ALLIE 27 Challenge is the virtual fundraiser to support the scholarship.
Why the number 27?
Allie loved to be physically fit and always encouraged others to get moving for their health. Allie played and participated in many sports, and was a fierce competitor on and off the playing field. While playing field hockey at High Point University, Allie wore the number 27 jersey. The #ACTIVE4ALLIE 27 challenge reflects her field hockey number in increments, with 2.7, 27, and 270 options to encourage participants to stay active!
How long does the challenge last?
The #ACTIVE4ALLIE challenge starts on Allie's birthday, June 22, 2022 and concludes on August 22, 2022. Participants are encouraged to share their progress during the 62 day challenge using #ACTIVE4ALLIE on various social media platforms.
How much does the challenge cost?
Registration for any challenge level is $30 and all proceeds are directly applied to the existing Allie Rose Zambito Sunshine Scholarship fund. An optional t-shirt and sticker bundle can be purchased for $20 (includes shipping within continental United States).
Can I make a separate donation?
Certainly! Donations can be made at ARZSunshineScholarship.org or by contating the sholarship board directly at ARZSunshineScholarship@gmail.com. All donations are tax deductible.
How can I sponsor the #ACTIVE4ALLIE 27 challenge?
We are actively seeking sponsorships for the event and all sponsorship fees will be directly applied to exisiting scholarship funds. Please email ARZSunshineScholarship@gmail.com for sponsorship information.
Have more questions?
We are happy to answer your questions! Please email ARZsunshinescholarship@gmail.com and a board member will respond to you.