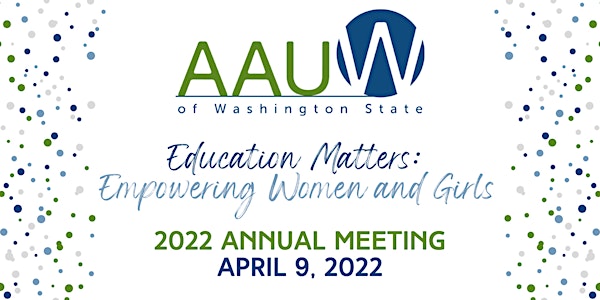 2022 AAUW-WA Annual Meeting
Join us on April 9th for the 2022 AAUW-WA Annual Meeting!
About this event
You won't want to miss out on our April 9th Annual Meeting, so mark your calendars now! Our morning will be presentation oriented starting with networking at 8:15. The meeting will keep all of us informed and energized about the good work being done on many fronts.
Our afternoon Business Meeting will start at 12:30pm. For those newer members of AAUW, the business meeting will help you understand the workings of the state organization.
Registration:
$35 before April 1, 2022
$40 after April 1, 2022
Afternoon Business Meeting is free to attend.
Event Details:
Date: Saturday, April 9, 2022
8:15am Networking
8:30am Convene
Land Use Acknowledgement – Yvonne Berliner
Opening remarks—AAUW-WA President Mary Williams
9:00am A Conversation with Jennifer Berkshire
Keynote speaker
Co-author of A Wolf at the Schoolhouse Door
Prominent education journalist
10:00am Panel -- The State of Education in Washington—
Michaela Miller, Deputy Superintendent of Public Instruction, State of Washington;
Marcia Harris, former school superintendent and school board member
Mavis Nickels, retired math teacher and former school board member in Battle Ground, WA.
The panel will provide insights on state educational policies, the role of school boards and superintendents, and on the needs of students.
11:00am Break
11:15am "You're Wearing What? Women, Employment, and Body Politics"— Karen Anderson
12:00pm Lunch Break
Afternoon session (separate registration required)
12:30pm Gloria Blackwell, CEO, AAUW
1:00pm Annual Business Meeting
State of the State – Mary Williams, President AAUW-WA
Acceptance of the Minutes of the 2021 Annual Meeting Minutes
Reports – Finance, Membership, Legal, Communications, DEI, Ad hoc Committees
Consideration of the Proposed By-Laws Revision
Election of Officers
We hope you will participate in our entire program, but will understand if you can only join us for part of the day. Please feel free to attend whichever sessions you can. We think you will find all of the information presented to be of value.