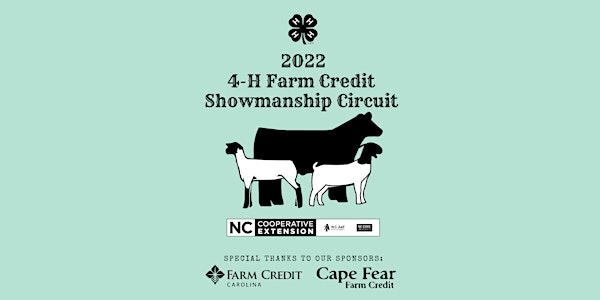 2022 4-H Farm Credit Showmanship Circuit
If you would like to show as non-circuit member, please contact each individual county show for a registration form.
When and where
Location
N.C. Cooperative Extension | Randolph County 1003 South Fayetteville Street Asheboro, NC 27203
Refund Policy
Contact the organizer to request a refund.
Eventbrite's fee is nonrefundable.
About this event
****Please check animal limits in each County's show rules and you MUST register to show in each individual county****
Official Rules can be found here.
****No Checks or Cash will be accepted for registration****
Dates of shows are: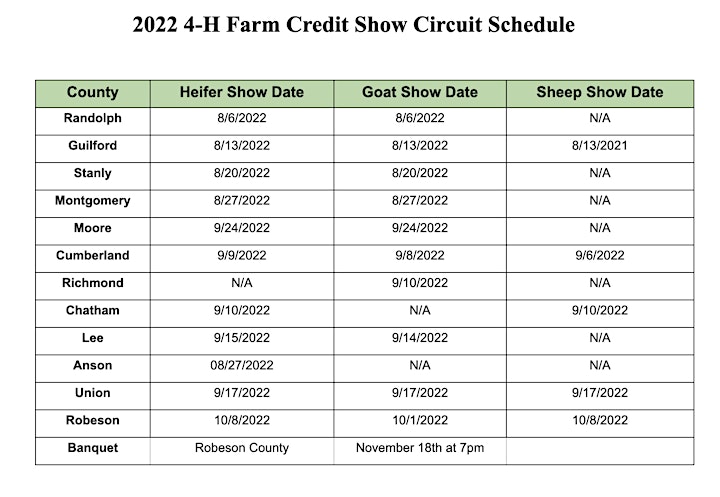 How do you compete?
The rules for each species are as follows;
To compete in the lamb division, you must compete in a minimum of 3 of the participating 5 county shows (Chatham, Cumberland, Guilford, Robeson, and Union).
To compete in the meat goat division, youth must compete in a minimum of 6 of the participating 10 shows (Cumberland, Guilford, Lee, Montgomery, Moore, Randolph, Richmond, Robeson, Stanly, and Union).
No pygmy goats or dairy breed goats are allowed!
To compete in the beef heifer division, youth must compete in a minimum of 6 of the 11 possible shows (Anson, Chatham, Cumberland, Guilford, Lee, Montgomery, Moore, Randolph, Robeson, Stanly, and Union). Steers are allowed, but are not recommended because not all shows allow steers to show in the heifer showmanship classes.
Please make sure to meet your minimum show early in the season. Several shows had to be canceled in previous years because of hurricanes. You may not be able to rely on the last few shows in the season occurring due to weather and other unforeseen circumstances.
If you are unable to complete the required number of shows due to illness or injury, youth can be recognized at the banquet after Circuit officials have received written medical documentation at least 2 weeks before the banquet. Otherwise, youth will not be recognized at the banquet if they did not finish the minimum number of required shows for their species and age division. Youth who do not finish their minimum number of shows may still attend the banquet to support their fellow showmen, but they must pay the banquet fee as a regular guest.
What are the age divisions?
Cloverbuds - 5 to 7 years old will not be eligible to compete in head-to-head competition but most counties have Cloverbud divisions with set prize money. Cloverbuds are required to pay the $25 registration fee.
Junior - 8 -10 years old
Intermediate - 11-13 years old
Senior – 14-18 years old
(All age divisions are determined by the exhibitor's 4-H age, which is their age as of January 1, 2022.)
It is the responsibility of each participant to make sure they show in the correct division at each show. If a participant shows in the wrong age division, they will receive 5 participation points regardless of placing.
Reminders
As usual, t-shirts will be provided for every participant. Extra's can be ordered for an additional fee (youth small to adults XL $10 and $12 XXL, XXXL; see design below). Peewee participants are not part of the Circuit and do not need to fill out this form to participate in individual shows. However, they must pay $10/$12 if they want a shirt. Not all counties have peewee shows.
Points will be posted show-by-show on the Randolph County Extension Website. Go to the 4-H Farm Credit Showmanship Circuit link on the left-hand side to find points and show information. To view the up-to-date points standing, please go to: https://randolph.ces.ncsu.edu.
4-H must teach integrity and honesty to our youth. Any youth or family member that argues with show officials or impedes shows in any way can also be disqualified from shows or the Circuit. We would also like to discourage negative social media statements that might hinder youth development and risk future sponsorships.
All 4-Hers participating in the 4-H Farm Credit Showmanship Circuit must have a 4-H online enrollment in active status available in their local Extension Office. Your Circuit registration will be canceled if you fail to do this. To find your local Extension Office, please go to: https://www.ces.ncsu.edu and click on county centers.
You are responsible for registering for each county that you wish to participate in. The registration process can be found in individual county rules. This helps to minimize confusion on show dates between counties and participants.
If you have any questions, please contact Allison Walker at allison_walker@ncsu.edu or call/text (336) 467-2927.