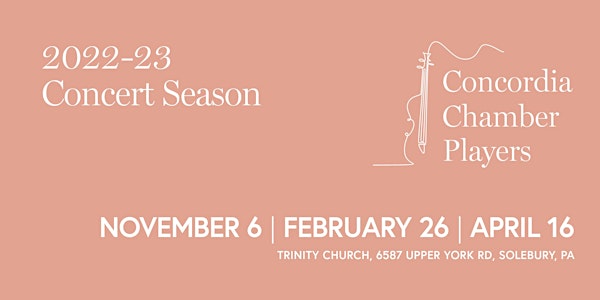 2022-23 Concordia Regular Season Subscription
Regular Season Subscription includes All 3 Concordia Chamber Players Subscription Season Concerts
When and where
Location
Trinity Chuch, Solebury 6587 Upper York Rd Solebury, PA 18963
About this event
Regular Season Subscription includes All 3 Concordia Chamber Players Subscription Season Concerts
Please note: Your individual season tickets will be mailed to you in early October. 
Our first subscription concert will be on November 6 where we find ourselves gathered in the welcoming and familiar Trinity Epsicopal Church in Solebury. In this program entitled "The Degenerates" we are given the opportunity to consider the high cost of false labeling and categorization appropriated by society and regimes, in this case the Nazi regime. The world might have been robbed of these beautiful compositions had they been permanently banned. The inspired String Quartet #2 of Florence Price will be shared along with String Quartet No. 1 in A Major by Alexander Zemlinsky and String Quartet No. 1 in E flat Major by Felix Mendelssohn. Violist David Samuel of the Alexander String Quartet will have his first performance here with CCP. He will be joined by Siwoo Kim and Gabriela Diaz on violin and myself on cello. You don't want to miss our open rehearsal at the New Hope Arts Center Saturday afternoon on November 5 with a lecture by Carol Cruickshanks, their Executive Director.  
Subscription concert #2 on February 26 is "Cello2Cello". This program will explore two rarely heard cello quintets. First, we will share the Quintet in G minor, Opus 46, #4 by Luigi Boccherini. Then we perform the famous and much-loved Kreutzer Sonata by Beethoven. This masterpiece was arranged for quintet allowing us to hear the nearly symphonic writing distributed among five voices. Some say the arrangement may have been penned by Beethoven himself! This concert will introduce you to the versatile cellist Jeff Ziegler, former member of the legendary Kronos String Quartet. Also, a young award-winning violinist, Anna Lee, will be joining us for the first time. The rest of the players will be Concordia players Siwoo Kim on violin, Danny Kim on viola, and I will be joining Jeff on cello. Please join us for our free open rehearsal at Rago's Auctions in Lambertville on Saturday, February 25 in the afternoon.  
Our season culminates with "The Telling Is in the Music," our program on April 16. The Piano Trio "be still and know" by Carlos Simon, inspired by a quote from Oprah Winfrey, will open our concert. Then we explore Pisachi (Reveal) by Chickasaw classical composer Jerod Impichichaachaachaaha Tate. This string quartet allows us to use our classical language to speak the language of Jerod Tate's cultural heritage. We close this program with the Piano Quintet, Opus 57 by Dimitri Shostakovich whose music reflects his personal voice while carefully balancing living under the Communist regime of Russia. The young superstar violist from Jamaica, Jordan Bak will be joining our wonderful line-up of musicians. Returning to Concordia will be pianist John Novacek, violinist Miho Saegusa, and myself on cello. Join us at the historic Phillips Mill for a free open rehearsal on Saturday, April 15 at 3:00 pm.