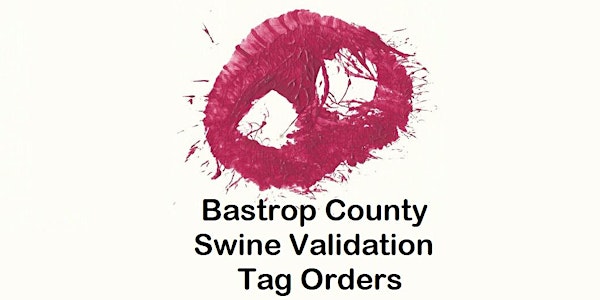 2022-2023 Bastrop County Major Swine Validation
Bastrop County major show livestock exhibitor's orders for: Major market barrows and breeding gilts showing at the Texas Spring Major Shows
When and where
Location
Smithville High School 285 State Highway 95 Smithville, TX 78957
About this event
Bastrop County major show livestock exhibitor's orders for:
Major Show market barrows and breeding gilts showing at the Texas Spring Major Livestock Shows
Order what is necessary, the Extension Office does not order extra. Refunds will not be given.
Ordering DOES NOT enter a participant into any show
Vaccinations/health papers NOT REQUIRED for VALIDATION
Validation Information
For dates and details, visit please contact your County Agent or Ag Teacher.
What to do before validation:
Decide where your registered hog will be shown and look up the rules for registration paper requirements - they will be different for each show
Check breeding swine Registration papers: Registration papers for breeding hogs may be family validated or validated to 1 exhibitor listed as the owner 
What to bring to Validation: 
Your hogs
Family email address
Family mailing address
Physical address where your animal is being kept
Gilt exhibitors will need to bring an ORIGINAL COLOR copy of their registration papers to be scanned on site – the Validation Committee must keep this copy and send it in with your paperwork (these may be sent ahead of time to MLMickelson@ag.tamu.edu or mailed to the Bastrop County Extension Office)
Validation Process:
For breeding animals, the committee will verify exhibitor ownership and date
The committee will pull a hair sample and tag ALL hogs with a major validation tag
The committee will record ear notches and breed
Exhibitors, Parent/Guardian, and AST/CEA will complete sign the following documents:

Carbon copy validation form
Ethics Policy
Hair Card
At validation the following must be present:
1. Animal being validated
2. Registration papers for Breeding Animals if required by shows you plan to participate in (may be emailed to MLMickelson@ag.tamu.edu ahead of time)
3. Parent/guardian - must be present to sign paperwork.
Parents may sign for exhibitor if child cannot attend
Parents unable to attend must sign waiver & paperwork before validation
Ag Teachers CANNOT sign on behalf of parent